Introduction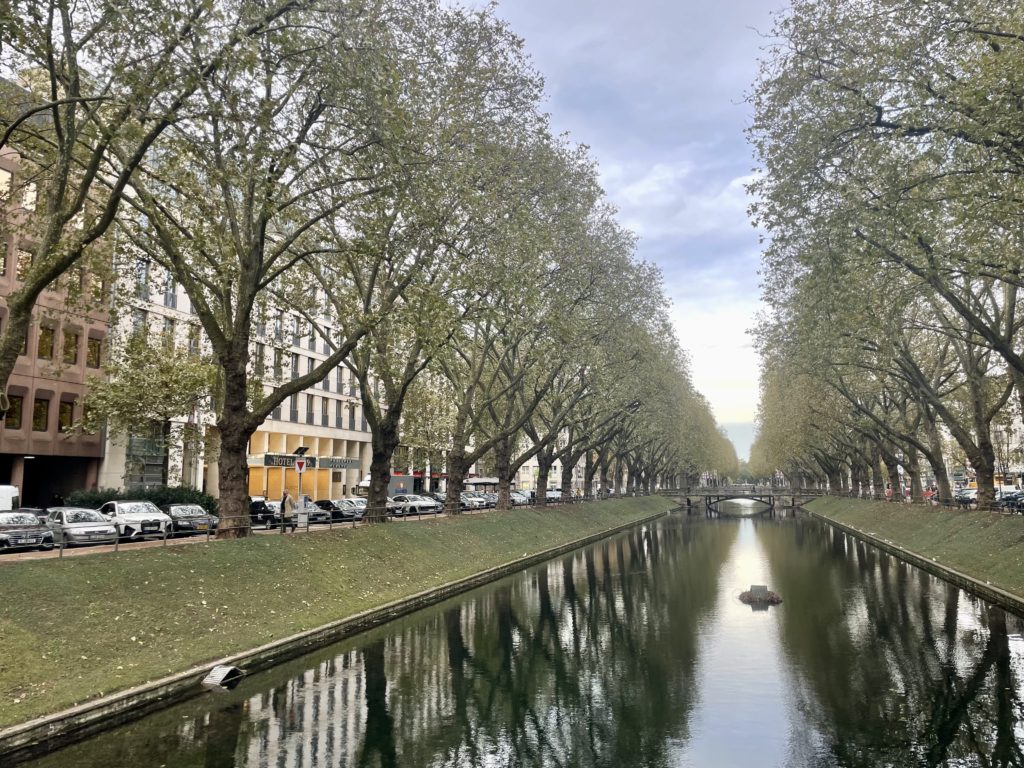 The event took place in a very pleasant street, the Königsallee, also known as the Kö, is a shopping street in Düsseldorf and considered to be the most beautiful avenue in Düsseldorf. Whaou !!
The Hyland Summit 2023 in Düsseldorf is the right place to learn and seek innovative ways to manage, secure, and harness the power of the content service platforms.
As the digital transformation journey continues to reshape the way we work, collaborate, and serve our customers, this event promises to be exceptional. From visionary keynotes to real-world success stories, it's an opportunity to gain insights into the latest technologies, strategies, and best practices that are redefining the way businesses approach content management.
Both Guillaumes from dbi, him and me or me and him, were invited to participate this year.
So let's read this blog to follow us during this adventure and get the last news about content excellence and innovation !
Chapter 1: The partner's meet up
It started with a partner party on Monday evening, where we met the nice Hyland people, of course, but it was also the opportunity to discuss with experts from different horizons and to exchange about the new trends and innovations, if we face the same challenges and the way we overcome them.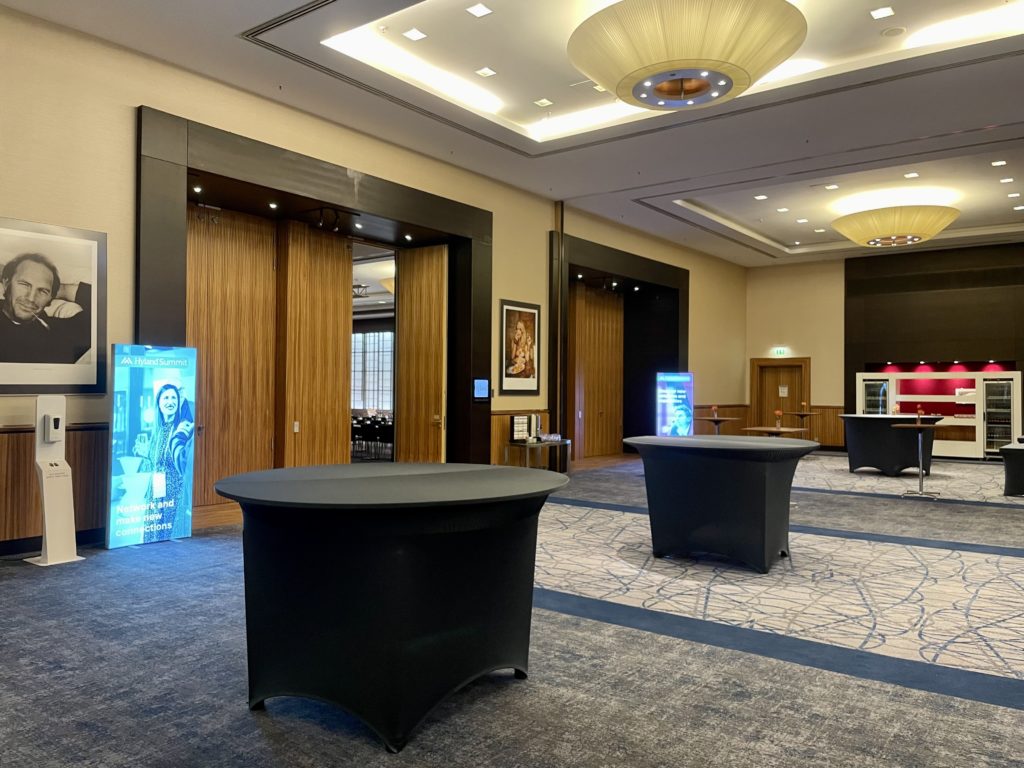 Discussion was so interesting that we decided to go with fme AG Team and share one of the biggest pizza we have ever seen!
Chapter 2: The Summit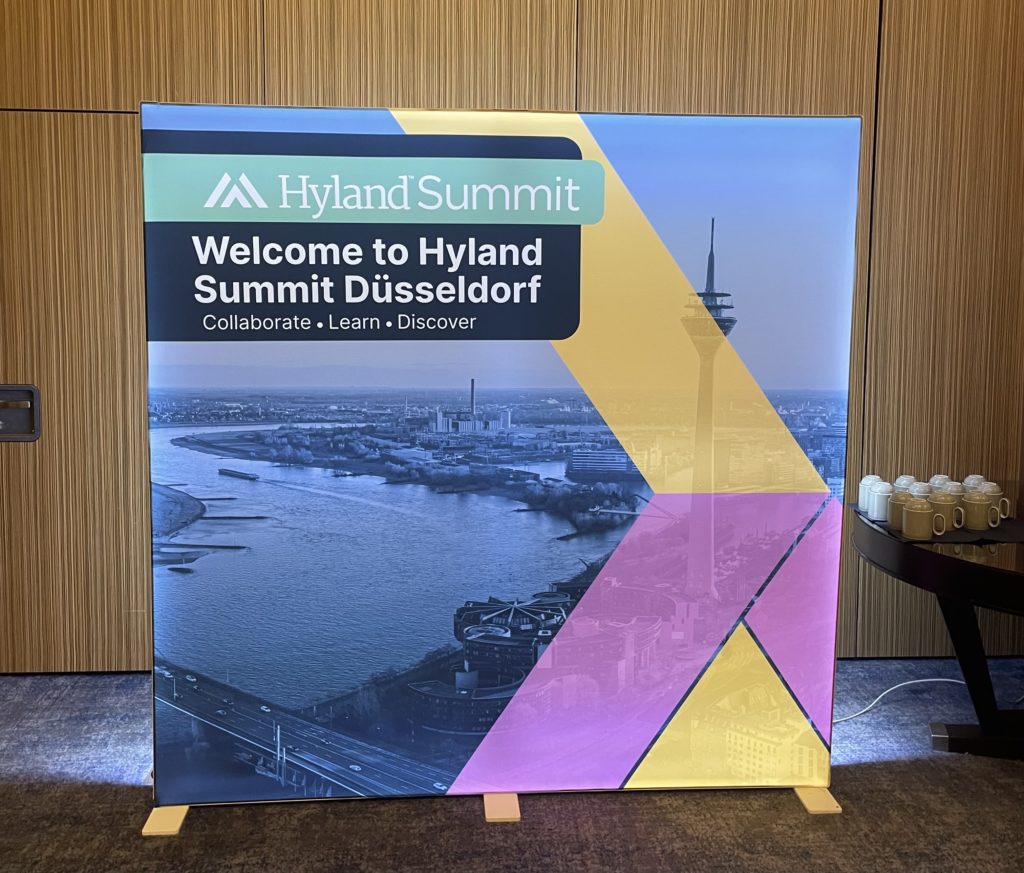 After a good night of sleep, we were full of energy, ready to enjoy the day and discover the awesome topics prepared by the speakers.
We started with a short stretching session led by Hyland's Vice President Tim HOOD, followed by his warm welcome speech that set the scene for the show to come.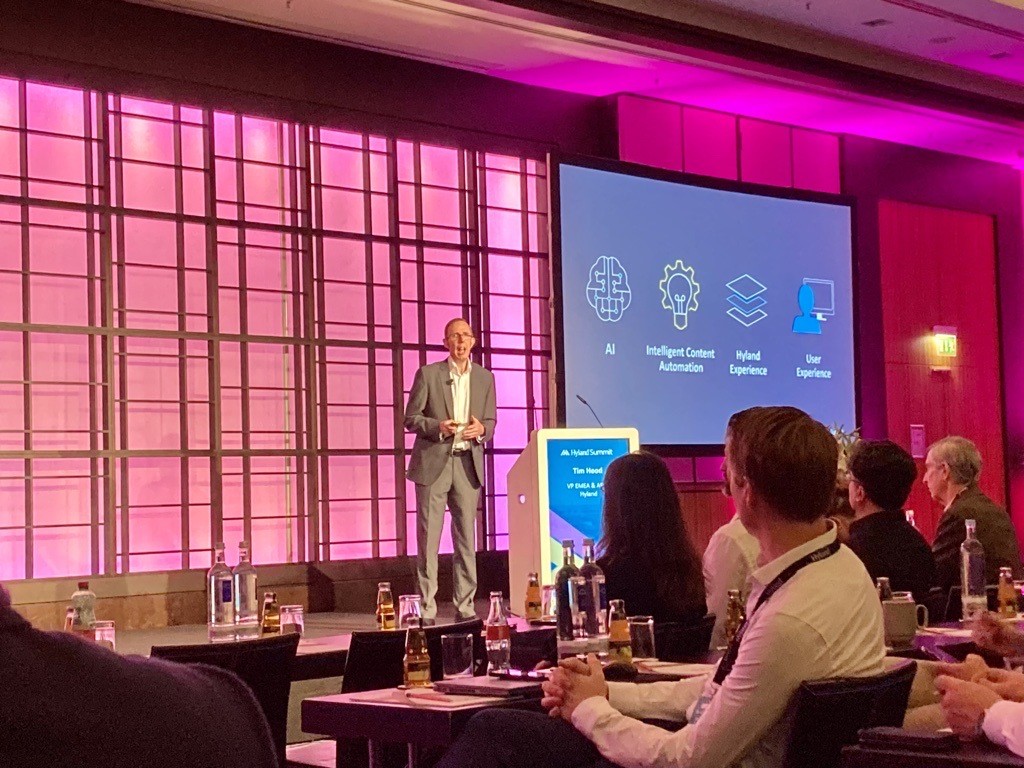 Then Chris McLaughlin, Executive Vice President & Chief Revenue Officer talked about the Hyland vision: "shaping the future of content services"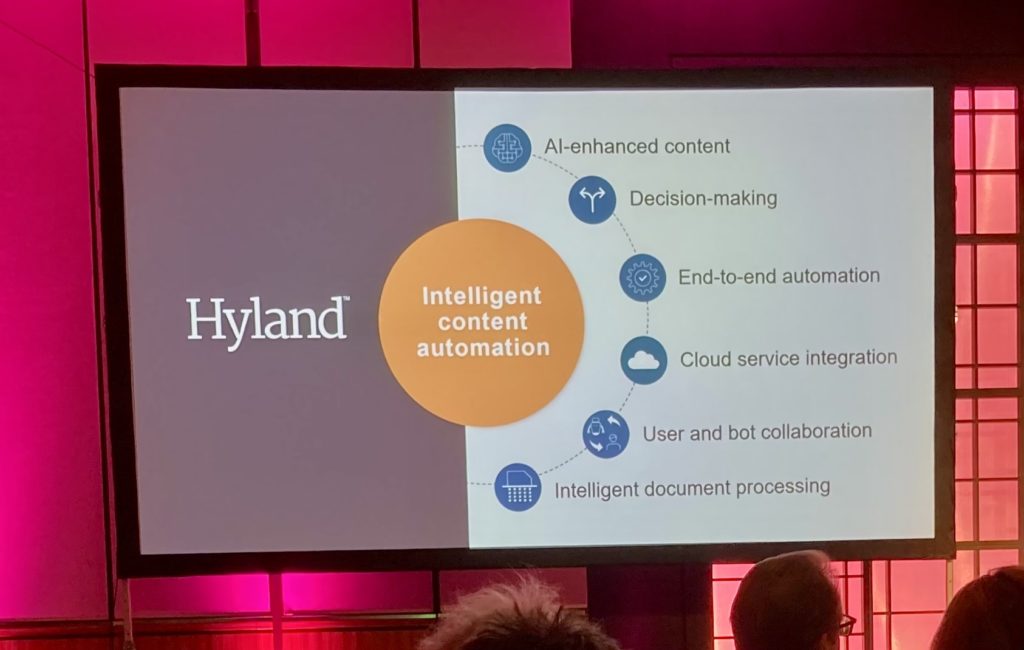 Which you will see throughout this blog, is largely based on the AI and also Machine Learning.
Chapter 3 : The Customers
After that we then got 4 sessions provided by Hylands Customers explaining to us how their partnership with Hyland led to success stories. Allowing complex scenarios to become real.
VGZ – OnBase: Document archiving and accessing in the cloud
Dutch Health Insurer VGZ shared with us their remarkable Hyland success story. Learn about the challenges they faced, their requirements for a solution, rollout of the project and some facts and figures from the VGZ team.
Sparebank 1 Insurance: The Road to Digital Success with Hyland's OnBase
In 2017, faced with managing three separate end-of-life document repositories, Sparebank 1 partnered with Hyland to seamlessly integrate them into a unified OnBase solution. They further advanced their digital operations, migrating to Microsoft Azure in 2021 and incorporating case flow and document composing solutions.
During the session, Bente will highlight the benefits of their cloud-based solution. Notably, the streamlined case management process requires minimal training for claims managers and enables direct customer communication through SMS email and letter in real time, with communications added to cases in real time. In doing so they've slashed the time cases take to be resolved, resulting in happier customers and reduced costs.
Future-proofed banking: FUIB's transformation with Hyland's cloud-native Nuxeo platform
The First Ukrainian International Bank (FUIB) is one of the leading banks in the Ukraine, with a focus on providing top-quality customer service, customized banking offerings and innovation for both individuals and businesses.
Despite the testing times that the country is currently facing, FUIB strives to remain a stable and reliable service for customers, constantly improving its processes for their convenience and safety.
Alongside this already significant challenge, the company was also looking to modernize operations and move to a paperless approach to business.
As a large, legacy financial institution with over twenty years in service, the bank had generated a vast array of paper documents that formed a key part of the company's processes. They now needed a solution that could centralize document storage, provide secure access to authorized users with a unified integration protocol and enable scalability for future growth.
In this session, you will hear why FUIB selected Hyland's cloud-native solution, Nuxeo, to address these challenges.
Ethias: Scaling an Alfresco archive to 200 million documents… and counting
This customer experience was the one we were the most interested of as it was about Alfresco.
Ethias is an insurance company and they decided to use Alfresco to archive Documentum data, this mission was challenging due to the volume of document and the criticality.
But with as strong containerized architecture they were able to achieve the target.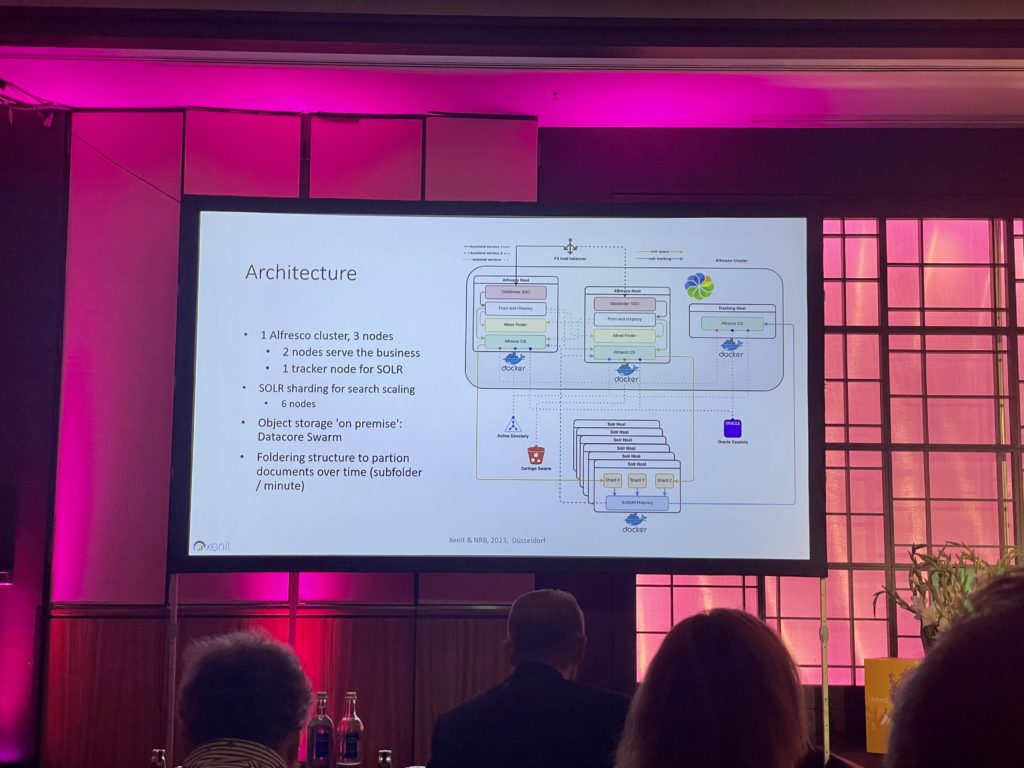 In addition, the indexing part was also a key in this success, with a SOLR sharding using the dbid-range technique (more information here) split into 25M nodes per shard with 3 shards on each of the 6 SOLR servers.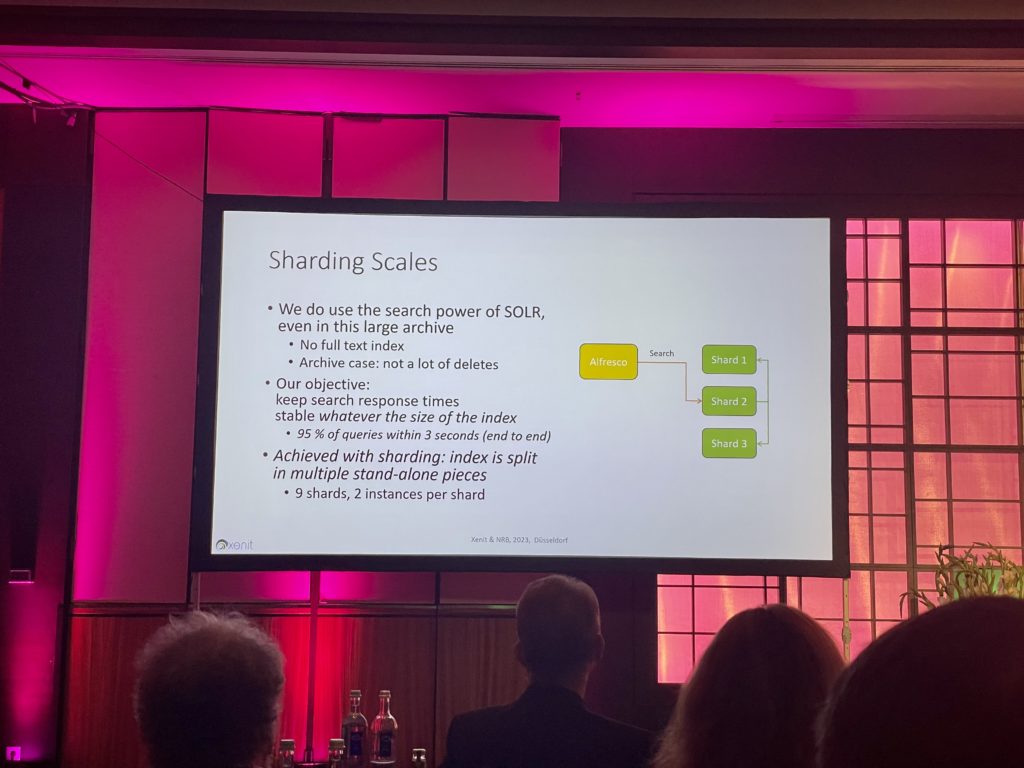 To ensure the security of the platform some mechanisms have been put in place, like ABAC Module for GDPR compliance, integration with CA SiteMinder and also content encryption at Alfresco level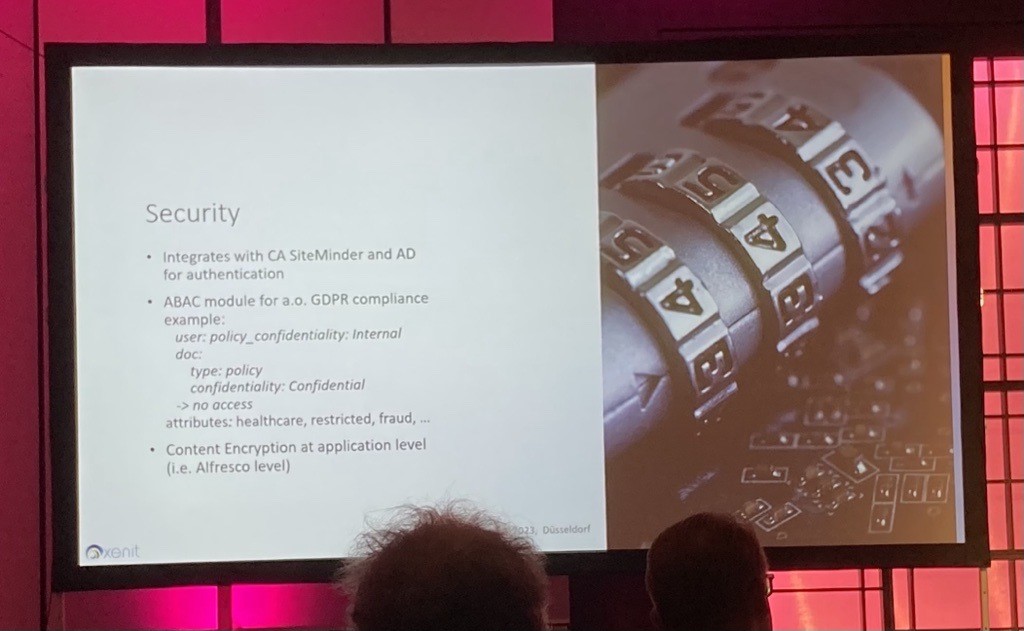 And to guarantee the good performances of this platform, the monitoring was implemented with open-source applications, like Elasticsearch, Grafana and Alerta…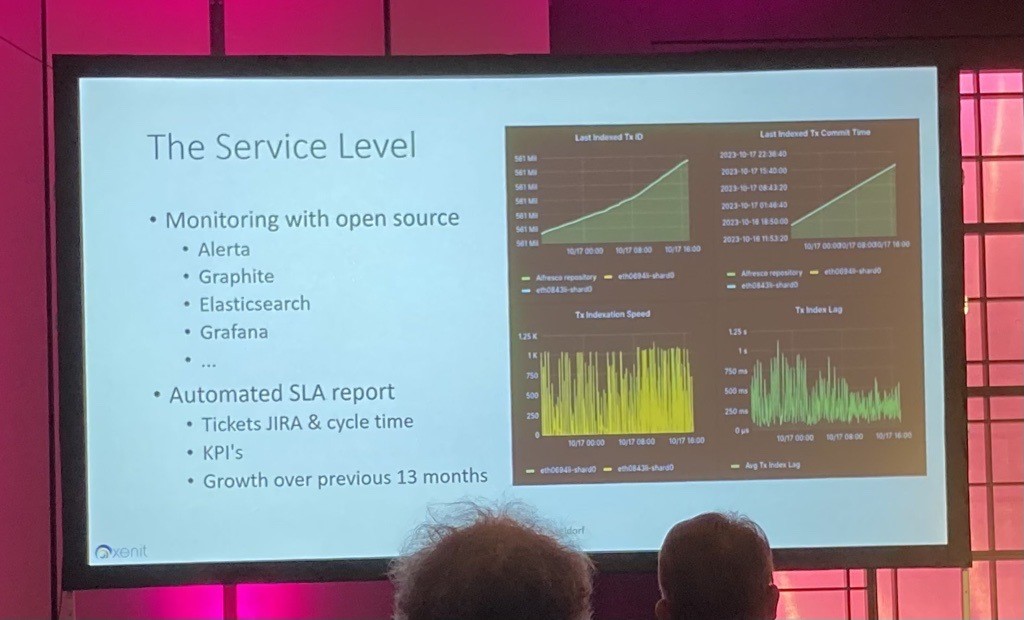 Chapter 4 : AWS Evangelists
We attended two presentations from AWS, the first one was from Philippe WANNER, introducing us to the workload modernization and the benefits that Cloud solutions can bring, but also how important is to disrupt with legacy technologies when you want to success your transformation journey.
After that John MOUSA explained the successful organizations are the one who are driving outcomes and value based on the insights from data.
We explored patterns for data extraction, data lakes and lake house architectures, and finally distributed data architectures with some examples.
Chapter 5 : the live (fun) demo
Arsalan MINHAS and his happy team showed us an "almost" real case scenario of what could be (will be) the near future of the content management combined with Artificial Intelligence.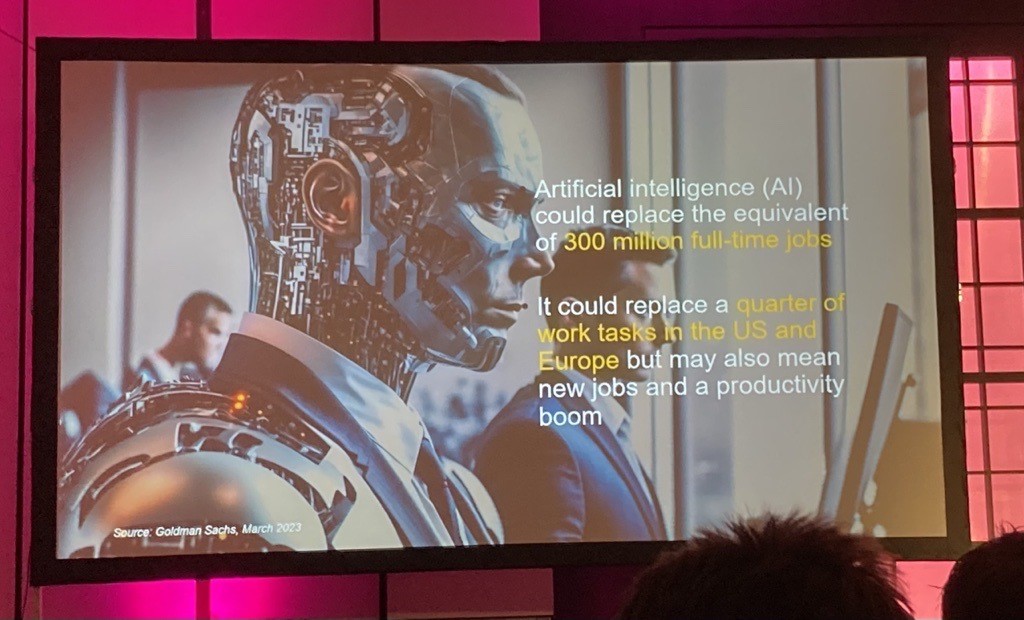 With live demo, the scenario was pretty simple, a customer wants a loan to buy a new car and will exchange with the banker through Bot chat and automated forms, it was fun and lively, but it also demonstrated the power of AI and all the possibilities that come with it.
Chapter 6: Discover what's new in the Hyland product portfolio
The idea is clear and reassuring, even if Hyland has three ECMs in its portfolio, they plan to continue their developments because each has its advantages depending on the needs.
The main updates for each application are:
OnBase
Release 23.1 available since October 2023
New OnBase App Builder
New Outlook web Add-in
New front end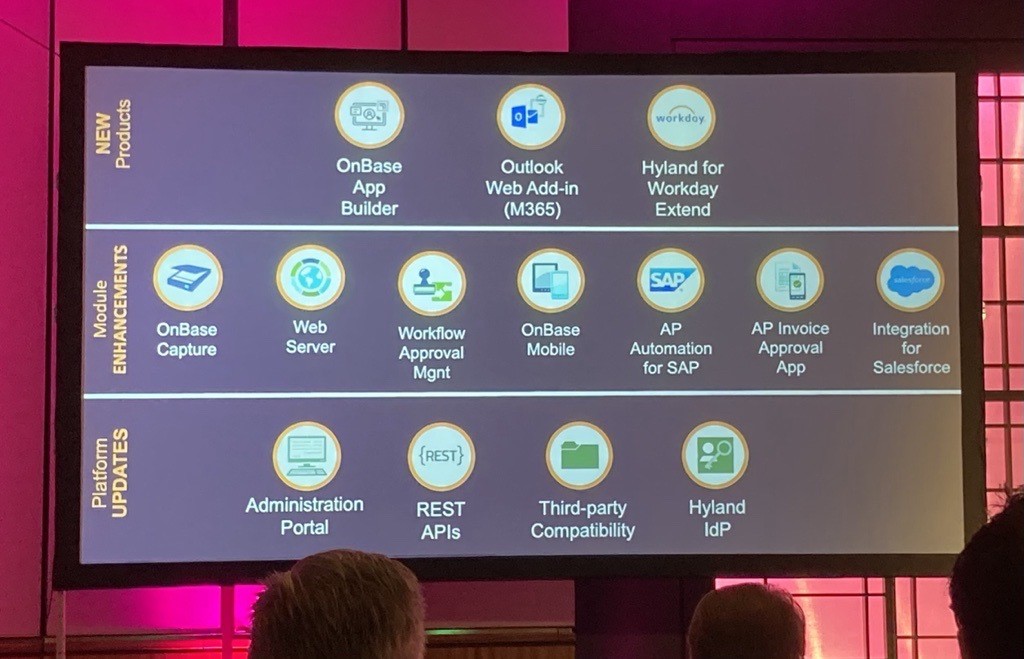 Nuxeo
LTS2023 since July 2023
The most scalable Platform!
Target to reach DR capabilities in 30 Minutes
An embedded 3D Viewer
Media Editor
Keys and secrets management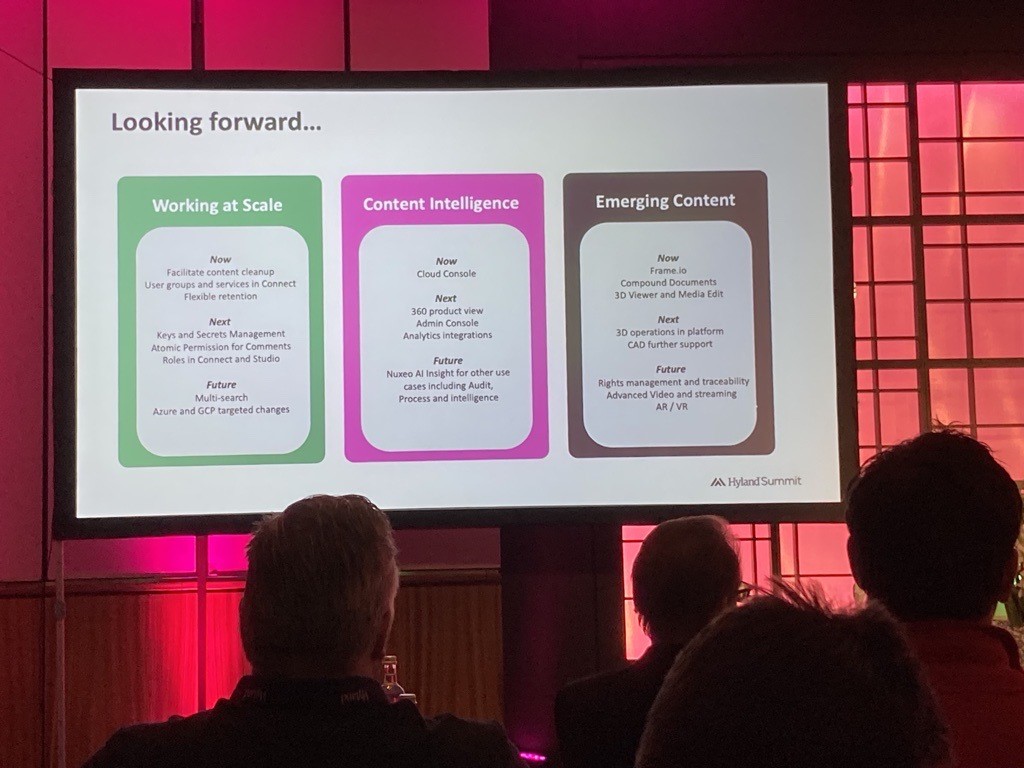 Alfresco
23.1 – November 2023
Farewell to Solr and welcome to Elasticsearch for the indexing part
New User Experience
Better Workflows integrations
Integration of AI with Hyland RPA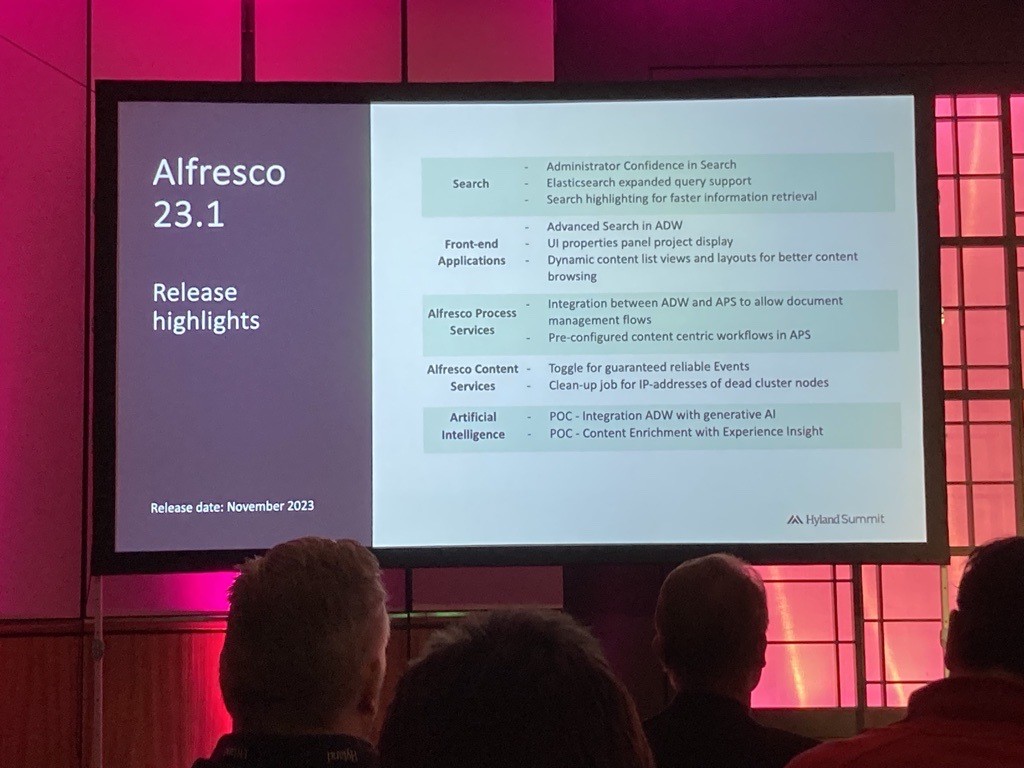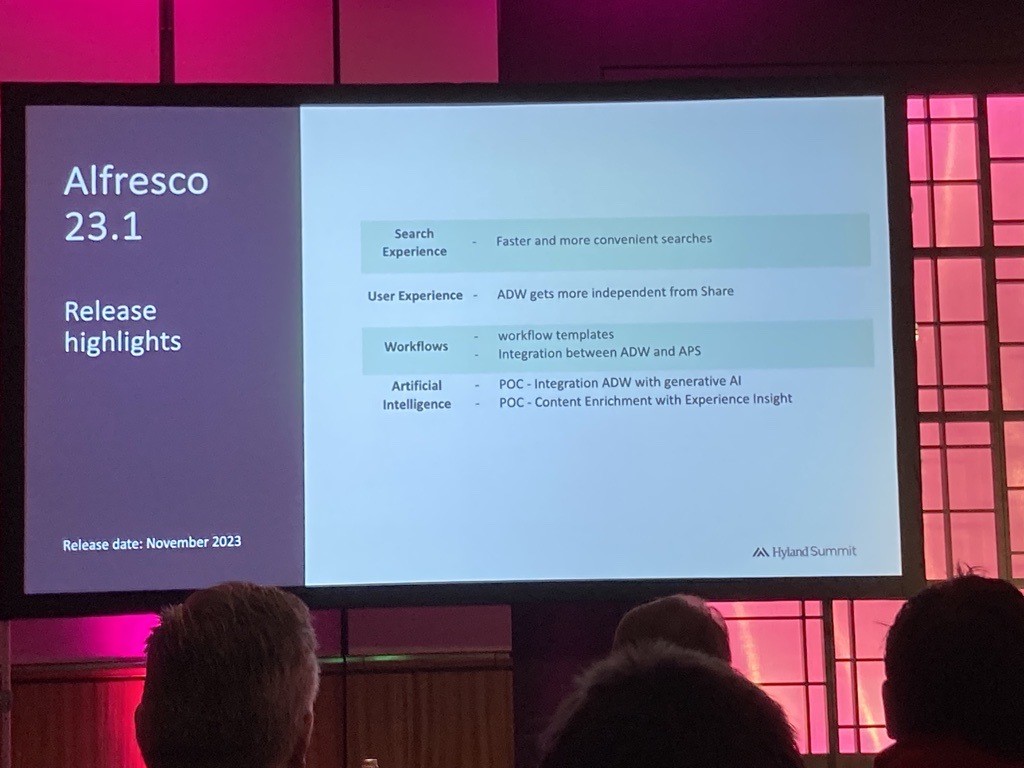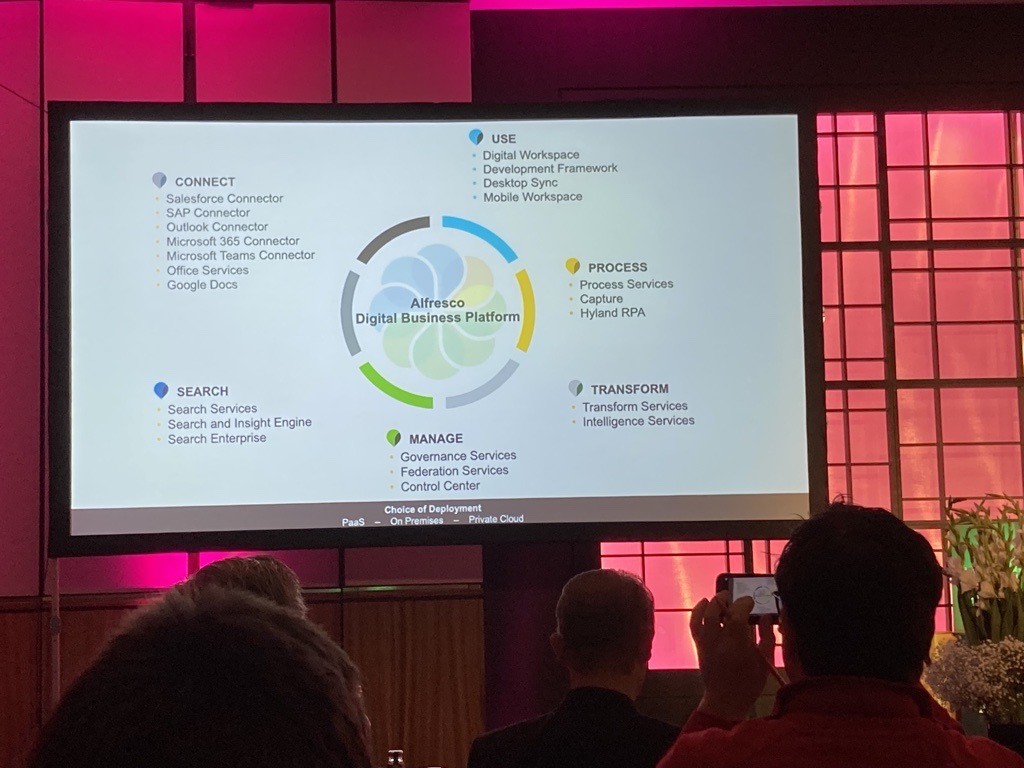 Final Chapter : The Keynote
The Keynote title was "Unleash the 'Rebel Technologist' within and discover the future of digital transformation"
Presented by Brett StClair, CEO & Co-Founder of teraflow.ai.
He explained to us how to switch our conventional thinking to revolution our business.
Brett reveals how the fearless spirit of rebel technologists can fuel digital transformation and overcome adoption barrier. Focus on basics and manage one problem at a time, get a clear vision and define a roadmap that is the key of success!
In substance, If you have an idea to move things forward, go ahead, make it known and fight to get it approved by everyone.
Conclusion
The Hyland Summit in Dusseldorf in 2023 was undoubtedly an incredibly good event, the promises were kept, passionate speakers in their field aiming to share their enthusiasm and expertise in data management.
Out of scope…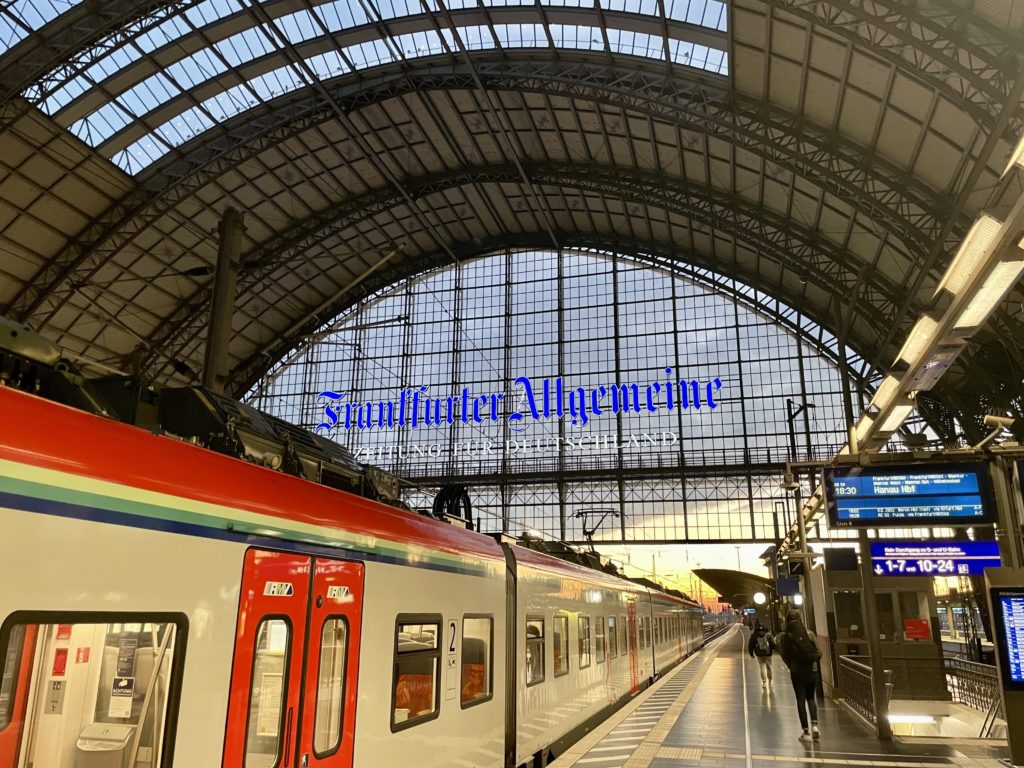 A special thanks to the Deutsche Bahn, which enabled me to take this superb photo thanks to the cancellation of our train(s) home… ⁠;-)
Co-written with love by Guillaume FUCHS (the other).