The Great Reunion as named by OpenText was really GREAT and today was the last day 🙁 As there was less sessions for me I took more time today to discuss and exchange with different participants from OpenText, Customers, and Partners.
First of all, we start the day by a "Breakfast In America" which – I must confess – is unusual for me 😉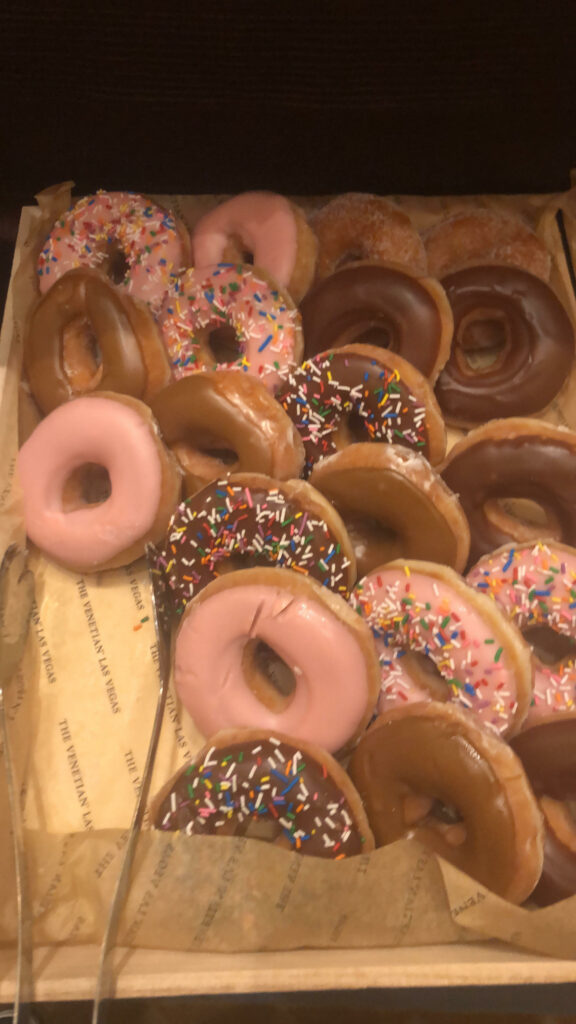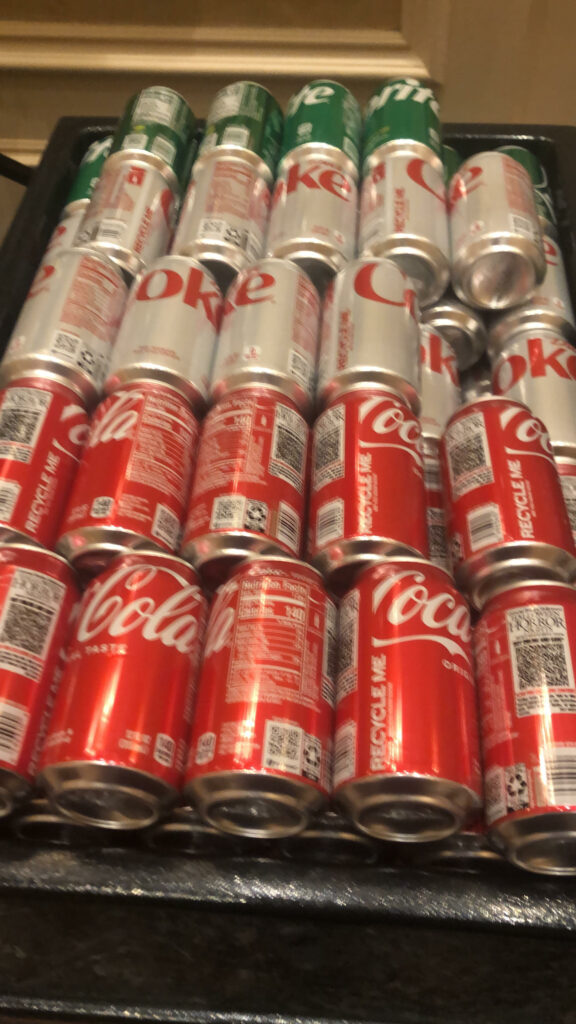 OpenText World Closing Session
Sandy Ono EVP Chief Marketing Officer at OpenText started the Great Reunion, and introduced Sandra Taylor CEO of Sustainable Bussiness International. Sandra is a pioneer in the field of sustainability and CSR, she has been responsible for the development of groundbreaking global strategies and initiatives, bringing major brands like Starbocks into the global sustainability realm.

Taylor's expertise provides innovative approaches to sustainability strategy, including supply chain sustainability, strategic philanthropy, stakeholder engagement, ESG analysis and social investments.
Then, Julie Millard vice President of Corporate Citizenship at OpenText, introduced THE DONATION STATION, with a very very nice concept!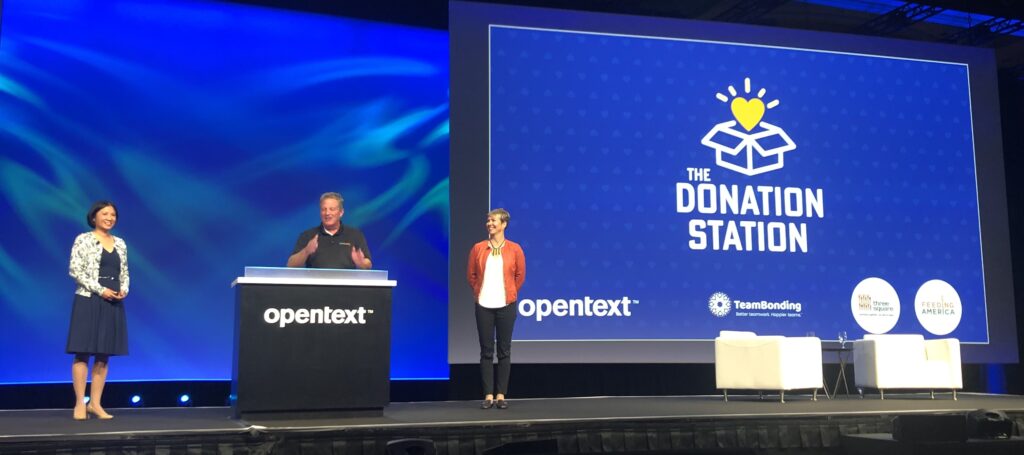 In fact, every night in America, 9 million kids go to bed hungry. The idea is to fill and customize a bag by writing or draw to motivate kids and let them smile even for a second. Tonight in Clark Country, 3000 kids will not go to bed hungry they will go to bed with a smile 😉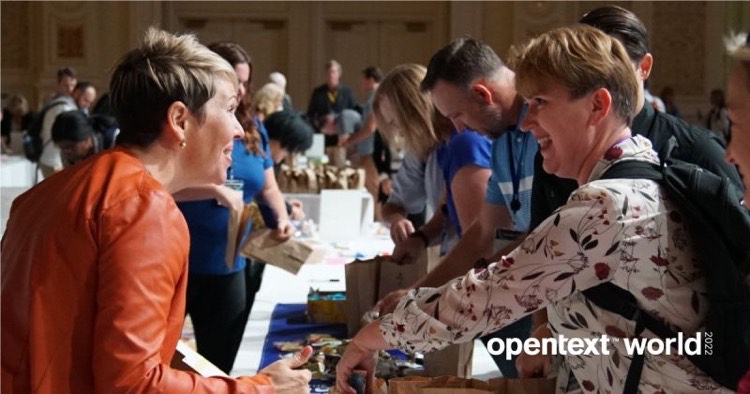 What's new and what's next for OpenText InfoArchive
Conrado Poole, Senior Product Manager for the OpenText InfoArchive, he is responsible for driving the product roadmap, integrating customer feedback, and prioritizing development of new features.
He shared new innovations and availability of highly-scalable data and content achiving with OpenText InfoArchive. Covered in the session are expanded cloud-deployment and contracting options, new features, and a peek at the roadmap for coming releases.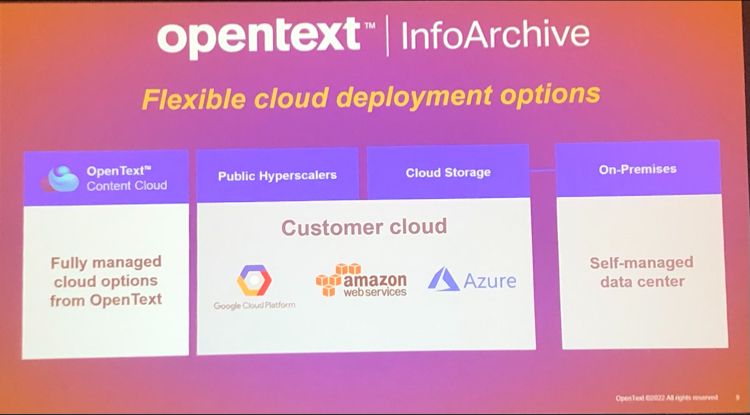 Introduction to OpenText Documentum Advanced Workflow
This session has been handled by Vishal Gupta, Director of Product Management for OpenText. He is responsible for leading product management team for all the OpenText Documentum Clients.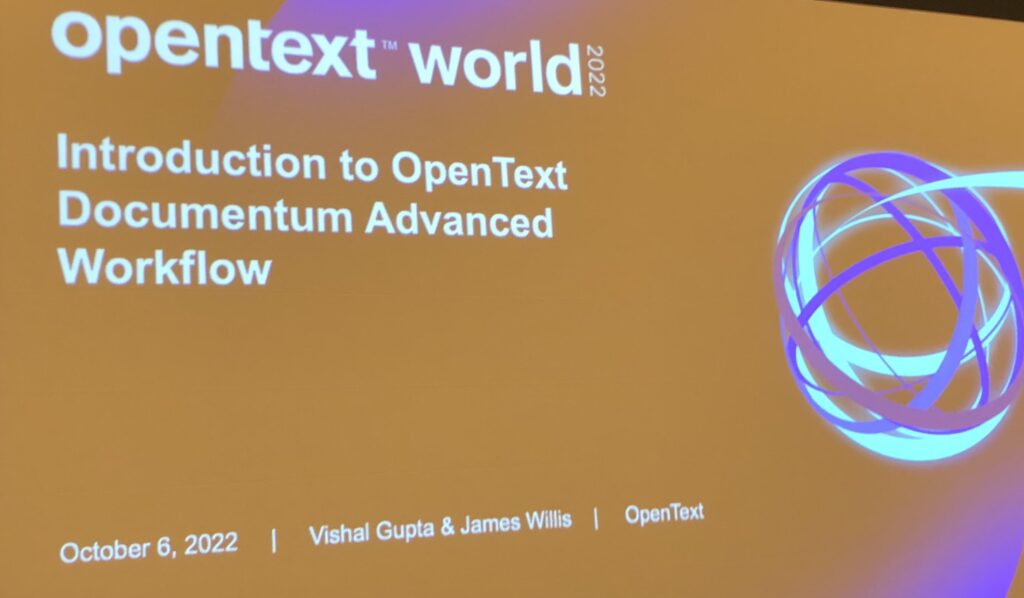 OpenText Documentum Advanced Workflow (formerly xCP Process Only) is a new offering that allows Documentum customers to process-enable their custom applications with no need to create a user interface with xCP. We learned about the new Advanced Workflow Designer that also provides a path forward for Process Builder customers.
Five steps to help accelerate your cloud adoption
Aaron Stuart is the Director for Cloud Services Product Management at OpenText. He is responsible for leading the product management team that plannings and delivering services into OpenText Cloud.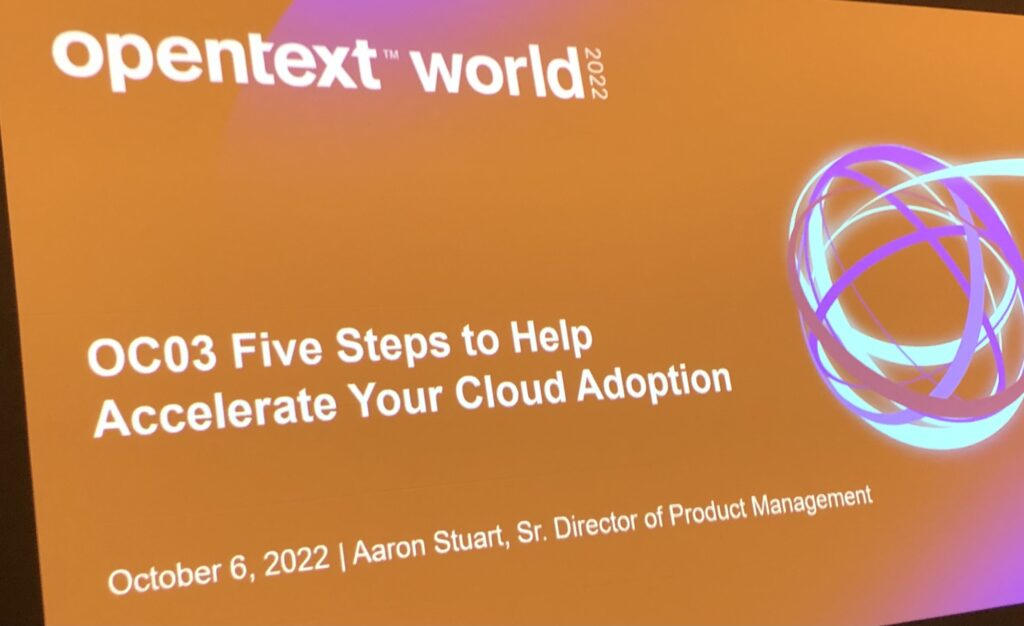 He showed us how OpenText is committed to delivering a compelling and flexible private cloud experience to increase automation and cost savings while reducing risk. We got an overview on new deployment options, best practices and real-world, technical insight gained from customers as they make their journey to the cloud.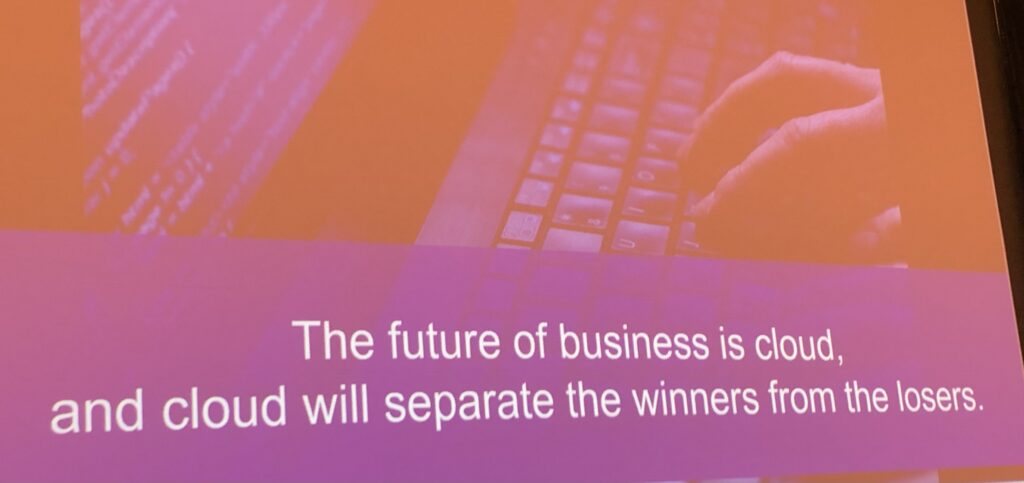 According to Aaron, the future of business is cloud, you are winner if you bet on the cloud today 🙂
And here the four cloud domains.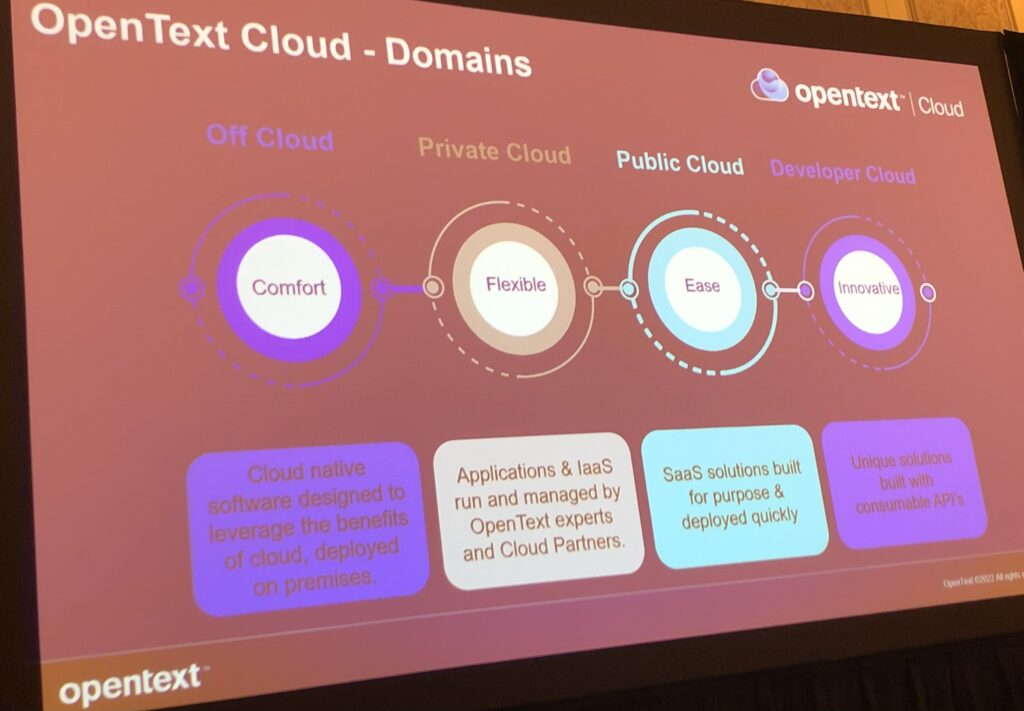 After three days at OpenText World we can say the key word is CLOUD… I think that was the most repeated word during this event!
Meetups
As said as the beginning, I took advantage of less sessions for me to exchange with customers and partners present. I am not gonna speak about all this meetups, below some of them:
FME
I shared with the team the issues we already encountered with dqman. The FME team admit that there was issues because the product were stuck in a very old version, now they are feeling comfortable with the latest version.
dqman helps in:
Simplify the administration of your Documentum Content Server, with its rich set of features, it makes administration processes within OpenText Documentum much easier.
Leverage the quality of your OpenText Documentum applications. Thanks to the combination of predefined and adjustable functions, admin tasks can be completed with high-quality results.
Save valuable administration time and reduce unnecessary costs. dqMan users benefit from significant time and cost savings when issuing DQL and API commands.
Migration Center
We exchanged about the latest version of OpenText Content Migration, got an overview on how it works and the migration possibilities.
Below you can see the huge source and destination possibilities.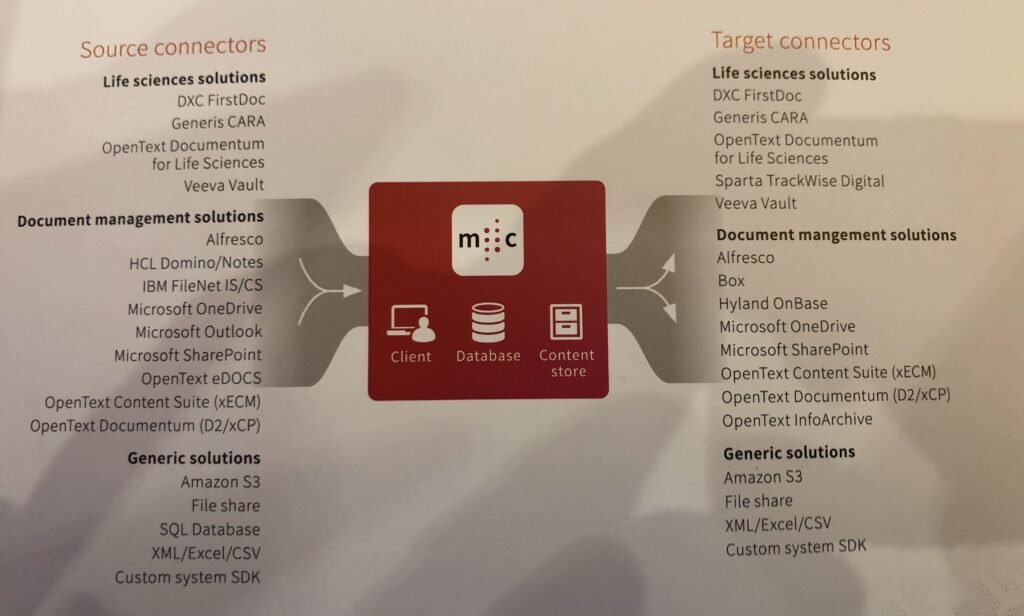 Reveille
A very nice face to face to understand what Reveille Software is able to do, and what it differentiate it from another standard monitoring software.
In few words, what can Reveille do for you:
Monitor and optimize capacity, performance, adoption, usage and cost​
Use your content systems budget more effectively​
Communicate your service levels, volumes, and adoption – promote your team's success
Get the most out of your investment when moving ECM systems to cloud ​
I must confess that it looks very interesting, testing it will be the only way to approve or not 😉 Did you already experienced this tool? If yes please share with us 🙂
Please find below the ECM Supported platforms.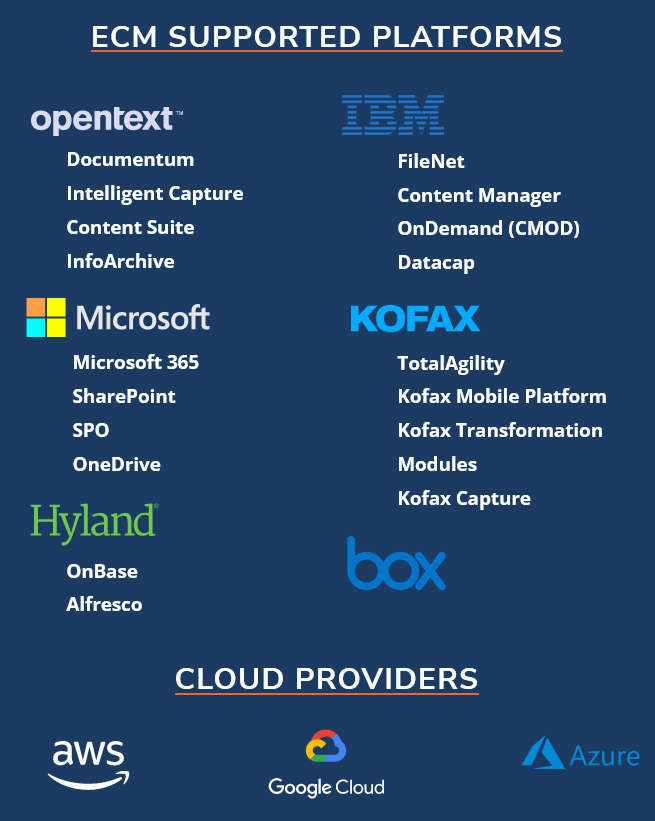 Conclusion
These three days at OpenText World 2022 were awesome, OpenText Team was open to discussions, very organized, they did the best to make this event a success. But, it doesn't mean there are areas for improvement, for me, there is a real need to increase Technical sessions number with live demonstrations.
As said before, the must repeated word during this event was the cloud, which is expected. On the other hand, OpenText confirmed that on-premise will be maintained, new releases will be available for both on-premise and cloud. Now, we have the OpenText vision for the future, dbi services as a partner will follow up the evolution and stay as usual up to date to advise our customers.
I would like to thanks dbi services for the trust, and OpenText for organizing such a great event! I would like also thanks my colleague Vincent Cambefort for preparing the travel and with whom I really enjoyed those few intense days.
Now, it is time for Closing Event at the Palazzo Pool to celebrate this with OpenText Team!