Today, was our 1st day at OpenText World 2022 in Las Vegas!
With over 150 sessions, 200 speakers, hands-on labs, networking opportunities, a developer summit and more, we had to choose which sessions to follow during these 3 days conference using a mobile phone application (OTW 2022) which revealed to be very useful to build and see our personal schedule: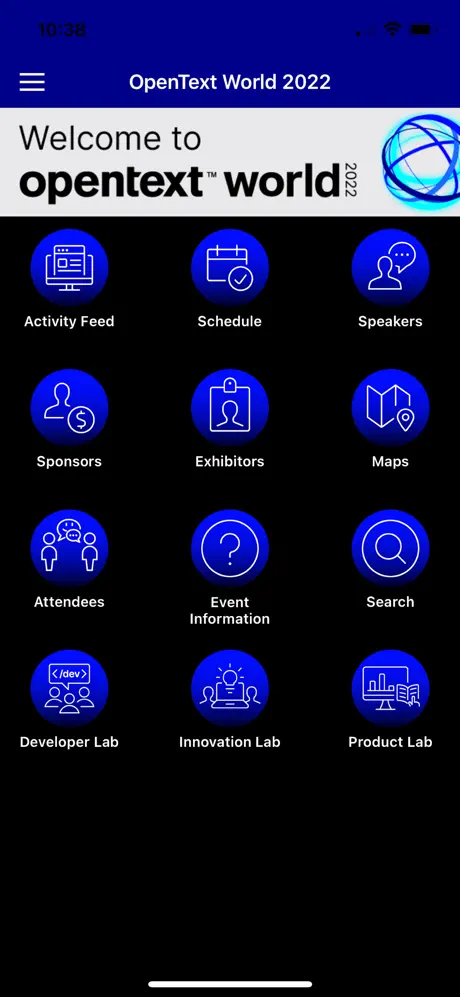 And it started with the Opening Keynote "Elevate Business with the Information Advantage", with speakers as:
Mark J. Barrenechea – CEO and CTO of OpenText – who talked about how organizations are using information to out-compete their rivals and build the information advantage. Welcome to Business 2030. He went through on how to succeed in a world of hybrid work and the future workforce, integrated machines, digital supply chains, new consumer demands, cybersecurity, sustainability and new priorities. He talked about the new version of Cloud Editions 22.4 with the integration of Magellan, a flexible AI and analytics platform that combines machine learning with data analysis and self-service reporting to maximize the value of business intelligence in unstructured content. And he finished with OpenText's Project Titanium, the future of information management in the cloud.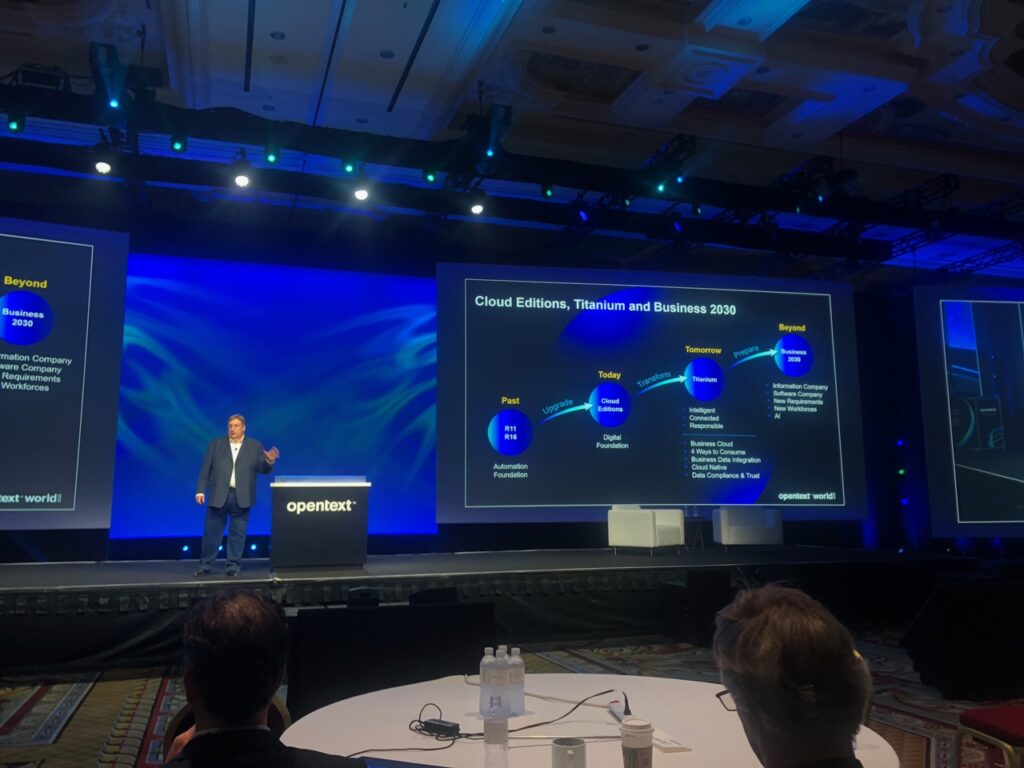 Rachel Wilson – Managing Director and Head of Wealth Management Data Security & Infrastructure Risk at Morgan Stanley – described the risks and threats presented by the current cyber landscape, and how those risks change and grow as companies expand their digital businesses. She also highlighted the impact of the conflict in Ukraine on global cyber risk.
Muhi S. Majzoub – OpenText EVP & Chief Product Officer – talked about the latest information management technologies and innovations and demonstrated new cloud products and unveil OpenText visionary product roadmap.
And a special guest speaker, Alex Honnold, a professional adventure rock climber who is renowned for his death-defying ascents of America's biggest cliffs with no ropes, no partners and no protective gear, talked about getting out of our comfort zones, managing our mental and emotional states, and staying focused under extreme pressure.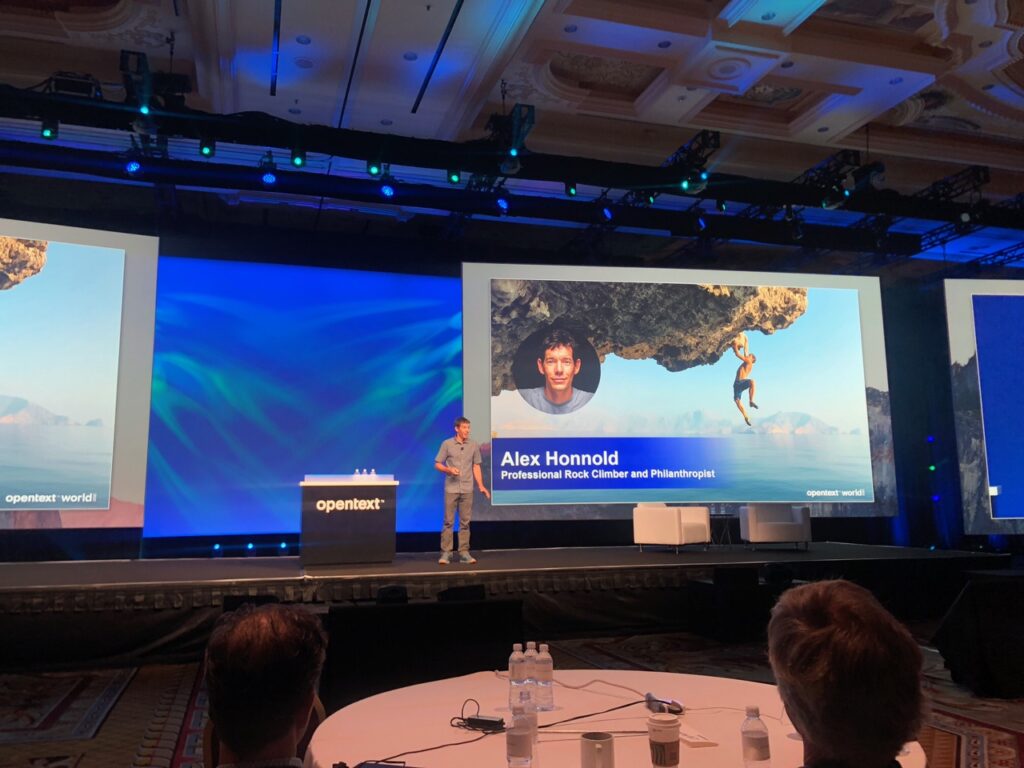 Personally I found very interesting Alex's inspirations, moreover after having watched the movie of his exceptional accomplishment: reach the top of Yosemite's 3,000-foot El Capitan wall without ropes!
Here the trailer: https://www.youtube.com/watch?v=urRVZ4SW7WU)
After that, I head up to different sessions during the day:
Digital Evidence From Social Networking Sites & Smartphones Apps

It was a practical walkthrough of preservation of top social media sites and how to effectively utilize tools for evidentiary collection across the Wen, PCs/desktops and smart devices.
Extended ECM – Business Process and Content Automation

Learn about automation in OpenText Extended ECM
After a quick lunch, I continued this day with the following sessions:
The unique value of OpenText cloud partnership

How OpenText's cloud partners can help accelerate value realization from customer existing IM investments and how to leverage partnerships with Google, AWS and Microsoft Azure for the digital transformation.
Roadmap for the Developer cloud

We saw the new features to the Cloud Administrator, Developer tools for building solutions using openText cloud API solutions
LSRD and LSQM in Action! Learning opportunities from the Merck Experience

Merck implemented recently two OpenText Documentum based system: Life Sciences Research & Development (LLSRD) and Life Sciences Quality Management (LSQM). It was very interesting to listen to the background of these projects and the implementation experiences from the technical side but also the business side.
OpenTex Documentum in the Cloud: The sky is the limit

And for the last session of this first day, what an interesting one where 2 companies (Lyondell Bassell and Pacific Gas & Electric) talked about their experiences and lessons learned after their move of their Documentum infrastructure into the cloud, with best practices for containerized cloud deployments, adoption of hyperscalers and Kubernetes.
This first day was very rich in terms of session but very interesting too in terms of customer's experience!
Now time to relax, have a beer and play some chips at the casinos!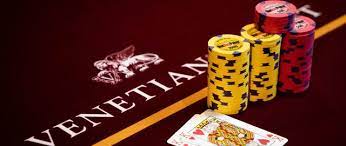 Roll on Day 2 tomorrow…