In the last post we've installed and configured the Uyuni server. In this post we'll add our first client we later on can manage through the Uyuni server. Quite some distributions are supported, and we're not going for any flavor of openSUSE or SUSE (that for sure will work), but for a Debian 11 client. As our server is running in AWS, we'll use the official Debian 11 AMI from the AWS marketplace. The supported features for Debian are listed here.
As usual, before we do anything else, we'll bring the system to the latest release. As described in the last post, make sure that the fully qualified domain name is returned by "hostname -f":
Later on, when we bootstrap the client from the Uyuni web interface, we'll need the ssh key for connecting, so we need to generate the keys for the root user:
Before we can start to integrate the client into the Uyuni server's we need to create a bootstrap repository. This repository is used, when a client is registered for the first time. To do that, we need to create the Debian 11 channels. This can easily be done on the command line:
The synchronization started automatically and our new Debian 11 channels are now visible in the web interface:

The repositories got created as well:

To check the synchronization status, you can either do that from the command line by checking the log file (you'll notice the Red Hat roots here, because of the "rhn" in the path):
… or by using the web interface:

This will take some time as plenty of packages need to be synchronized. Before we continue we'll wait until the synchronization completes. Again, this can be checked on the command line:
… or by checking the repository in the web interface: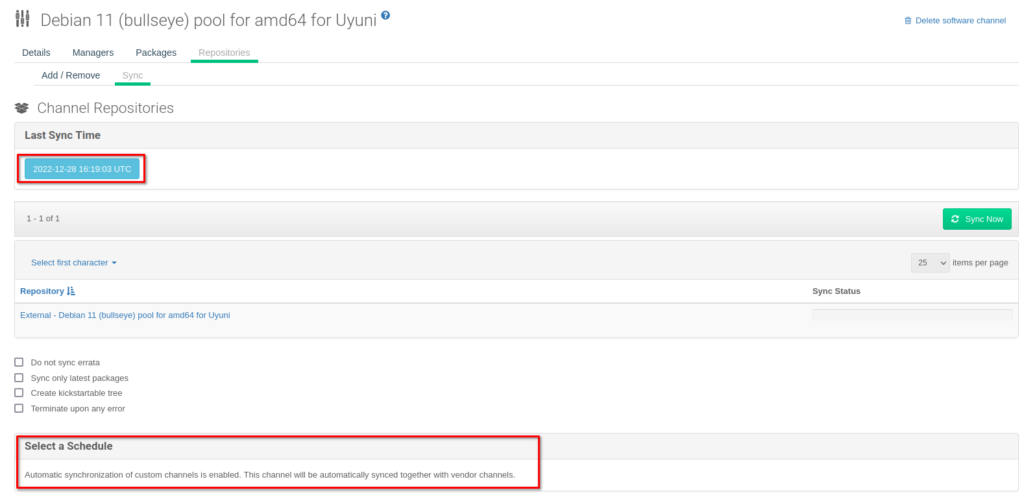 The next step is to create the bootstrap repository, which will be used by the client once it gets registered:
This fails, because the tools channel was not yet synchronized. We can do that manually:
Trying to create the bootstrap repository once more succeeds:
Before we can add the client we need to create an activation key: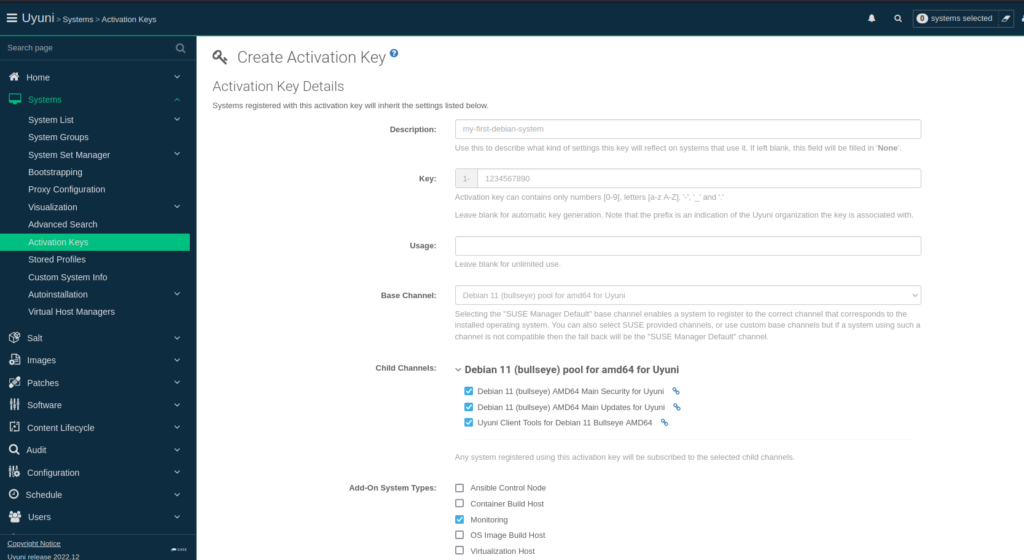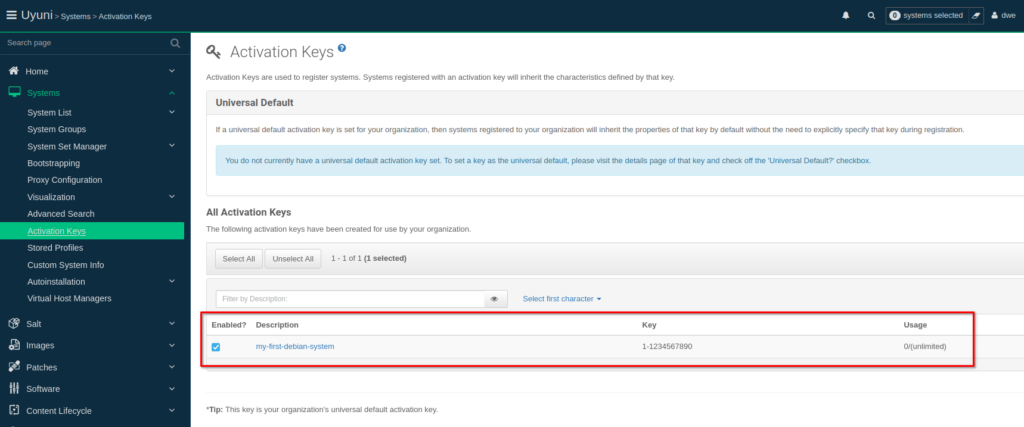 Now we are ready to register the client (we'll use the activation key we've just created and the ssh key from the Debian system created above). If you are in a public cloud, remember to allow ssh access as root, because this is usually disabled.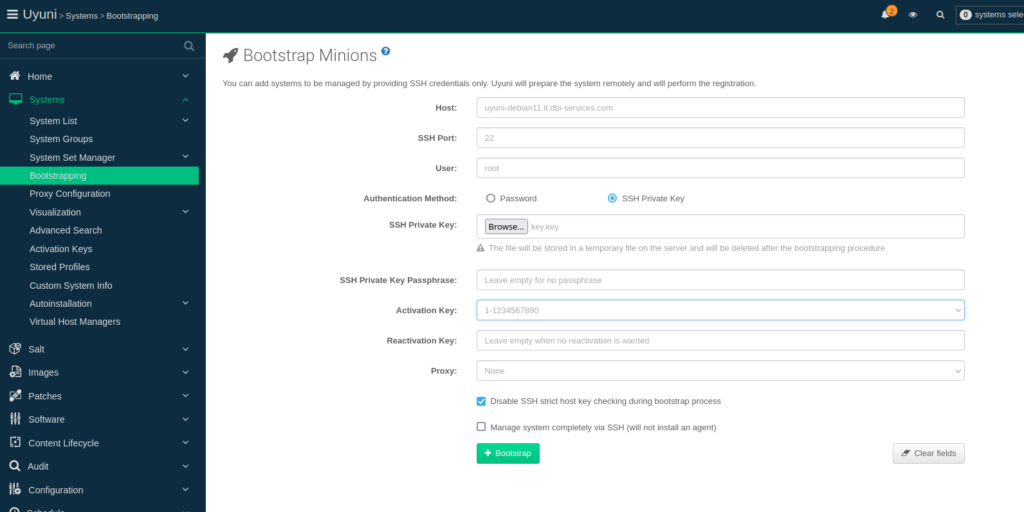 Once the bootstrap finished, the Debian system appears under the list of systems: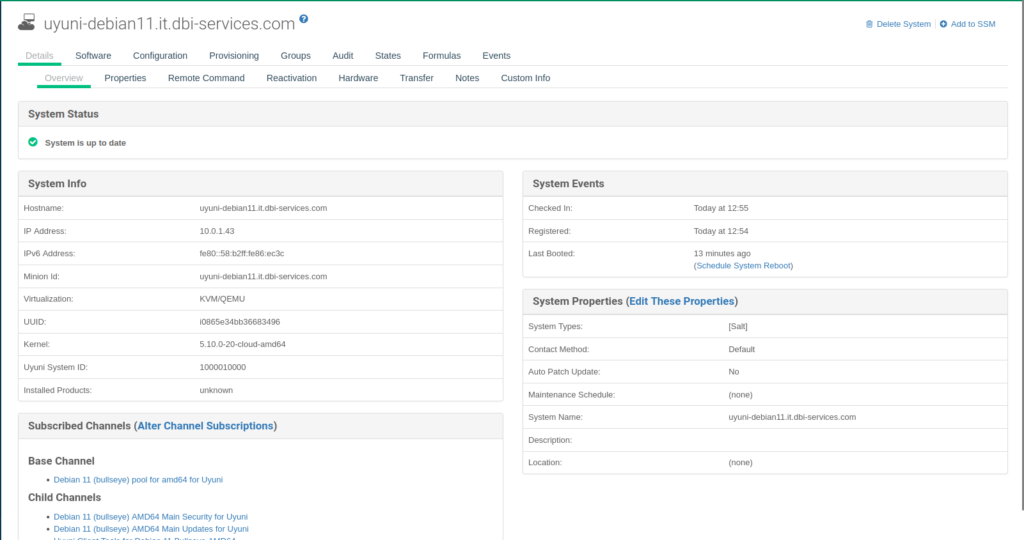 No we are ready to manage the system with Uyuni, but this is the topic for the next post.