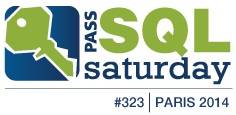 As you certainly know SQL Saturday events are very popular in SQL Server world community. This is the second time the event takes place in Paris (France), but this time, we have a new format with pre-conferences on Wednesday and classic sessions on Saturday. During pre-conferences, we will talk about a particular subject for a whole day.
This time, I have the opportunity to participate twice by giving two sessions (in French) with the following program:
Friday: Inside the SQL Server storage and backups
If you are interested in how the SQL Server storage works and how to deal with corruption as well as backups, this session might be interesting for you.
Be careful: the pre-conferences on Wednesday are fee-paying sessions (but not that expensive). You can still register at this address.
Saturday: SQL Server AlwaysOn deep dive
SQL Server AlwaysOn is a new great high-availability and disaster recovery feature provided by Microsoft. You can come take a look at this session if you are concerned by questions like:
How to configure my Windows failover cluster and quorum in my situation?
What exactly is a read-only secondary replica?
What are the built-in tools provided by Microsoft to monitor and troubleshoot this infrastructure?
Good news: the sessions on Saturday are free!
Take a look at the agenda if you want to attend to other interesting sessions. I hope there will be many attendees! 🙂
By David Barbarin