Last but not least, today was mainly dedicated to demos and customer cases. It started with the global stream presenting some OpenText applications like Core for Quality: An application developed with AppWorks and integrated to Magellan. It was meant to manage quality issues and connected to Documentum in order to link issues with SOP documents.
In the different demos we saw the integration of these SaaS applications in OT2 and their responsiveness (drag and drop from desktop, loading time, easy accessibility to other OT2 applications and so on).
OT2
We went to an OT2 specific session to get more info in this new way of bringing services and business to customers (and developers).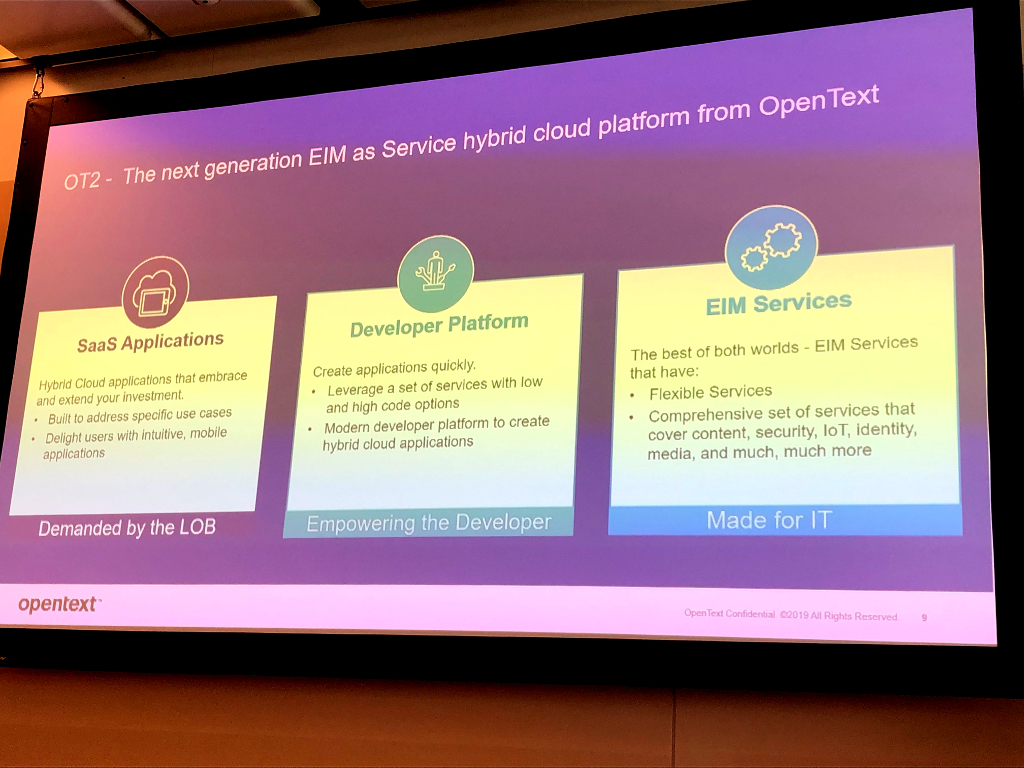 OT2 is a platform of services, it can be really interesting for companies to avoid IT management on site and to deport the infrastructure management inside OT2 at OpenText charge: security, maintenance, updates and patches aso.
The main purpose is "A2A", means Any to Any or Anywhere, anytime. OT2 hosted applications can be accessed from anywhere because it's a public cloud. As it's hosted by OpenText, you should expect almost no downtime, applications up to dates and most important: Security.
Core is another main feature of OpenText. It's a secure way to share content with people outside of the company's organization like external partners, customers (documentation sharing). The content can be edited by external people as it will be synced with your application (or backend) at all time. We saw how easy it was to share the content based on rules or just selection inside the application, and everything is taken care of by the product.
Federated Compliance will also come as a service, allowing you to track data and usage of your applications. An easy way to keep an eye on the status of your infra.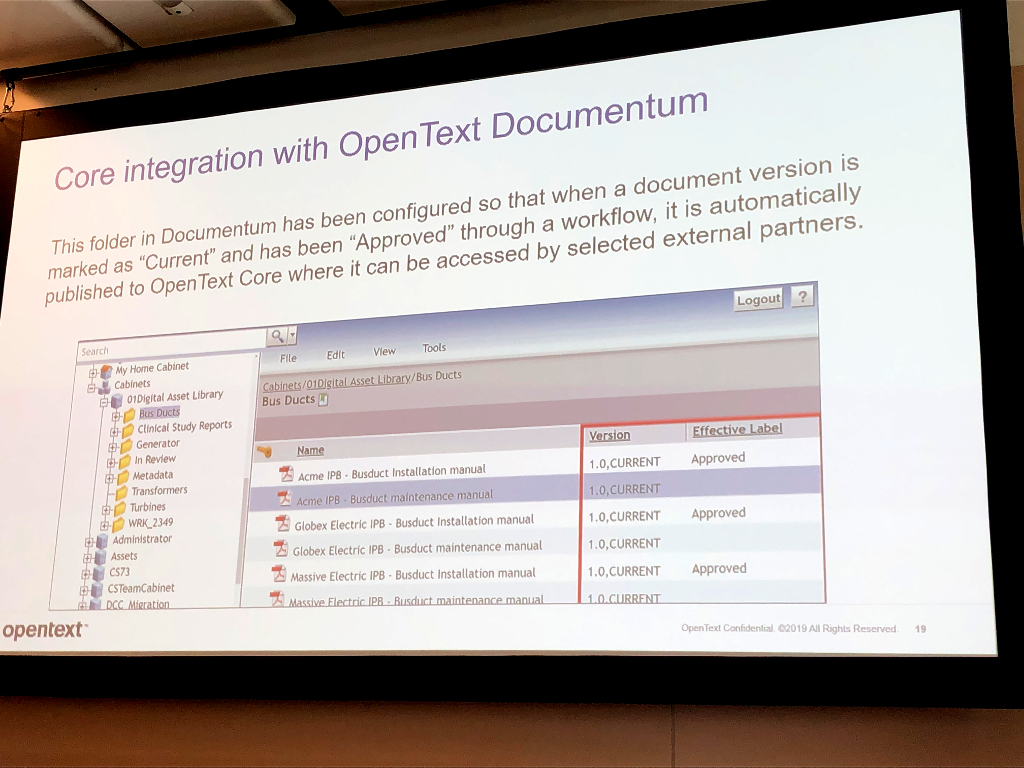 Some other products where mentioned as SAP Archive Server to be brought to the cloud with the help of OpenText but we won't focus on that point. The developers are really guided and escorted through Smart View application development and directly integrated to OT2. With this, OpenText is counting on Devs to enhance the panel of available solutions in OT2.
Documentum Stories
During the day we had the opportunity to discover some success stories from some of the Documentum customers.
Wiesbaden
Wiesbaden is a city in Germany where they came across an issue of organization in the administration sector.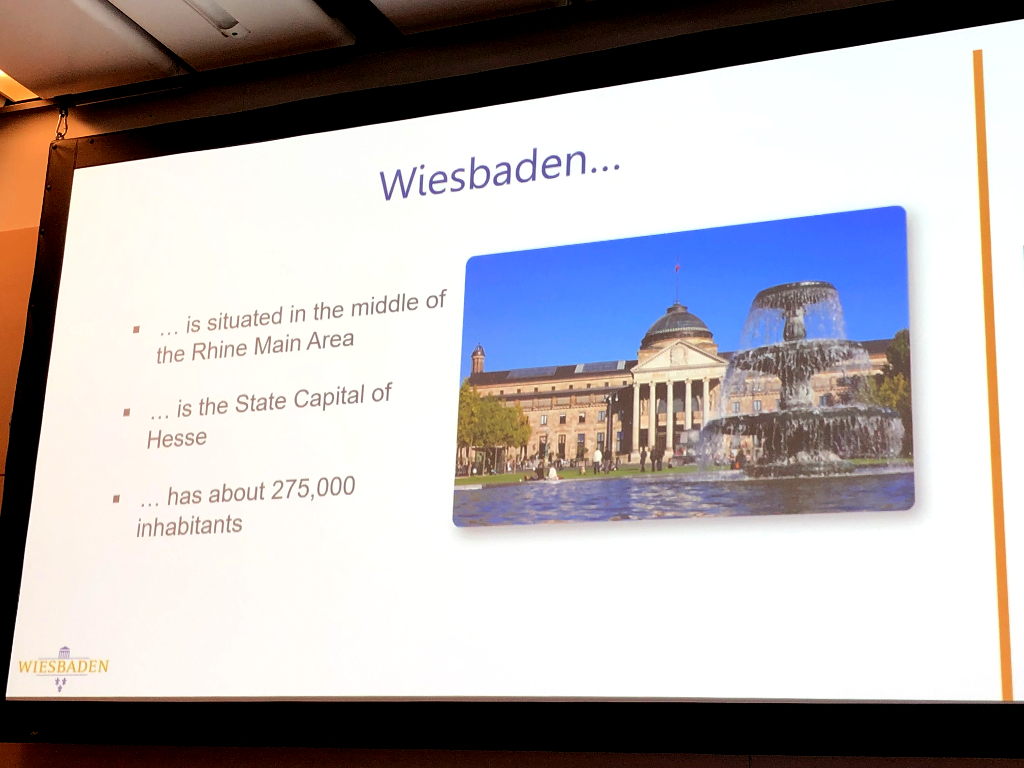 In this sector it's difficult to make changes due to a recusant vision of changing habits. Dr. Thomas Ortseifen, who was presenting, told us that the administration was not well organized and each part of it was "living alone" in its proper ecosystem.
Hence, the city decided to put their trust in OpenText to bring coherence in this organization. The solution proposed by OpenText was to setup a centralized DMS (Documentum) in the middle of a SOA architecture allowing flexibility and possibility to use APIs to increase the scalability of new applications.
Here are the benefits of this solution:
Enhanced information flow
Faster, continous availability
Less transporting times
Enhanced usage of existing database
Enhanced processes
Cross-functional complex search and analysis options
Reduced costs for information creation
Reduced costs for information management
Reduced costs for space required
Alstom ACOMIS
Alstom is a french company managing transport solutions like Tram, metro, digital mobility, maintenance, modernisation, rails infrastructure and so on.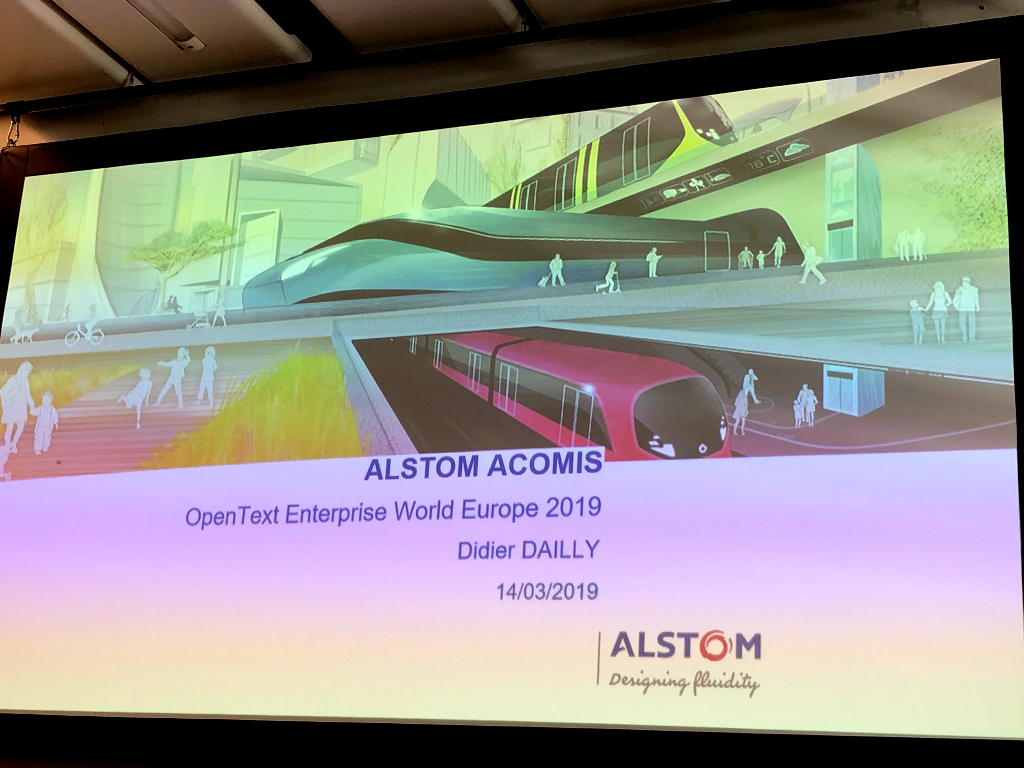 ACOMIS stands for Alstom COntent Management Information System. At first it was setup on premise with several Web Tops and docbases.
Alstom decided to create an ACOMIS V1 in order to merge all docbases and centralize the business. To achieve this, with help of OpenText, they migrated millions of documents and merge everything to D2 and one docbase, all of this in a private cloud, letting the on premise behind.
Added business value:
Replacing webtop with D2 for better user experience
ACOMIS operated by OpenText specialists
One single repo for cross project searches
There was some new requirements then, and some performance issues. The need of GDPR compliance and new 3D standard format. In order to gain these features Alstrom decided to move to a V2. So they moved to the public cloud, still managed by OpenText in order to solve the perf issue (network lags). They used Brava! in order to view 3D objects in HTML 5 interface.
Added business value:
Public cloud for perfs and external access
GDPR compliance
Security managed by OpenText
Version 16.4 with Brava! integration for 3D viewer
Conclusion
The OpenText World in vienna is now closed. We met a lot of people and experts. We clearly see the trend of service and centralization from OpenText. We are exited to see where it is going.