This has been a long day. It started with gathering some news about Enterprise Manager 12c and finished with a huge concert on Treasure Island. However, the highlight of the day was clearly Larry Ellison's Keynote. Since this afternoon (pacific time), Oracle is officially offering a public cloud integrating an Oracle social network!
Some news on OEM 12c
Enterprise Manager 12c has just been announced some days ago during Ellison's welcome keynote. I am now trying, through different sessions, to gather as much information as possible on it. So here are some news I already could get about the changes integrated in this new release.
The first main changes apply on the architecture itself. Enterprise Manager 12c is fully based on Oracle Fusion and Java and its structure has been made more flexible. Enterprise Manager is now composed of:
Enterprise Manager Platform
Enterprise Manager Plugins
There are two types of plugins: the Target plugins (database, middleware, cloud, etc.) and the Solution plugins. The second type can be compared to the Management Packs in 10g and 11g, but also also to vertical extensions like the Self Service module for instance. An advantage in this new structure is that plugins can easily be updated between two Enterprise Manager releases. Third parties will be able to provide their own plugins to extend Enterprise Manager.
The Agent has been fully rewritten from C to JAVA and integrates a memory self tuning mechanism based on the number of managed targets. In addition, the information transfer (XML Loader) between the Agent and Enterprise Manager is now done in synchronous mode. This means that there is no staging area in between anymore. The Agents can also be remotely controlled from Enterprise Manager to perform startup or shutdown.
The OMS Server monitoring by Enterprise Manager itself has also been improved by the addition of new target types: OMS, OMS Console, and OMS Platform. In addition, Enterprise Manager now integrates a new diagnostic framework 'out of the box' which implements diagnostic dumps at the installation. This should simplify issues tracking on Enterprise Manager without requiring to reproduce them. The question is how the purge and retention of these dump are going to work…
An other interesting feature added to this version 12 is a topology map: a graphical representation of its targets and the links between them.
Last but not least, the targets properties have been extended with Lifecycle Status information such Production, Test, or Validation. The good point here is that monitoring rules/profiles can be builded based on this Lifecycle status.
Oracle steps into the Public Cloud
This year Larry Ellison focused his keynote on Oracle Fusion Application. This new application platform finally comes out after 6 years of engineering and is clearly the future of the whole Oracle Application portfolio, integrating products like E-Business Suite, JDEwards or Siebel. The driving concept was to rewrite all these applications on more modern technologies and in respect of industry standards. This allows Fusion to provide applications even on mobile devices.
As a key point of this new Application Suite, Ellison has announced the Oracle Public Cloud!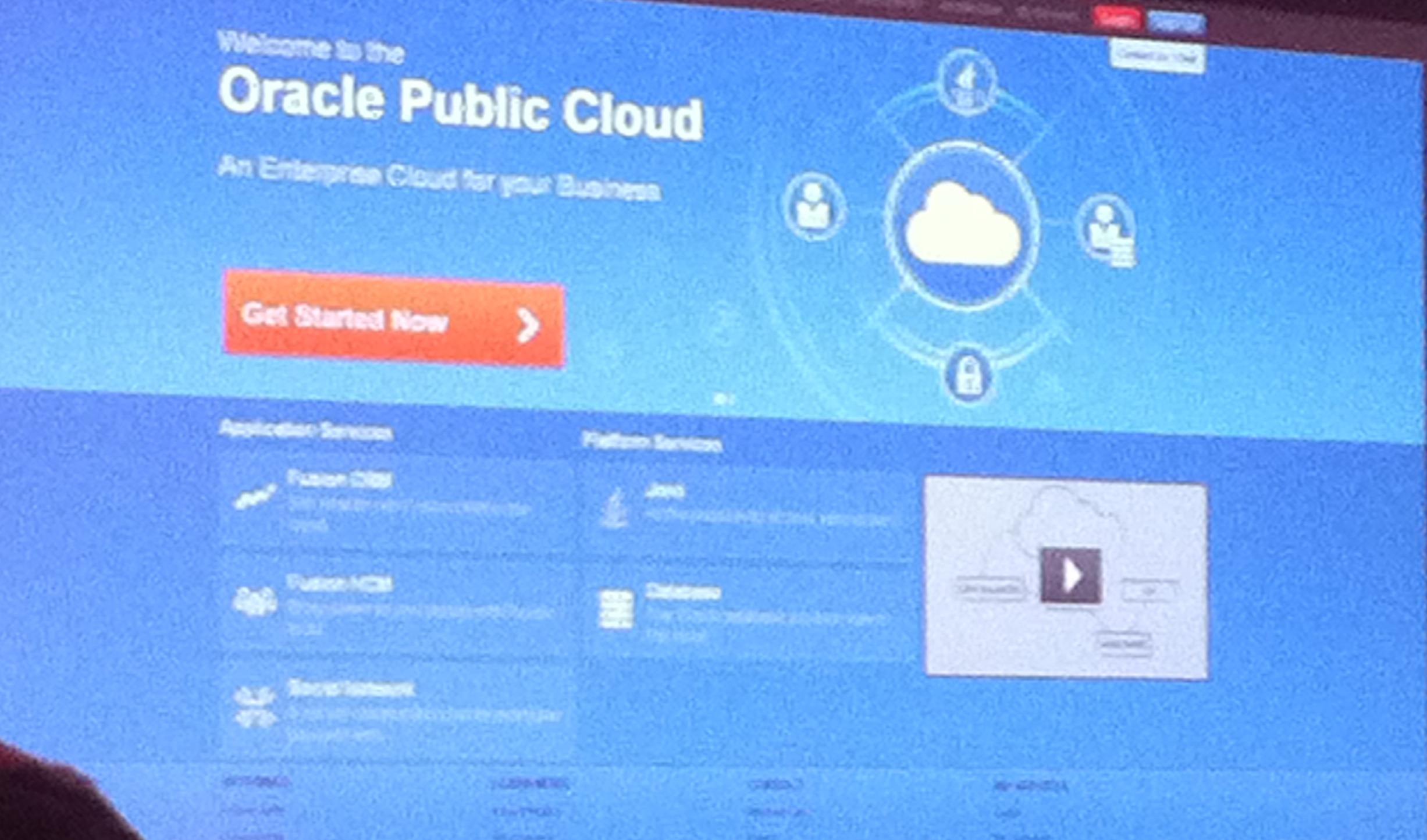 Like IBM, Amazon, or Salesforce before, Oracle will now offer a cloud solution for Platform as a Service (PaaS) and Infrastructure as a Service (IaaS). This new solution is based on:
Exadata
Oracle Fusion
Java EE
Ellison guarantees that by respecting industry standards (especially Java), the Oracle Cloud is going to be fully compatible with both third parties' clouds (Amazon, IBM…) as well as with primacy systems. With Oracle Cloud, you will be able to move a database from a primacy system, almost without any change, to the Oracle Cloud and move it back if wanted.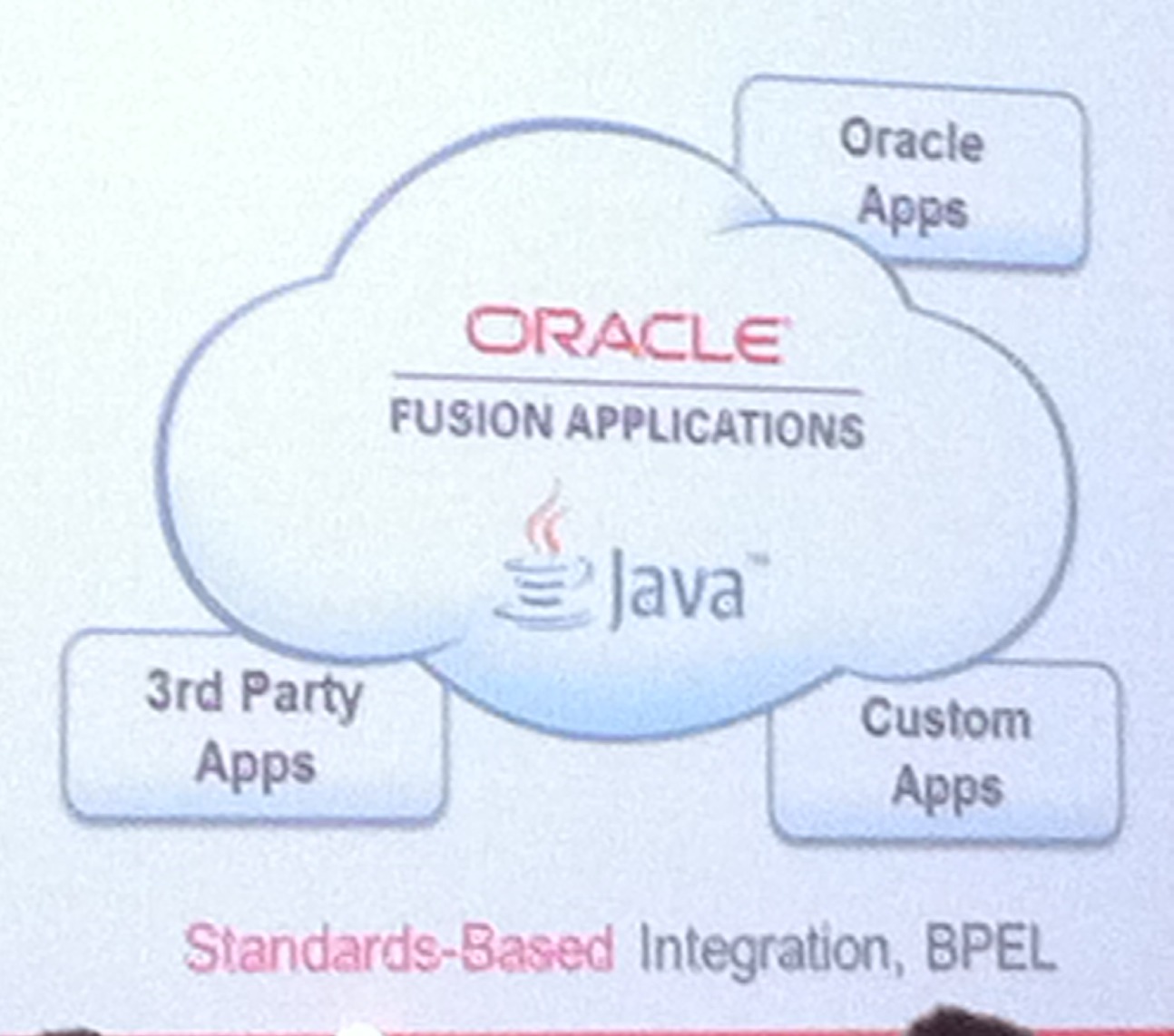 An other concept of the Oracle Cloud is the principle of Elastic Cloud. This means that your used resources can be automatically extended if needed and be shrinked back once idle again. This allows to introduce a principle of "pay-as-you-use", which is quite similar to the "pay-as-you-grow" defined for Database Appliance.
Isolation and Virtualization are also going to be key concepts in the Oracle Cloud. Unlike some other vendors, Oracle is going to fully isolate each customer environments through virtualization. This will guarantee a higher level of security and confidentiality.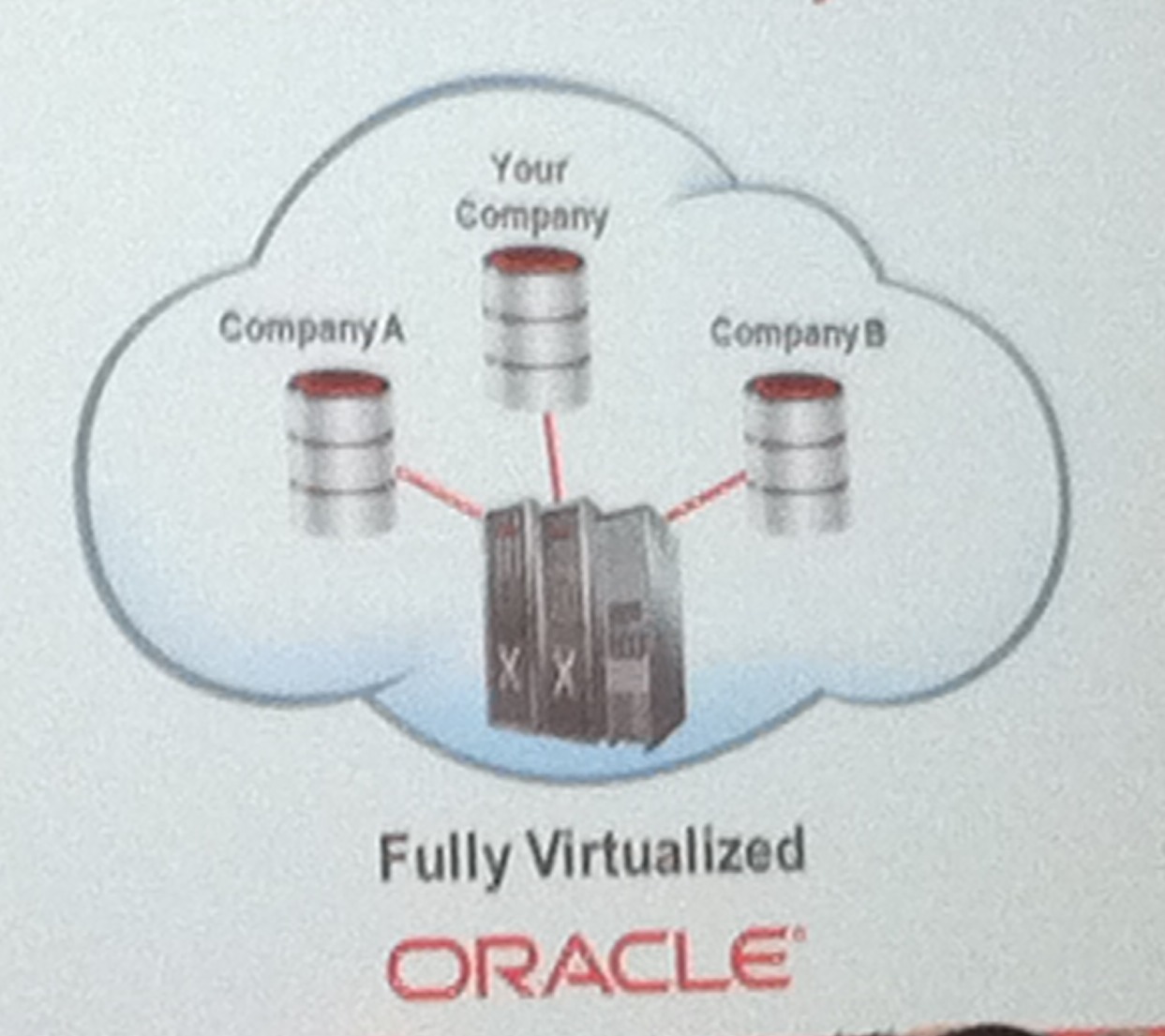 The second main announcement during this keynote was the integration of an Oracle Social Media within the Fusion solution and the Oracle Cloud. This social media features:
Team Management
Web Conferencing
Document Sharing
Connections to Co-Worker but also to Partners
So as you can see a lot of new things have been announced on the application side to help companies applying the new business paradigm presented by the Infosys' CEO during the keynote:
Predict and sense tomorrow's demand
Influence tomorrow's demand
Fulfill tomorrow's demand
See you tomorrow 🙂