Introduction
Oracle CloudWorld 2023 will start next week in Las Vegas, and I'm happy to participate in this worldwide event. As a Swiss citizen, when I think of Las Vegas, the first image that comes to my mind is that of dazzling lights, opulent casinos, and dancing fountains. A city that never sleeps, where excess seems to be the norm. However, behind this glittering facade lies a surprising reality: Las Vegas appears to be a leader in many sustainable initiatives and a model of responsible water management. It's perhaps also because of this that a company such as Oracle decided to organize its most famous event in this city.

Environmental Savior or Sinful Excess?
While it won't be my first visit to Sin City, as Las Vegas hosts several events like CES and is a popular destination for those exploring the West Coast on road trips, each visit brings its own unique experiences. On my previous trips to Las Vegas, what truly captivated my attention was how a city nestled in the heart of the desert could orchestrate mesmerizing water spectacles, such as the renowned ones adorning the famous Las Vegas Strip.
As a company that has dedicated significant efforts to sustainability initiatives and proudly holds Ecovadis certification, I felt compelled to delve deeper into the question of how this desert city manages its energy, and its precious water resources. To craft this article, I had the privilege of engaging with Jace Radke, the Public & Media Relations Supervisor in Las Vegas as well as Mack Branson, who represents both the Southern Nevada Water Authority (SNWA) and the Las Vegas Valley Water District. I thank them for generously sharing their time and expertise, which greatly enriched the content of this article.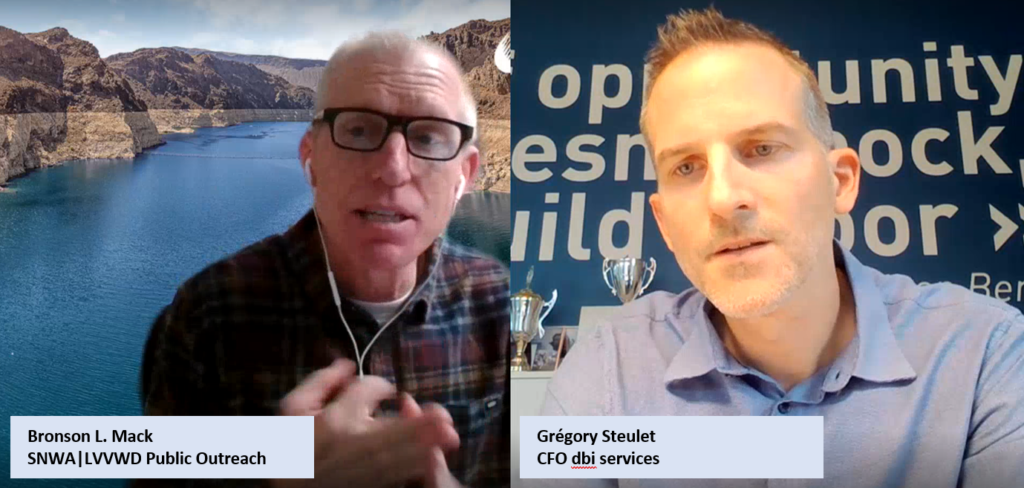 World-class in terms of sustainability
As stated by Jace Radke, "More than 2.1 million people reside in Southern Nevada and 40 million people from around the world travel to Las Vegas annually. Many know Las Vegas as a world-renowned entertainment and tourist destination, however, very few of them know that Las Vegas is also world-class when it comes to being green and sustainable." Just to provide few facts and figures that attests the efforts of Las Vegas in terms of sustainability (a more exhaustive list can be found here: www.lasvegasnevada.gov/sustainability) :
Certifications such as LEED (Leadership in Energy and Environmental Design) certified. buildings, including Las Vegas City Hall that opened in 2012.
Investment in hundreds of miles of bike lanes.
Completion of more than six megawatts of solar.
Replacement of 42,000 streetlights with LED lighting.
Reduced annual water consumption by 256 million gallons from 2008 level.
Every public building, park and streetlight is served by renewable energy.
Several years ago, the largest rooftop solar array in the country went online at Mandalay Bay, with 26,000 panels covering 28 acres.
Many other initiatives will be undertaken. For example, the city plans to plant 60'000 new trees to help mitigate the heat island impacts in the city and lower temperatures. This initiative is part of the city's 2050 Master Plan: https://www.lasvegasnevada.gov/Business/Planning-Zoning/Master-Plan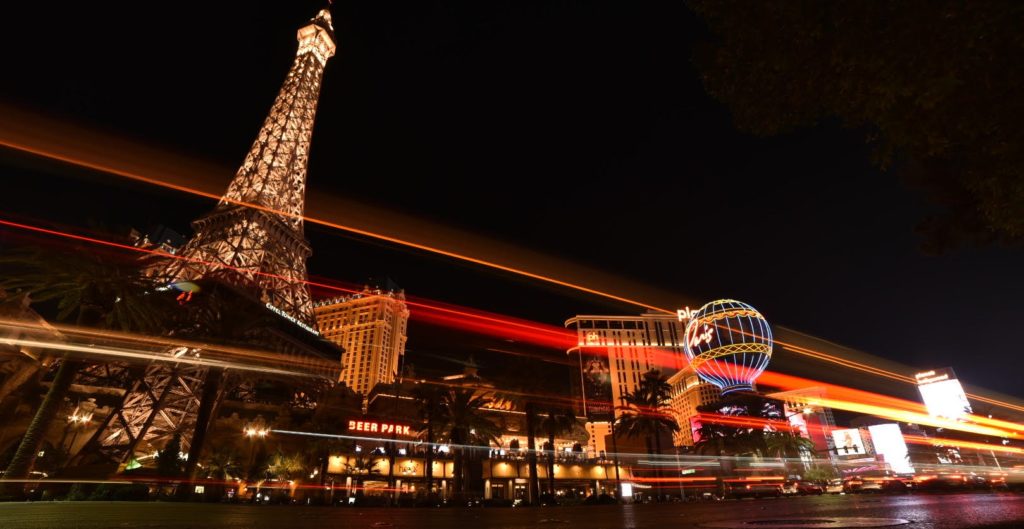 These measures have been awarded. In 2014, the city was honored with the US Conference of Mayors' Climate Protection Award in Dallas. Such initiatives also led to a reduction in annual energy costs, decreasing from a peak total of $15 million in 2008 to less than $10 million per year.
However, despite these initiatives, Jace Radke remains aware of the ongoing challenges that pose a threat to community well-being: "Many communities, like Las Vegas, are facing issues more heat waves, flooding, or drought – an issue they face together with cities across the Southwest. Of course, water is clearly a big part of our story".
While everything may not be perfect in Vegas in terms of sustainability, there is still room for improvement. However, when we examine the 2050 Master Plan, it becomes evident that the authorities are well aware of this potential for enhancement.
Water savings of 48'425 Olympic-size swimming pools
Before delving into water management, it's crucial to establish a rough idea of the proportions we are discussing. As mentioned by Jace Radke and confirmed by Mack Branson, "while many look at Las Vegas's growth and water use at casinos, golf courses and fountains as the cause of declining water levels in Lake Mead, the fact is that Las Vegas uses less than 4% of Colorado River water. Additionally, it's important to mention that the resort industry only uses 3% of all water used in Las Vegas.".

To maintain the focus on proportions, consider that the Southern Nevada region receives 100 millimeters of precipitation per year, while a country like Switzerland receives between 1000 to 1500 millimeters of precipitation per year (according to meteosuisse.admin.ch). Naturally, these conditions have prompted the Southern Nevada Water Authority to implement certain restrictions, such as:
Replacing useless grass
Limiting water gardens
Prohibiting installation of new gras
Limiting residential pool sizes
Moratorium on evaporative cooling
Annual water budgeting for Golf courses
As explained by Mack Branson, some strong measures will be enforced: "by the end of 2026, it will be illegal to irrigate grass which is considered decorative grass. This measure is due to the fact that grass needs approximately 3000 liters of water per square meters (73 Gallon per square foot). The reason of this measure is very simple, water that we use outdoor can be used only one time which is not the case of water used indoor because we can recycle it."
Due to all these measures, Southern Nevada Authorities estimates that: the Southern Nevada's consumptive water use declined by approximately 32 billion gallons (121.25 trillion liters) between 2002 and 2022, despite the influx of approximately 750,000 new residents and nearly 40 million annual visitors during that span. (Conservation fact sheet – Comprehensive 2023.pdf edited by Southern Nevada Water Authority) which represents approximately 48'425 Olympic size swimming pools.
Lake Mead, a challenge that goes beyond the borders of Las Vegas
As we all witnessed in recent years, the water level of Lake Mead significantly declined. Fortunately, the water level has rebounded in the past months. Nevertheless, to confront the challenge of declining mean water levels, it's important to take into consideration that Las Vegas uses only 4% of the Colorado River water. Therefore, additional efforts are required beyond Las Vegas and Nevada.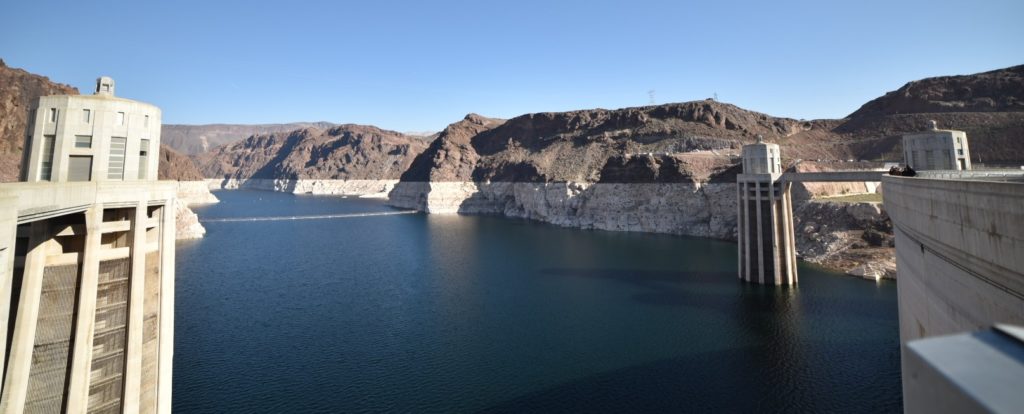 As mentioned by Mack Branson "Our community recycles and returns nearly every drop of indoor water use back to Lake Mead, which provides 90 percent of Southern Nevada water supply. Every liter returned allows us to tank another out of the lake, treat it to drinking water standards, and deliver it to the community. We are the only community in the U.S. that we know of that recycles all of its indoor water use."
However, Mack Branson is aware that the challenges related to Lake Mead do not stop at the borders of Las Vegas.: "It's going to require every sector in every state that uses Colorado River water to use less. The largest water user of the Colorado River by sector is agriculture, which is beneficial to us in our nation's food supply. However, a significant portion of that agricultural water use still employs inefficient irrigation techniques and produces a lot of feed for cattle (alfalfa). It appears that alfalfa has become one of the dominant water users in the agricultural sector. While it's essential to support the dairy industry, we also observe a substantial portion of this alfalfa being exported out of the United States. Thus, we are effectively exporting Colorado River water out of the United States.
Intake 3, a drought insurance
In response to unprecedented drought conditions and for the long-term preservation of Southern Nevada's primary water storage reservoir, Lake Mead, the Southern Nevada Water Authority built a third drinking water intake system (intake 3) capable of extracting Colorado River water when the lake's elevation is below 1,000 feet (~304 meters) above sea level.
In 2008, construction of the intake 3 commenced, involving the use of a 24-foot (~7,3 meters) diameter tunnel boring machine to excavate a tunnel beneath Lake Mead. This tunnel was subsequently connected to an intake structure anchored to the lakebed with over 1,000 truckloads of concrete.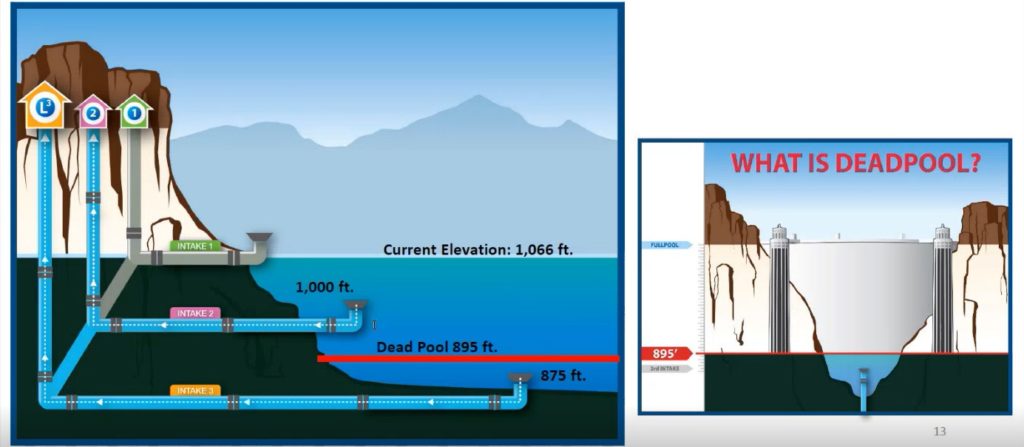 Currently, Lake Mead stands at a height of 1,066 feet (325 meters), as indicated by: https://mead.uslakes.info/level.asp. This means it is below the level of Intake Number 1. Consequently, Pumping Stations Number 2 and Number 3 are in operation. In a few months, when the Lake Mead elevation rises above Intake Number 1, Pumping Station 3 will be deactivated to conserve energy. This decision is driven by the greater energy consumption of Pumping Station Number 3, attributable to the depth of Intake Number 3.
Conclusion
The challenges encountered by Las Vegas, and more globally South-West, are challenges that will impact other regions around the world in the future. Behavior adaptations such as the replacement of grass, water recycling techniques, strategies to reduce water evaporation, and environmental certifications for hotels are all practices that are expected to become more widespread in the coming years.
Undoubtedly, Las Vegas is a city with high energy demands, and there is still much work to be done. However, over the past several years, awareness has been steadily increasing, giving rise to promising ideas and a genuine commitment to making meaningful improvements.
Climate change is affecting all of us. We need to adapt to build resilience. Climate change in the Southwestern United States will result in a warmer and drier future and if we do not admit that degrowth can be a solution, people will have to be innovative to face these challenges.