All virtual, rumours say about 1000 participants, over 200 Sessions, most of them interesting, many people to meet: that was DOAG 2021.

Myself I enjoy virtual conferences as it's easier to get in contact with people, easier to escape to normal (family) live, no travel time and therefore eco-friendly. See dbi services booth in 8 Bits: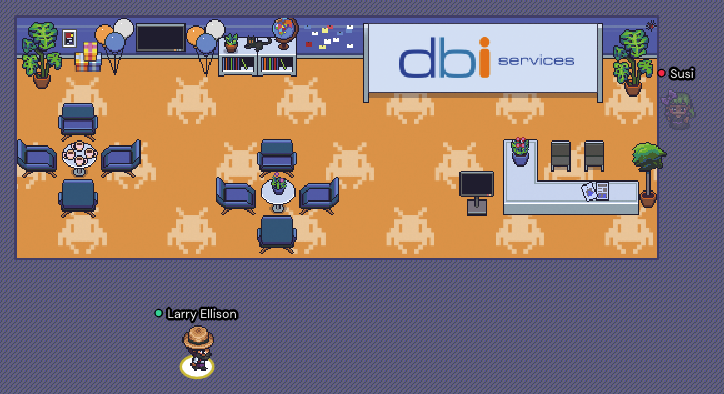 One drawback: no food and drinks. Another one: Many technical incidents. As everybody was supporting, at the end everything could be fixed, but time was wasted. If you want to organise yourself, either contact DOAG office or have a look at gather.town for meetup, Big Blue Button (open source) to record streams and chat, vimeo to distribute the streams. And as usual with digital solutions: test test test and instruct involved people well.
Next my three favourites among about 15 session followed. Way to much, I recommend to concentrate on only three per day.
25 Years of Tips and Techniques – Connor Mc Donald
Connor is technically brillant and top entertaining. Did you know there is a default commit when you accidentely exit sqlplus? Once in panic mode, many people close a session instead of rolling back. So usability wise, better to deactivate:
SQL> set exitcommit off;
Are you using Oracle RDBMS Enterprise Edition and looking for a reliable disaster recovery solution? As you probably licensed more than one server, use Data Guard which is free. So you put your primary database (the one users connect to and write) on one server and on physical standby database on another.
Bonus tip from my side: Create a second standby database which is not applying redo logs in real time but maybe with 24 hours delay. Most errors that leads in data restore and recovery are told to DBAs within 24 hours. So with the second standby, there is only recovery, no restore.
There are more advantages on Data Guard, one is certainly that you can open a standby database read write (but stop applying), select for report, test, …,  and the get in sync with primary again. So personally, I do not see any reason why not to use dataguard if you have more than one server licensed. You may want to learn more on Data Guard, so why not get instructed by my colleagues Marc, Mouhamadou or Hervé?
To sum up, Connor had more than 25 tipps for everybody dealing with Oracle RDBMS, have a look at his slides. And next time you get the chance, it worth time to follow his sessions.
A postgres-compatible DB on K8s for microservices: YugabyteDB – Franck Pachot
The Importance of a Distributed Database – Frits Hoogland
Ok, unfair, those are two session, both about Yugabyte. Frits and Franck, our formerly dbi colleague, are great team-players: One was presenting, the other one answering questions in the session chat. I'm a person that by listening I'm constantly asking questions (only to myself and sometimes verbal) to better understand, sum things up or simply in respect of my talking partner. So having questions answered promptly is a real plus for me (and maybe others).