As every year, dbi services attends the DOAG conference in Nuremberg.
This year the event takes place from November 19th to 22nd.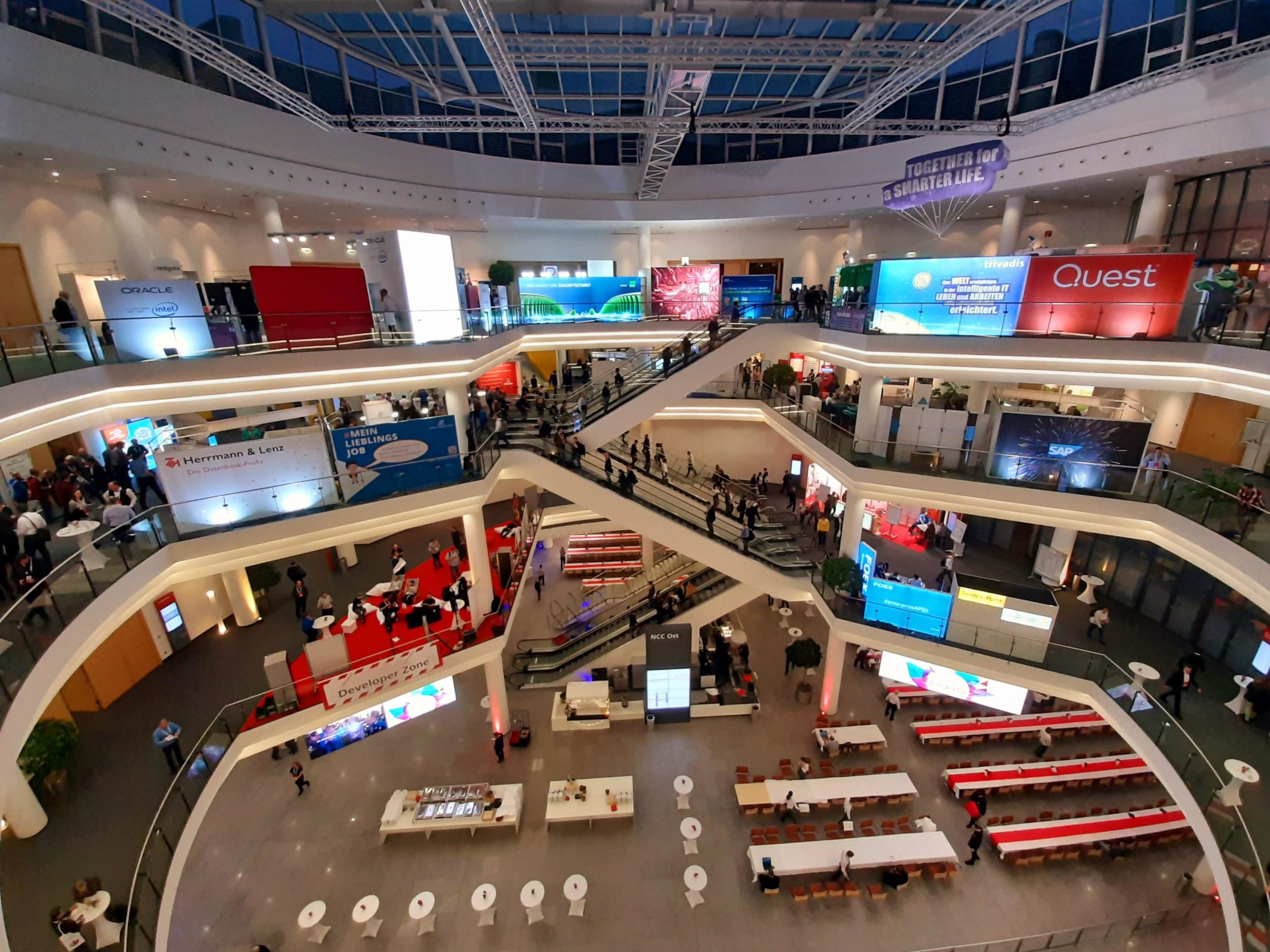 dbi services at the DOAG
New look for dbi services this year!
The booth has a different design: new pictures, plants, more cosy-looking furniture..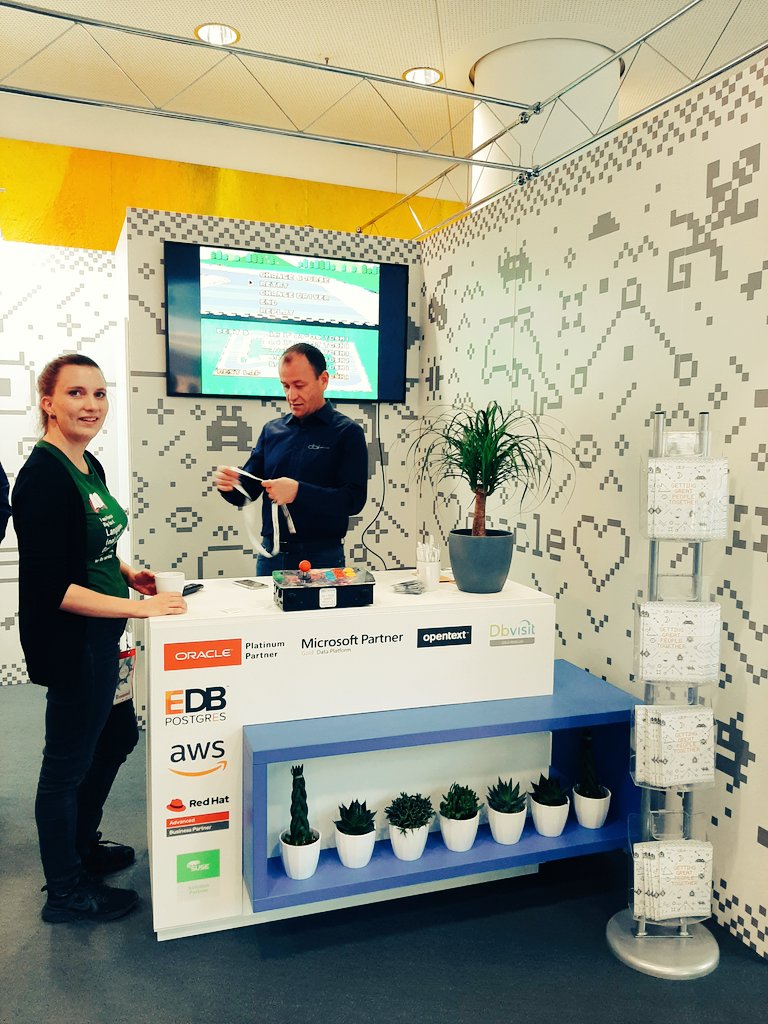 And also new t-shirts for us: we had the opportunity to choose the color and to personalize the text on it. My t-shirt looks like this: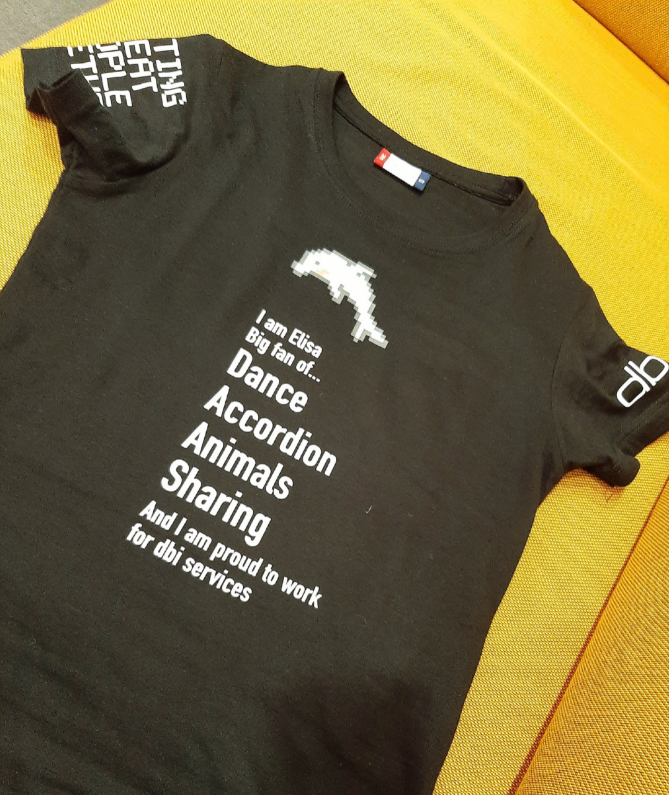 And here some other colleagues: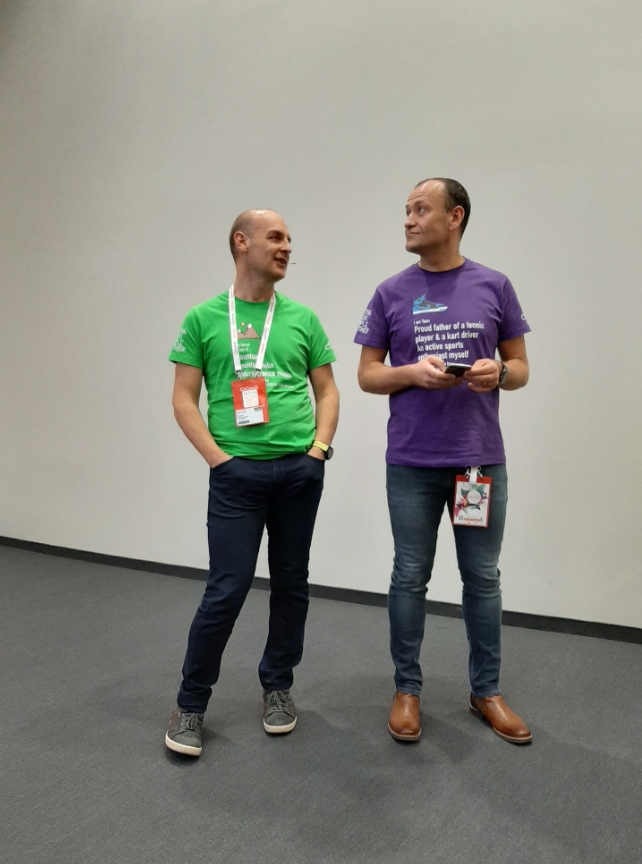 Some words about some sessions
I attended some interesting sessions during these first days:
Relational DB Versus Graph DB: And The Winner Is?
Actually there is no winner. After an introduction to explain what Graph Databases are, Gianni Ceresa talked about the fact that the choice between them or the Relational Databases depends on your needs. Graph can be better for pattern matches relationships and many to many relationships, but it's not useful for example for hierarchical queries.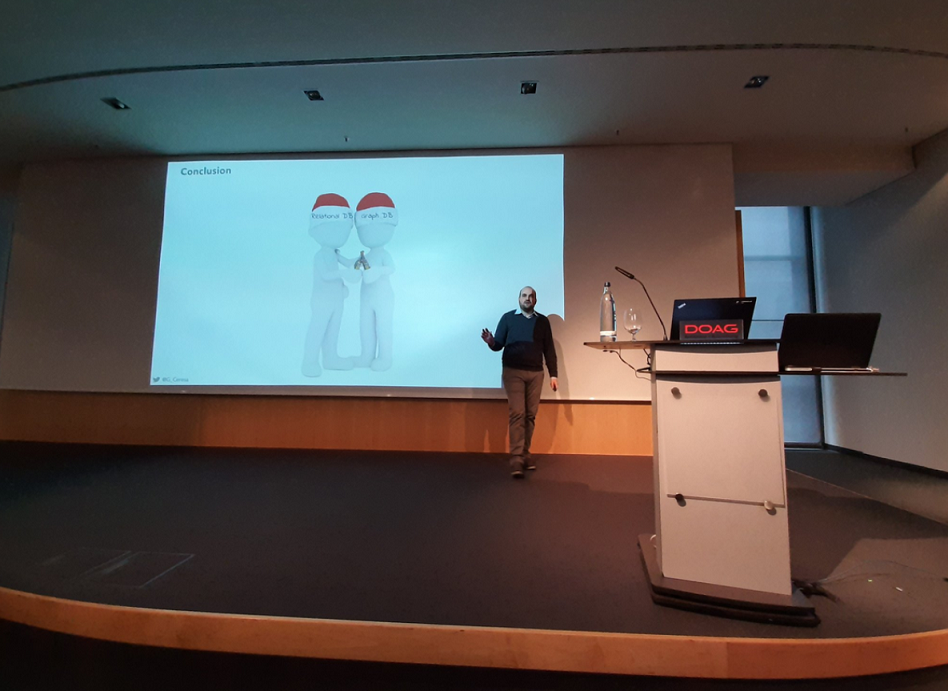 Quote by Gianni: "So it's not a battle. They can drink a beer together".
19 Features You Will Miss If You Leave Oracle Database
What a great session! In a period where trends seem to be PostgreSQL and other Open Source databases, Franck Pachot made us think about some Oracle features that we will miss: in-place updates, cursor sharing, guaranteed disk writes, advanced materialized views, IOT, wait events, online operations, etc. And even if we talk about support, the Oracle knowledge base is still a good tool to help us to find answers to our issues.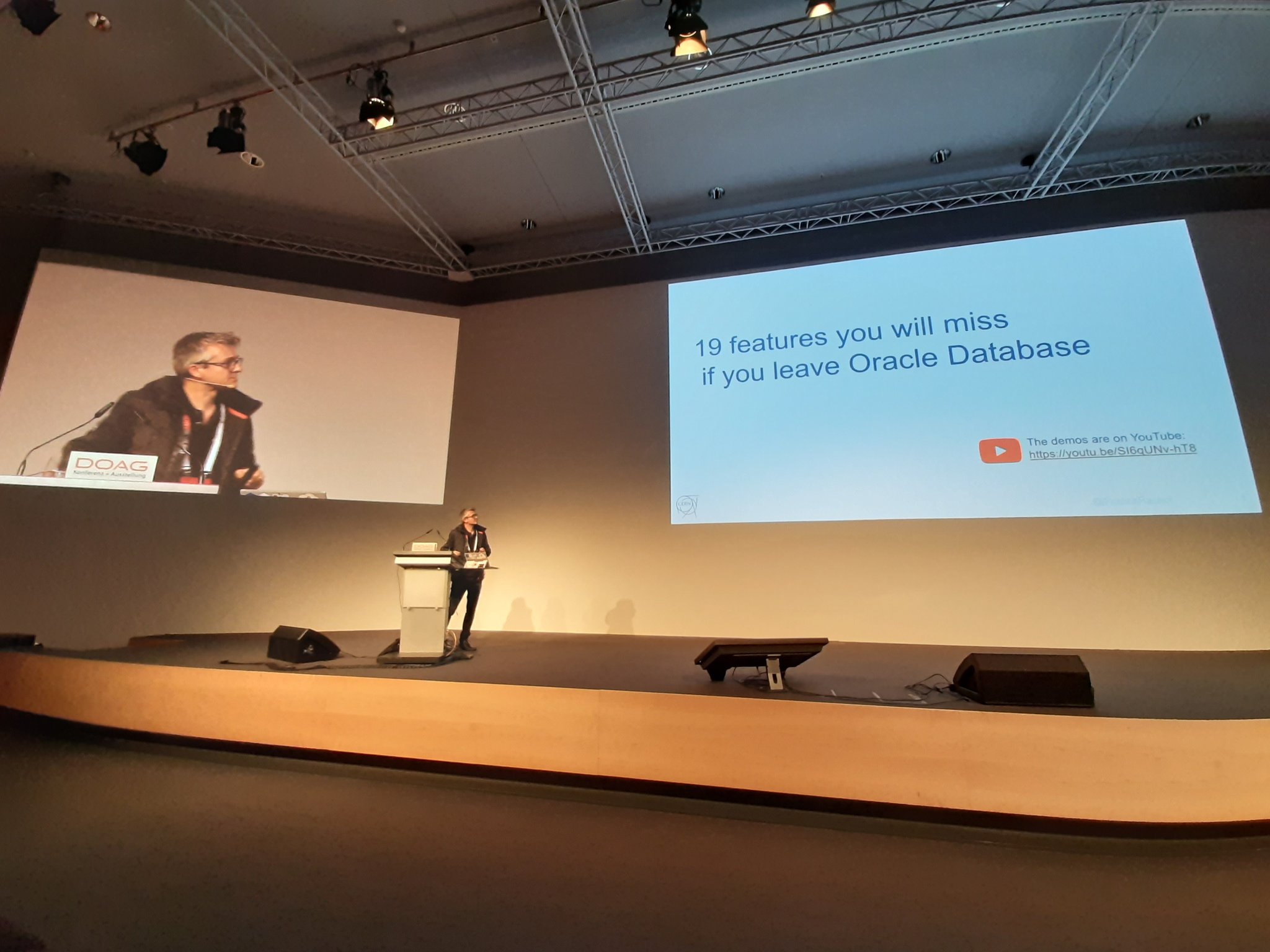 Quote by Franck: "Why do I like the Oracle online operations? Because during weekends I prefer to stay at home with my kids instead of doing reorg operations"
Practical Git for the Oracle Admin
In the age of Infrastructure-as-Code, Martin Bach presented Git for DBA: a good tool to maintain changes and versioning in our scripts, code, products.. after having deployed them through Ansible or Terraform for example. Git is easy to use: after a git init to initialize it, we can directly commit code to make it durable (providing a little message that is useful to track changes reasons and history). But as usual, workflows need to be organised and a strategy must be defined before starting the project.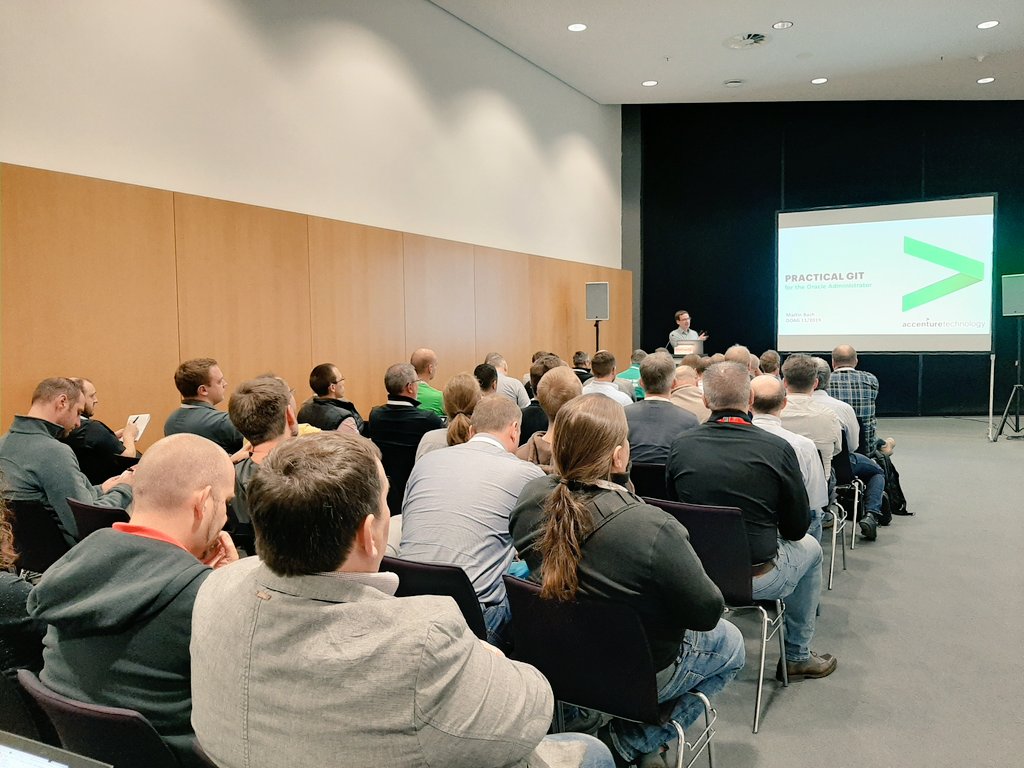 Quote by Martin: "Don't put sensitive information into version control!"
Serverless, This Is What Happened
Piet de Visser talked about some challenges of the serverless approach for 2 of his customers. Automation is important, when we need to repeat tasks. But we still need to document, we cannot use tools like Terraform to store all information. Another crucial step is testing: unfortunately often seen as something boring and not sexy. And we don't need to be "fanatic" (we can accept legacy) and we have to focus on our goals and be positive.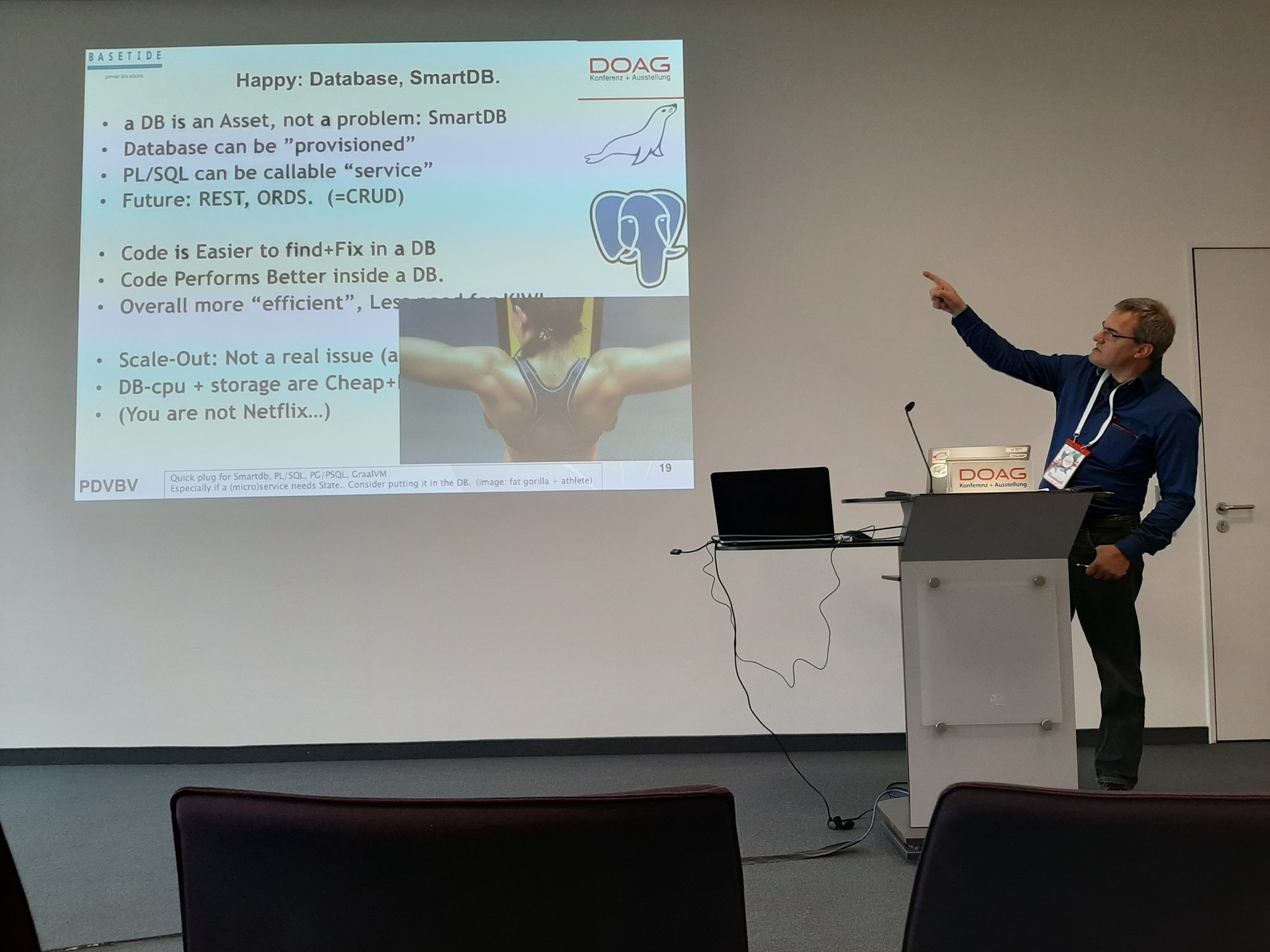 My feelings and conclusion
I feel very excited: for me, DOAG is a special conference, because it was here last year that I presented for the very first time.
This year, I keep good memories about EBD Postgres dinner on Monday evening, Schweizer Abend on Tuesday, and as usual about moments at our booth with colleagues and meeting "conference friends" and new great people.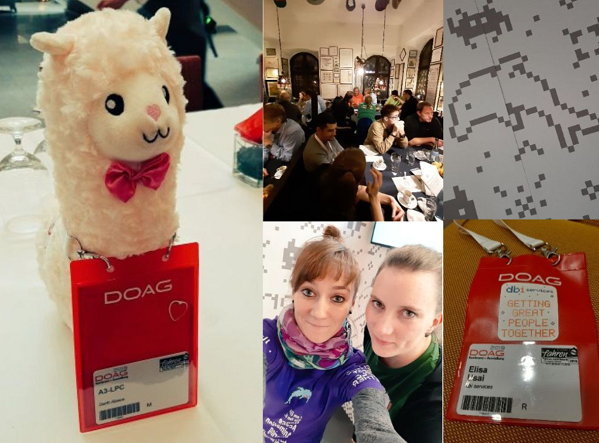 If you are at the DOAG, join us this evening as of 17:45 at the booth 242: Happy Hour with cocktails, games and music!
And tomorrow (November 21st) at 1 p.m. attend my session in Krakau room: I will talk about MySQL Group Replication in Docker containers.
Stay tuned, other posts and information will follow on our dbi services blog and on social media (Twitter, LinkedIn..) 🙂