dbi services was at the DevopsDays Geneva 2022 this year, which took place at the Haute Ecole de Gestion campus, in Carouge on the 12th and 13th of May. Pierre-Yves Brehier, Pascal Zanette, Emmanuel Wagner, Chay Te and myself were present.
Opportunity to learn, discover new topics or technologies, doing in-person meetings and initiate business, this 2-days DevOps major event in the Romandie part of Switzerland gathered more than 400 people, 18 companies on site, and 16 additional sponsors.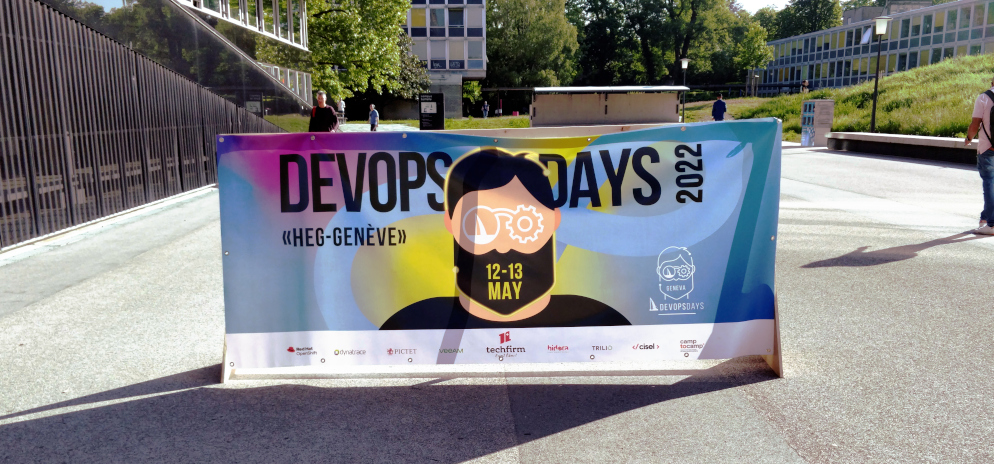 With a mix of small dedicated rooms and more global sessions, this event covered a wide range of topics, technical or organizational.
Among all sessions we all attended to, here a small subset.
Developer Productivity Engineering – The Next Big Thing in Software Development
The first session I had the pleasure to attend was an interesting session Etienne Studer from Gradle who presented us the Developer Productivity Engineering.
This new engineering approach aim to increase developer productivity. Using automation and acceleration technologies, this approach is based on five pillars :
Faster feedback cycles
Faster Troubleshootings
Reliable Builds and tests
Continuous Learning and Improvement
CI Cost and Resource efficiency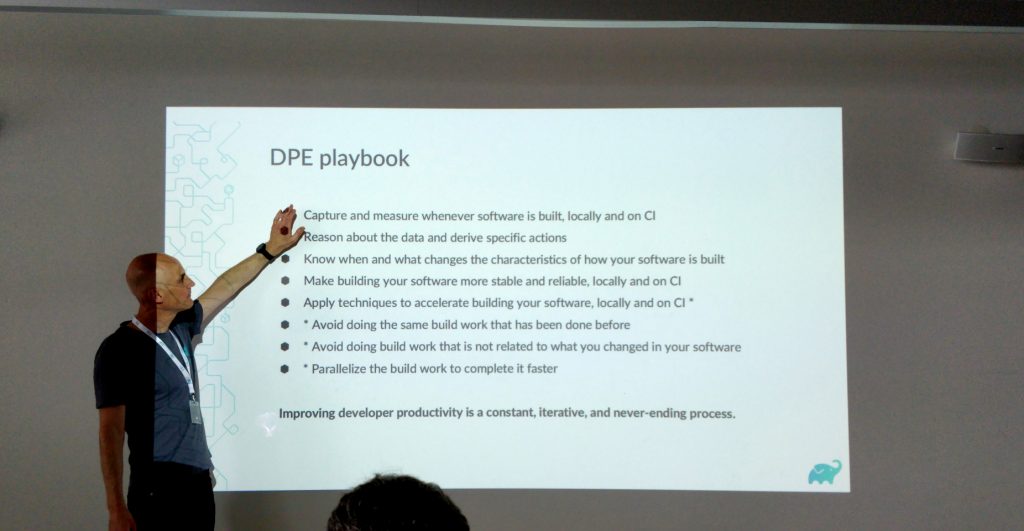 Tekton: From Source to Production inside Kubernetes
Another good session was the one performed by Giovanni Galloro, from Google Gloud, Specialist Customer Engineer.
He presented us Telkon. Open-source framework, Tekton is used to create CI/CD systems such as Jenkins, Jenkins X the one we use daily, Skaffold or more. In his session, he described all the basic components, such as Tasks, Pipelines, Steps, …
It was followed by a demo of the tool. Even if we knew it, it was very interesting to see Tekton, shown and explained by somebody from Google.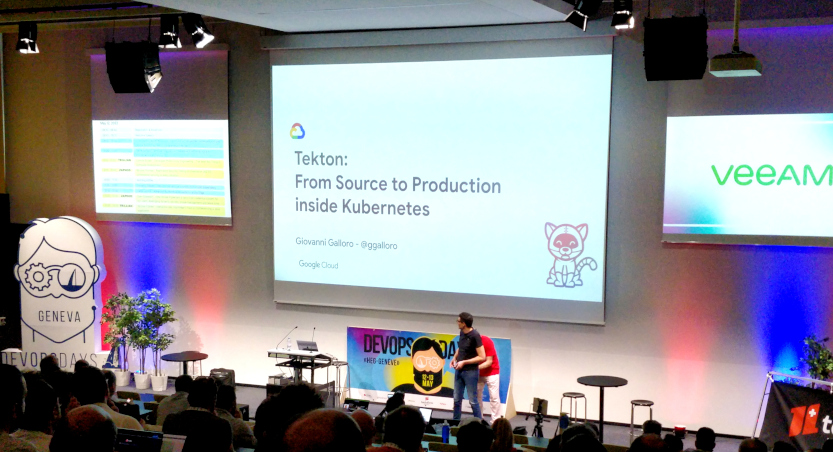 Infrastructure-as-Code in a multi-cloud environment
At the end of the first day, we were all there to support our CTO, Herve Schweitzer. He was presenting a new product from dbi services, YaK.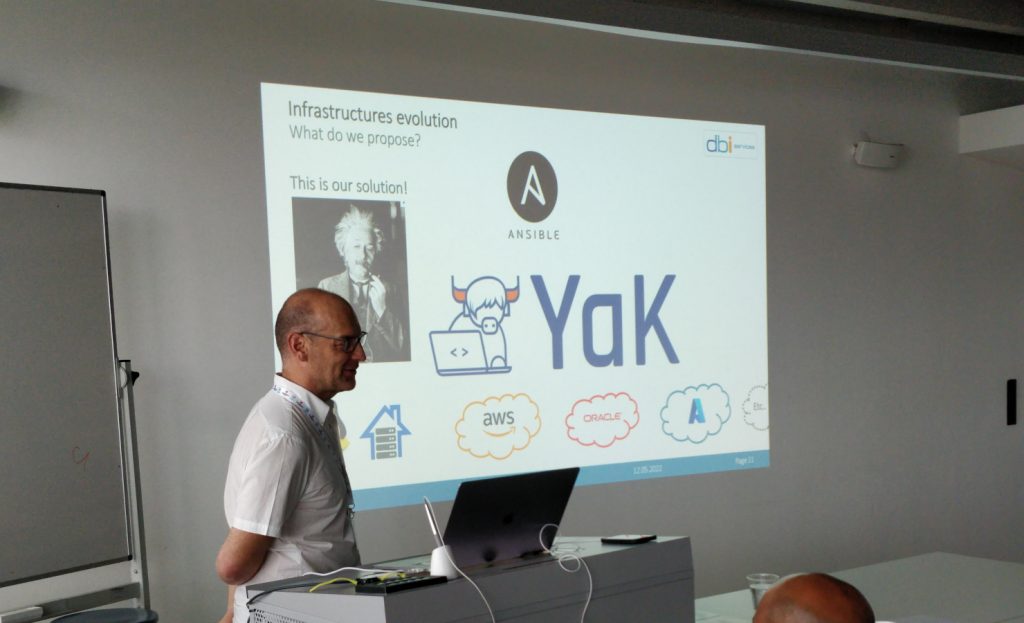 YaK, is a IaaC product. IaaC stands for an Infrastructure as a Code. It helps you to describe and deploy your infrastructure on specified targets. But in fact it's way more : by using Ansible as a back-end but also all of our knowledge and expertise, it helps you to deploy virtual machines (Linux or Windows based) and databases (such as MariaDB, Postgres, Oracle, …) pain-free on Cloud providers (AWS, Azure or Oracle cloud for instance) or on-premise.
The beauty of that is changing where your DBs or VMs are deployed, so moving from one provider to another, is just a matter of setting the correct target! The room was packed for that session and the product and its concept was very well received by all the audience, concluded by a set of constructive discussions on the product itself and its application on the customer. dbi services is acting in favor of the community : a part of the product will be released public in September 2022 !
On the second day, we all attended in the amphitheater of the campus to a session of Aurelie Vache, from OVH Cloud.
Tips pour combattre le syndrome de l'imposteur
With a warm support from the whole assistance, Aurelie didn't talk about any technical topic here. No fancy DevOps tools here, "just" a talk about who we are: humans. Instead of being technical, she transported us into the discovery of a psychological pattern, called the impostor syndrome.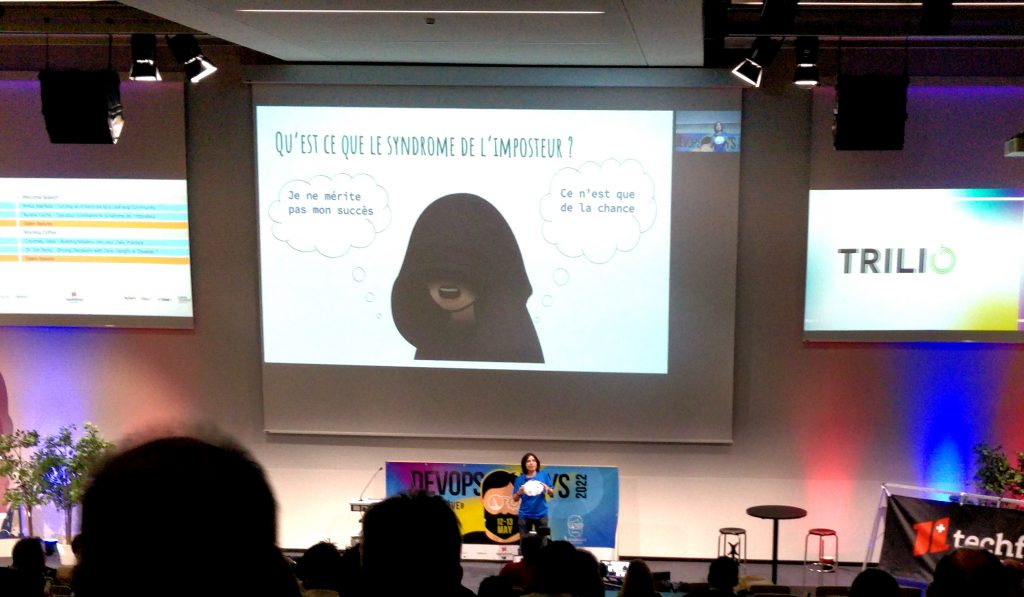 People affected feel that they don't deserve their success or their position in a company. They feel the situation as if it were only due to chance. She gave some clues, like accepting we have knowledge, sharing and contributing, getting feedback, being positive. Thanks Aurélie for this very nice and refreshing presentation.
We can't summarize this event to a set of sessions we attended or topics we had the pleasure to learn. It was also the opportunity, after last year cancellation, to meet people and share coffee or talks with customers, potential new employees or other DevOps fans like us !