dbi services at Microsoft Inspire Conference
Core Note Satya Nadella – Day 3
The day started with the Core Note from Satya Nadella. Being alone at the conference allowed me to find one of the very last well-located seat to have a nice view of the Event 😉.
I never saw a key note from Satya and I must admit that I was impressed. Giving the opportunity to lead a company because someone deserves it and not because he has some « favorable origins » should be respected. Well done Microsoft. Neither born in the U.S, nor rewarded by any University of the Ivy League, Satya Nadella really inspires us and deserves his position within the company.
This promotion should also « inspire » some Western European companies which are sometimes more « conservative » in the organization of their management.
Satya presented all products Microsoft is working on with the main focus on making the world, the people, the companies or the government better, more efficient and more successful.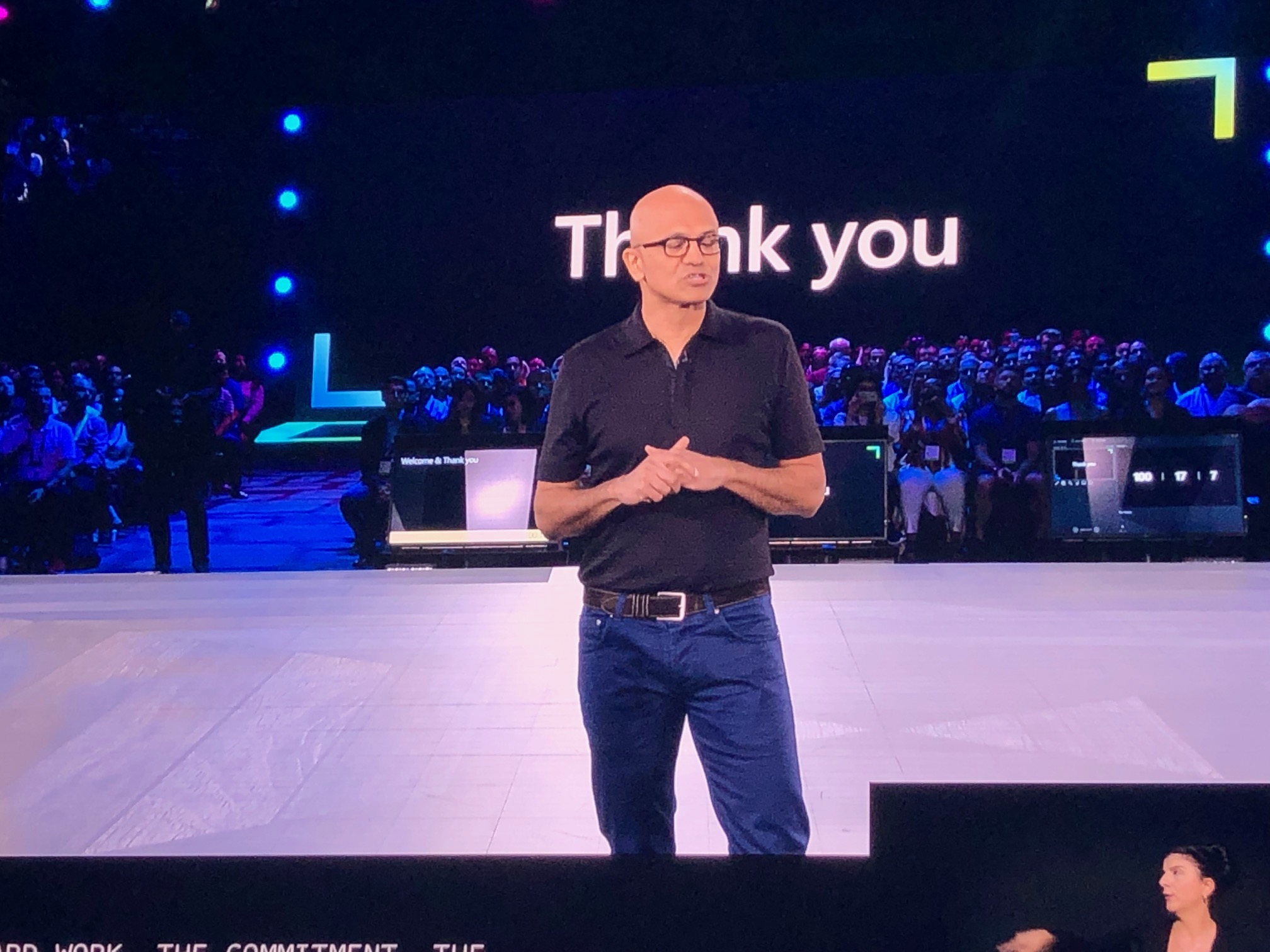 SQL improvement with HyperScale / Not only for SQL Server !
The Hyper Scale SQL feature for Azure has been promoted. HyperScale will support SQL Server, PostgreSQL and Cosmos DB (one of the future strategic data platform for Microsoft). Hyper Scale benefits from several innovation such as the new SQL abstraction layers (within SQL Server) and from several caching levels. The whole backup & recovery strategies is based on snapshots. Even full restores are claimed to be performed in less than 10 minutes! Database business is strategic for Microsoft but also for dbi services, stay tuned!
Since I'm not a Microsoft SQL Server expert, I cannot state since when customers have this opportunity. However, it has been reminded several times that customers can « transfer » their Microsoft On-Prem licenses into Azure, at least for SQL Server. This fully makes sense.
Microsoft does not only produce database products 😉
Besides this announcement, the hololens, Microsoft Dynamics 365, and of course Teams were presented to make FY2020 as successful as the previous year. Teams is really becoming a new strategical product for Microsoft and we saw some impressive collaboration demonstration. Teams bases on SharePoint, on Azure, which both settle on SQL Server. Microsoft promoted one of its strength : products are all well integrated.
Security , Trust and … Security
At the end of the key note, Brad Smith (Chief Legal Officer) presented other strategic topics for Microsoft such as security. He claimed that Microsoft is strongly concerned by cyber security and wants to deploy worldwide the rules defined within the GRPR.
Once again, it's all about trust. The Cloud war will be won by the ones who win the trust of the customers.
I come back to the sentence of the year, according to me, pronounced by Satya during his Core Note : « You cannot claim for trust, you have to earn it day after day ». I can only confirm that I'm fully aligned with this statement. It's even more true in the Cyber security business.
Real Azure migration return of experience
I had the opportunity to attend several sessions like successful Azure migration projects.
A Microsoft partner has developed a Cloud Campaign and a Cloud strategy to help customers migrate to Azure. They developed two products addressed to the Cloud.
As a best practice, an assessment of the customers' landscape is needed. A global picture will allow to understand the overall context in terms of quality and quantity (which applications are running, how have they been built, etc.).
Usually after half a year of "rehosting" in the cloud, the customer is unhappy because of the cost. Once migrated to the Cloud, the customer has to modernize its landscape to benefit fully from Cloud.
It's important to know about all available XaaS Azure services to give the best advice to the customer. This partner is also using Infrastructure as a Code to optimize the deployment through Teraform. Discussions with customers should focus on Business Value, Cloud benefits and, as a further trend : Enterprise DevOps.
While transferring larger infrastructures on the cloud, according to this partner, DevOps becomes a must and requirement to benefit from Cloud advantages.
Business with Red Hat and Microsoft Azure
During a panel session, James Read (EMEA Principal Solution Architect – Red Hat) confirmed that the Microsoft / Red Hat partnership is really successful and strong and improved a lot since the first initiatives in November 2015.
As a consequence, Red Hat Linux definitively became a core Operating System of the Azure IaaS offering, and the both companies further develop their common offering. Of course, OpenShift is also fully available on the Azure Cloud which seems to be the platform of choice for this container.
The collaboration goes further with Red Hat. It will concern the other stacks of the « Red company » like JBOSS for instance.
According to some discussions during the panel, Windows should be supported as a container in OpenShift quite soon…
Azure Continual Service Improvement & Mea Culpa
Three speakers from Microsoft, involved in the Azure promotion and development, presented how they constantly improve the Azure services (availability & security).
They transparently presented two outages of the Active Directory Azure service in November 2018. They then explained why it happened, what they learned and what they improved to avoid such outages again. At Microsoft, transparency becomes part of the culture.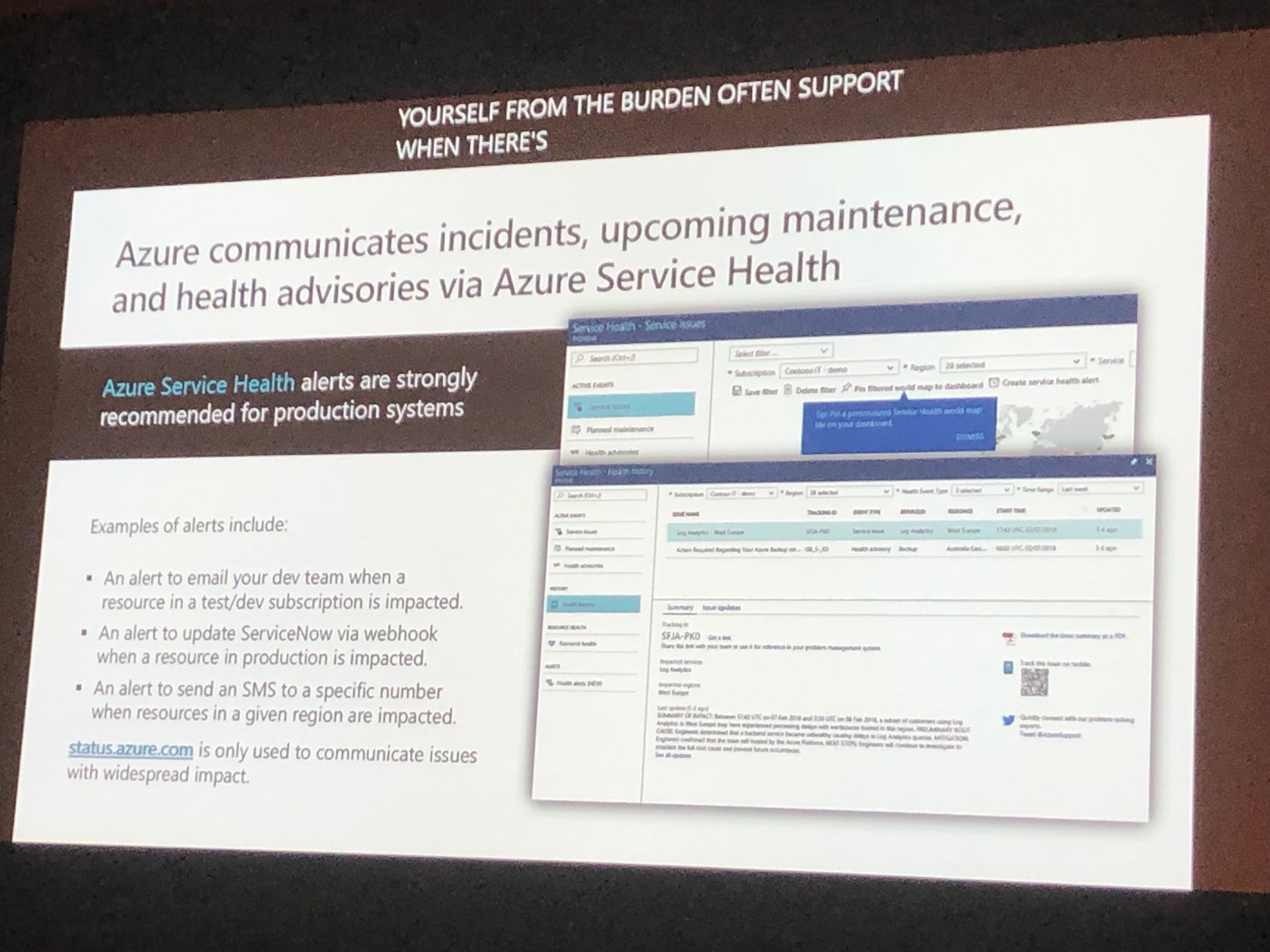 Conclusion
The conclusion of these days within the Microsoft ecosystem confirmed  what I've heard about Microsoft over the last months. They really stopped fighting against competitors and are involving them in their offering. Microsoft is not afraid of Open Source. It makes the best possible use of it within its Cloud and such a strategical shift is hugely positive for the company.
Microsoft becomes cool (again) 😉. And if you want to join one of the coolest Microsoft Team, have a look at this.