By Franck Pachot
.
Now that 12.2 is there, in the Oracle Public Cloud Service, I can share the slides of the presentation I made for Oracle Open World:
I'll give the same session in French, In Geneva on November 23rd at Oracle Switzerland. Ask me if you want an invitation.

The basic idea is that non-CDB is deprecated, and not available in the Oracle Public Cloud. If you don't purchase the Multitenant Option, then you will use 'Single-Tenant'. And in 12.2 there are interesting features coming with it. Don't fear it. Learn it and benefit from it.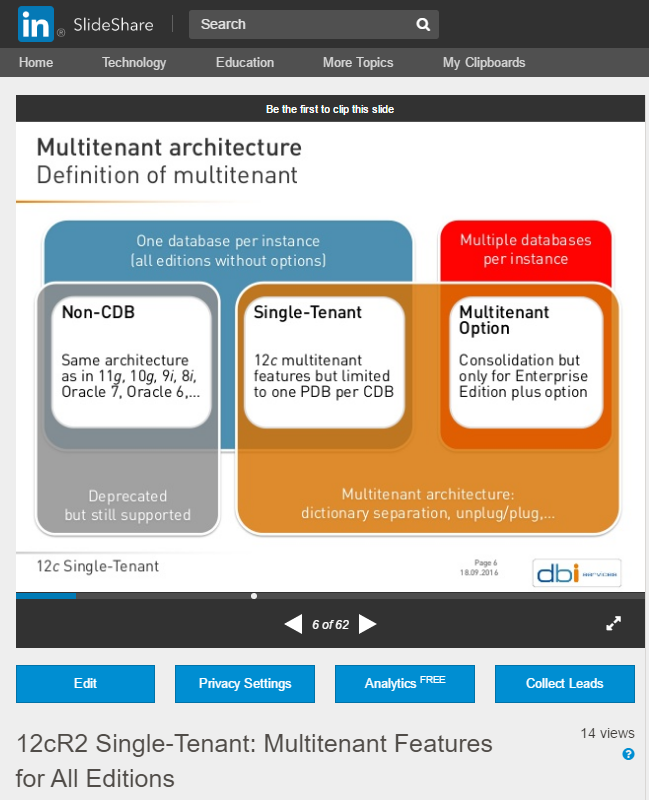 In addition to that, I'll detail
The 12.2 new security feature coming with multitenant: at DOAG 2016
The internals of multitenant architecture: at UKOUG TECH16
And don't hesitate to come at the dbi services booth for questions and/or demos about Multitenant.
There's also the book I co-authored: Oracle Database 12c Release 2 Multitenant (Oracle Press) which should be available within a few weeks.