Today (22.10.2018) my colleague Mouhamadou and me had the opportunity to make a bike trip (#BikeB4OOW) organized by Bryn Llewellyn product manager for Oracle PL/SQL and Edition Based Redefinition (EBR). We were well accompagnied with several other famous people such as Franck Pachot, Mike Dietrich, Pieter Van Puymbroeck, Liesbeth Van Raemd and Ivaca Arsov.. Just to name few of them.

We started our trip beside the Golden Gate at the Welcome Center at 10:00 am in direction of Sausalito and we kept on along the coast until Tiburon that we reached at about 12:00. There we splitted our group between the ones who would enjoy a meal and take the ferry and another group which prefered to come back by bike.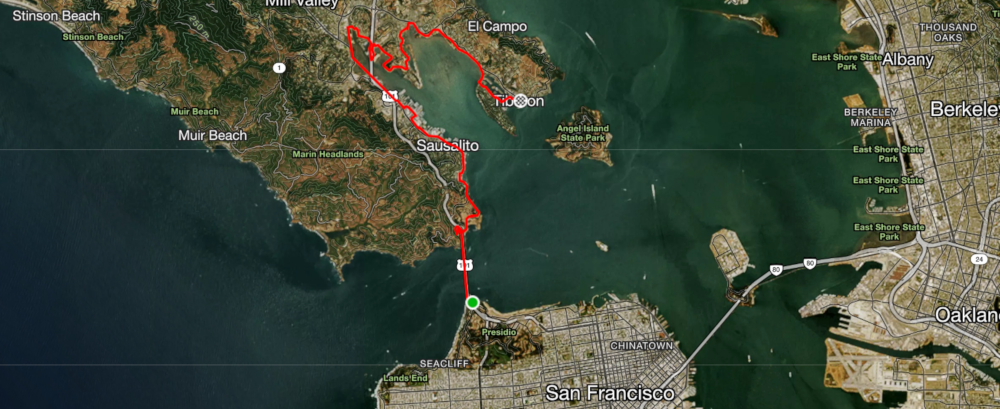 Mouhamadou and me accompanied by Franck, Pieter, Liesbeth and Ivica retained the first option and enjoyed a delicious meal at the Servino Ristaurante.

We then went for a small digestion walk on Paradise drive taking some sea lions&heron's pictures but also some selfies.
Finally we took the ferry to reach North Beach and bringing back our bikes.  It was the opportunity to have a wonderful view on Alcatraz Island, San Francisco and the Golden Gate bridge.
Because a blog speaking about a bike trip starting on the Golden Gate, without even a Golden Gate picture is not imaginable I made a small detour before giving back my bike to catch a picture…

On the way back to the hotel we caught our Oracle Pass at Moscone Center in order to attend to the sessions tomorrow.

So tomorrow no sightseeing and no bike trip on the programm but I very do hope lot of interesting technical sessions and fun. For sure I will attend to the Larry Ellison Keynote "Cloud Generation 2" and I'm pretty sure that I'm going to heard about autonomous tasks, AI, security and cloud ;-).
Greetings from San Francisco