Today (23.10.2018) it was the first time I attended to a Keynote from Larry Ellison and I haven't been disappointed. Not because of technical information or about true facts and figures but simply because of his charism and Oracle capability to transform a keynote in a real show. Whatever he is speaking about and whatever if it's true or not, I've to admit that it was really distracting and funny.

As expected during this keynote, Larry's keywords were:
1. Cloud
2. Autonomous
3. Machine Learning
4. RoBots
5. Amazon
During the entire keynote parallels have been made between the cloud and an autonomous car. "Sit back, relax and let Oracle do the driving" You can find most of this comparison on auto.oracle.com.

Cloud Computing Generation 2 – new architecture
Secure Infrastructure requires new hardware and new software
Impenetrable Barrier: Dedicated Network of Cloud Control Computers

Barrier: Dedicated Network of Cloud Control Computers. Cloud Control Computers protect cloud perimeter and customer Zones.
Impenetrable: No Customer access to cloud control computers and Memory

Autonomous RoBots: AI/ML RoBots Find and kill Threats

Database immediately Patches Itself while running – Stop Data Theft
No delay for human process or downtime
No longer Our People versus Their robots – Our Robots vs their Robots
One of the key difference between Cloud Generation 1 vs Cloud Generation 2 is the Cloud Control Computer architecture as presented below.

First Generation Clouds Built on Decade Old Technology
Comparing to the second generation Cloud Generation 1 was
Designed for building "angry birds"
Not meant to run our mission critical business applications
Security was an afterthought
Pay significantly more for higher performance
Cloud way or no way – Not meant to move your datacenter to the cloud
In comparison Cloud Generation 2 is one unified architecture:
Foundation for autonomous database
Extensible platform for Saas Applications
Runs Enterprise Applications and Cloud Native Applications
Gen 2 public Cloud Available Now – Gen 2 [email protected] 2019
Easy Free Push Button Upgrade From Gen 1 to Gen 2 [email protected]
Oracle Generation 2 Other design goals are:
Support better functionality and performance than on premises
Improve automation (Eliminate mundane tasks, managing upgrade, security patches)
Easily connect between your datacenter and ours securely
Guarantee consistent enterprise performance (Industry first SLA that covers availability, performance and manageability)
Oracle Performance vs Amazon Performance
Such a keynote wouldn't have been complete without a performance and price comparison between Oracle Cloud and Amazon AWS. As "expected" Oracle Gen2 performs much better for lower cost. Many slides and even "demos" have been done in order to prove how fast is Oracle database comparing to Amazon's databases.
Performance Benchmarks 3 to 100 Times faster than Amazon's Databases
Oracle Autonomous Data Warehouse vs Amazon Redshift – 9x Faster and 8x cheaper
Oracle Autonomous Transaction Processing vs Amazon Aurora – 11x faster and 8x cheaper
Oracle Autonomous Transaction Processing vs Amazon aurora mixed workloads – 100x faster and 80x cheaper
Autonomous Transaction Processing vs Oracle on RDS – 3x faster and 2x cheaper
Autonomous Transaction Procssing vs Oracle on RDS while patching – Infinitely Faster and Infinitely Cheaper
No comment…
But for those of you who wants to compare, Oracle graciously offers 2 TB Autonomous Database for 3'300 hours on https://cloud.oracle.com/try-autonomous-database
Larry Ellison spokes also about the low latency and high Bandwidth RDMA Cluster Networking.
Oracle Cloud Generation 2 Security
A special focus on security has been done in order to explain that Cloud Gen 2 is fully secure and will protect you against any threats:
Compliance: Service, tools AI/ML to monitor your cloud infrastructure
Edge Security: DDos, DNS, WAF
Access Security: Identify, resource access management
Autonomous Database: Autonomous database: self-patching, self-repairing
Data Security: At-rest and in-transit encryption, key management
Network Security: Cloud Control Computers: private encrypted backbone
Isolation: Full physical isolation from other tenants and Oracle
Oracle Cloud Generation 2 Availability
Availability of Oracle Cloud Generation 2:
Oracle Autonomous Database
Everything is Automated: Nothing to learn, nothing to do
Automatic Provisioning
Automatic Scaling
Automatic Tuning
Automatic Security
Automatic Fault Tolerant Failover
Automatic Backup and Recovery
And More
Core Message: Easiest to Use  Lowest Cost to Operate. All of that makes Oracle 25x more reliable that Amazon.
Larry also presented real ADW (Autonomous DataWarehouse) use cases (ADW in Action On customer workloads) where he compared customer tuned real warehouse workloads to ADW. Conclusion: ADW consistently exceeds hand-tuned performance and in addition ADW stays tuned as workload changes. Of course the conclusions are the same for ATP (Autonomous Transaction Processing)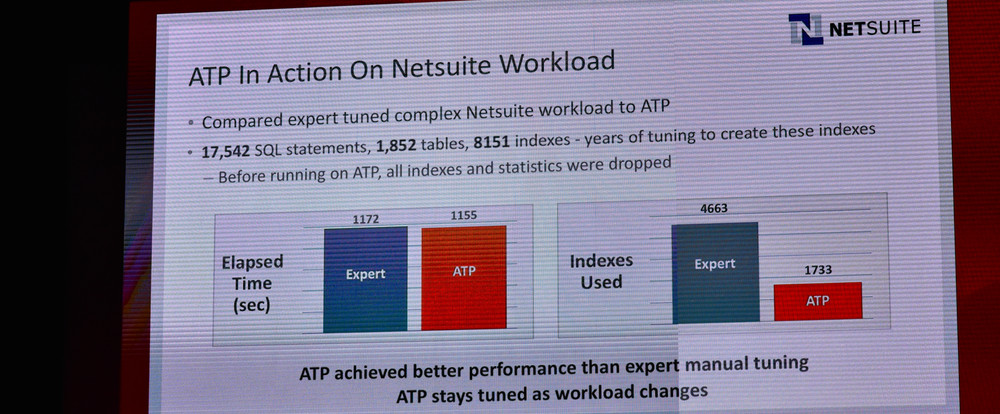 Some sentences I caught:
About Oracle Cloud:
"Security built in from the center to the outside, from the perimeter to the inside"
"The most important component of the generation 2 cloud is the autonomous database and we did lots of progress since last year".
"We have autonomous robots searching for threats. We search and destroy the threats"… "that's our robots vs their robots"
"We eliminate human labor and human errors"
About Amazon:
"They should have a funny contract with their internet provider, price is depending on the way data move from or towards their cloud"
"Move out the AWS database cloud cost a lot."…" Move data in the Oracle cloud that's done."
"AWS is a semi-autonomous database"… "semi-autonomous database, you drive it and you die."… "Our database is fully autonomous"
"We guarantee that we cut the bill by half regarding amazon"
"Oracle database is 25x more available and reliable than the amazon database"
"Oracle is the best database that you can run on Amazon"