By Franck Pachot
.
Award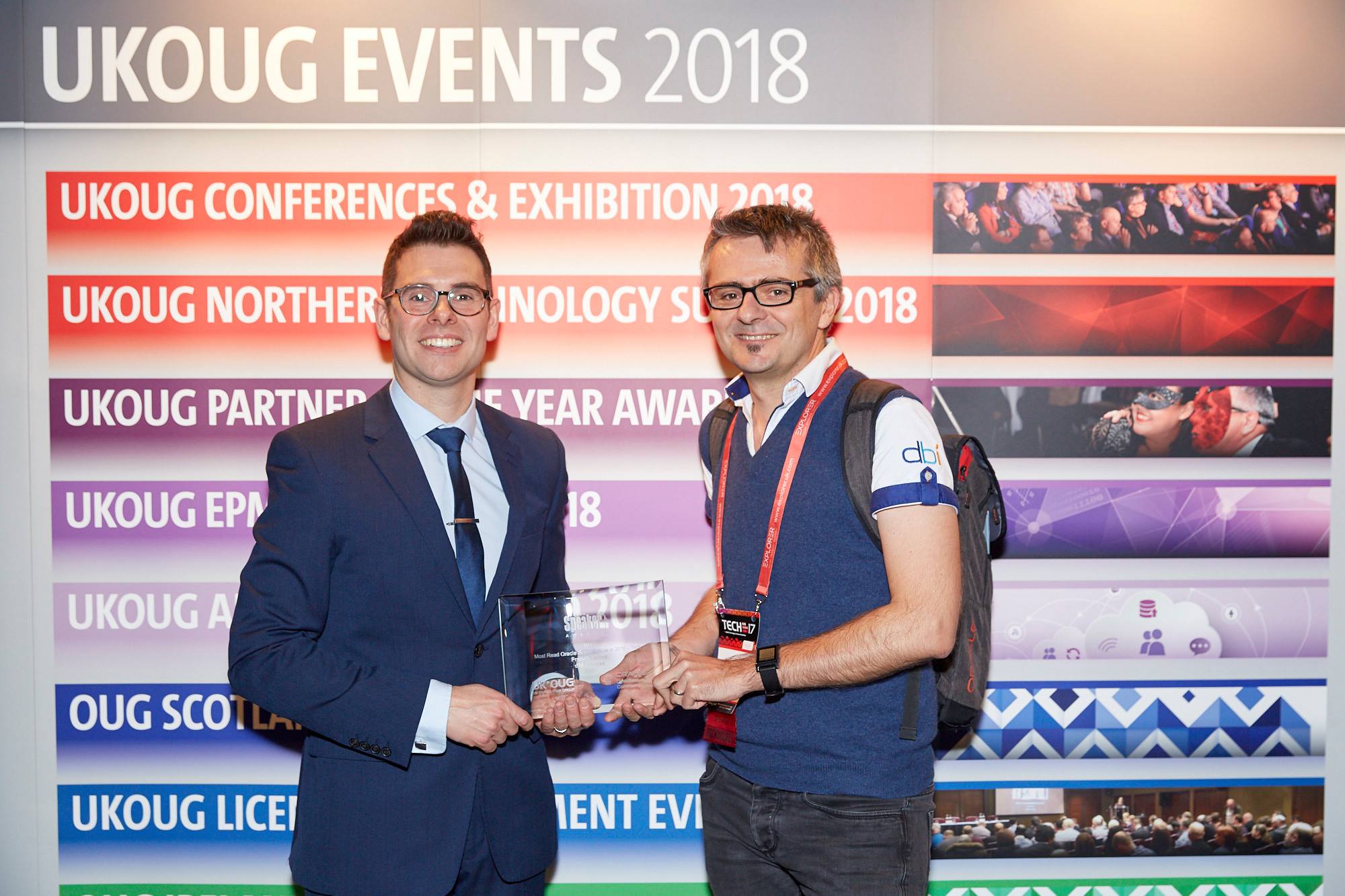 I've received an award for an article I've written last year, the Most Read Oracle Scene Article in 2016 – Technology. I like to write for Oracle Scene magazine. It is rare today to have a magazine both available in a paper version, and also publicly available on the web. And I must say that as an author, all the people behind are doing a great work. Thanks to them and thanks for the award. Seeing that what I write helps is the motivation to do so.
The article is: Is your AWR/Statspack Report Relevant.
This is the occasion to link to other articles I've written for the UKOUG Magazine. Statspack, because not everybody has Enterprise Edition with optional Diagnostic Pack: Improving Statspack Experience. One on the parameter I hate the most: CBO Choice between Index & Full Scan: the Good, the Bad & the Ugly parameters. Another about the statistics that should replace this awful parameter: Demystifying WORKLOAD System Statistics Gathering.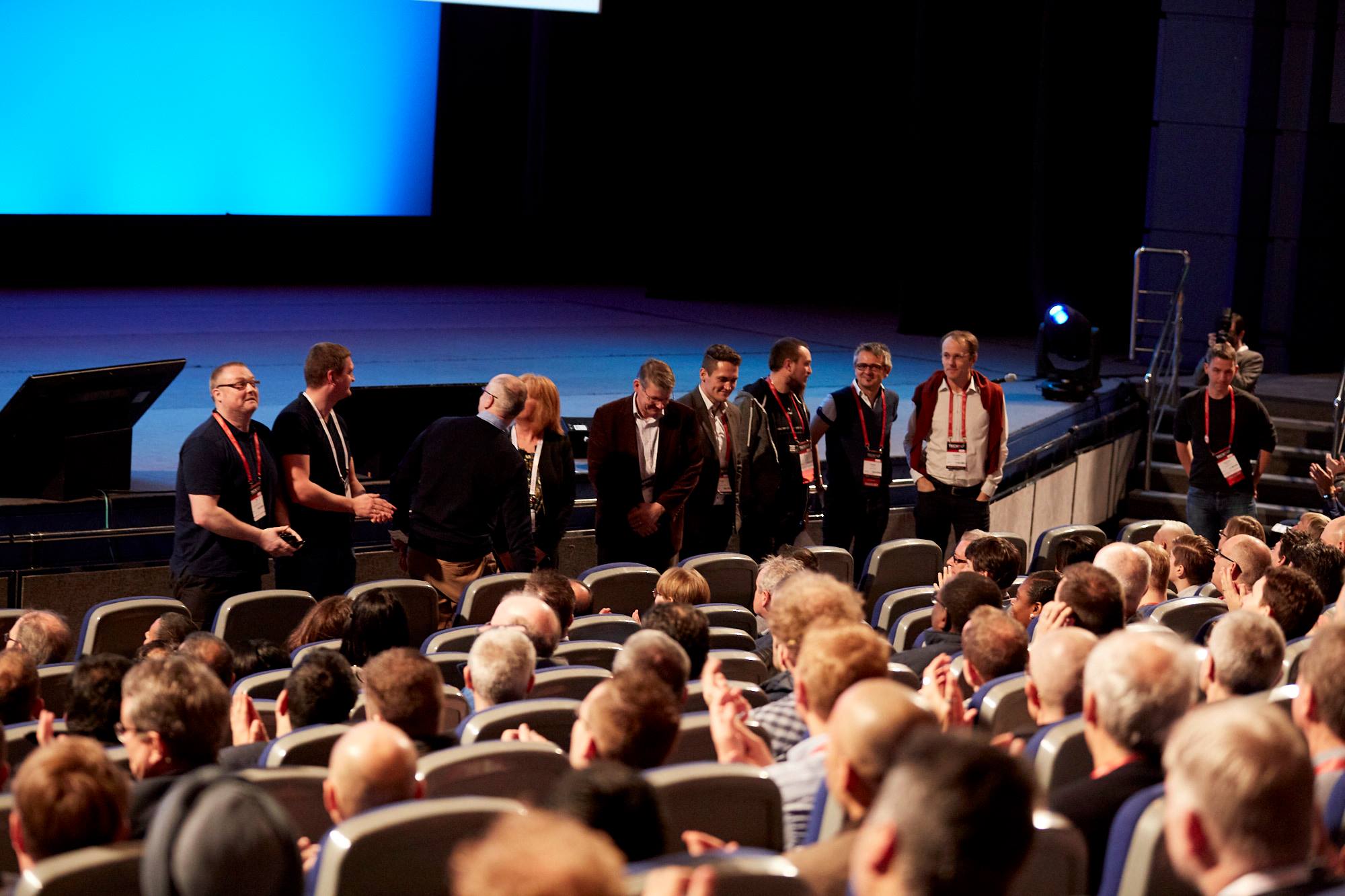 Two interesting features in 12c: 12c Online Statistics Gathering & Session Private Statistics. A big change that happened in 12.2.0.2 concerning availability: I/O Error on Datafile: Instance Crash or Datafile Offline?. My SLOB performance tests when ODA Lite came with MVMe SSD: Performance for All Editions on ODA X6-2S/M. And finally, the article on the great Oracle features for physical transport/clone/migration: From Transportable Tablespaces to Pluggable Databases
I've stolen a few pictures to illustrate this blog post, from UKOUG photo albums, and from friends.
Presentations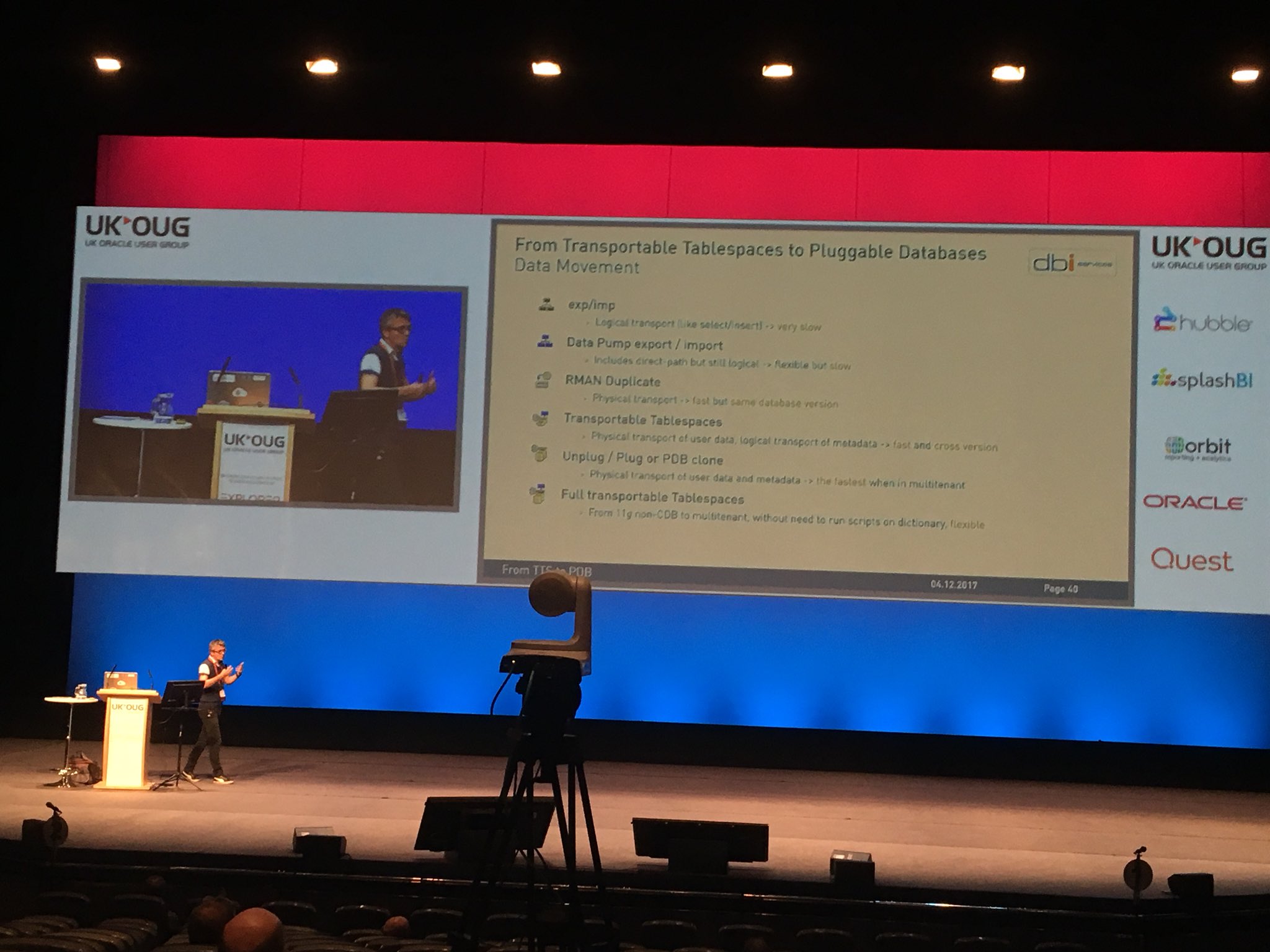 The article on Transportable Tablespaces and Pluggable Databases is actually based one one presentation I did. I was in that big Hall 1 [I realize that some may do a joke on this, but I'm talking about the room] where I look like Ant-Man from the back of the room. But doing live demos is great on this huge screen.
The idea for this presentation came 1 year ago when preparing a 5 minutes talk for Oracle Open World 2016 ACED talks (blog post about this) and this subject is so exciting that I wanted to share more about it. Online PDB clone and relocate will be the features you will like the most when going to Multitenant.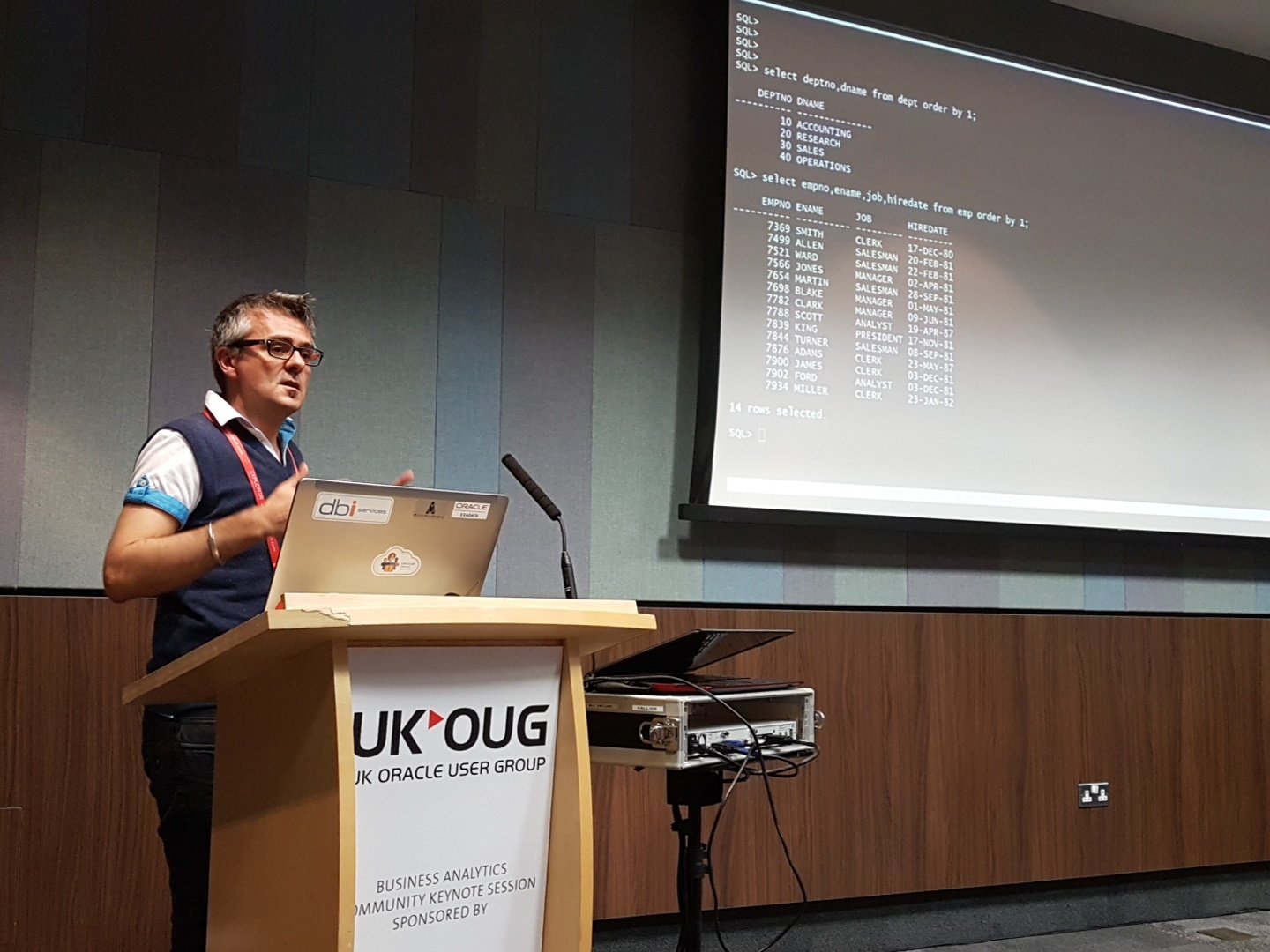 My second presentation was more developer focused, exposing all Join Methods that can magically construct your query result in a record time, or, when bad Join Method is chosen, make your 2-second query still running after one hour. I explained the join methods by 3 ways: theory with .ppt animation, execution plan with dbms_xplan and in live when running queries, with SQL Monitor, showing the different operations and A-Rows increasing in live.
I was also co-presenting in a roundtable on Oracle Cloud PaaS, sharing my little experience on DBaaS. Everybody talks about Cloud and it is good to talk about problems encountered and how to deal with it.
Round tables
Despite the hard concurrency of good sessions, I also attended a few round tables. Those conferences are a good opportunity to meet and share other users and product managers. Oracle is a big company, and we sometimes think that they care only about their biggest customers, but that is not exact. There are several product managers who really listen to customers. A great one was the discussion about something that slowly changes for a few years: the documentation which was really precise in the past – in explaining the When, Why, and How – is now more vague.


Community
Geeking at the Oracle Developer Community lounge, Eating something decent near the conference center, drinking while discussing technical stuff, the ACE dinner (and the first ACED briefing out of US), posing with award winners, and the amazing chocolate testing…