In my second blog posting about OpenWorld, I wrote about the Engineered Solutions portfolio that just got enhanced with Exalytics. Today I'm going to focus a bit more on Oracle Database Appliance and how this new box works. I had the chance to go to a session called "New! Database Appliance: secrets revealed", which provided more information on its architecture and functionality. After that I went to a highly interesting use case by Dell on the brand new Oracle Enterprise Manager 12c for Cloud computing. But first let's have a look at the Database Appliance secrets…
Database Appliance: what's beyond the box
Database Appliance is clearly positioned as the entry point of the Engineered Systems product line for Oracle databases. It comes as a low cost solution for SMBs just before the Exadata quarter rack and offers a first level of High Availabilty. Of course, we do not talk about Disaster Recovery here.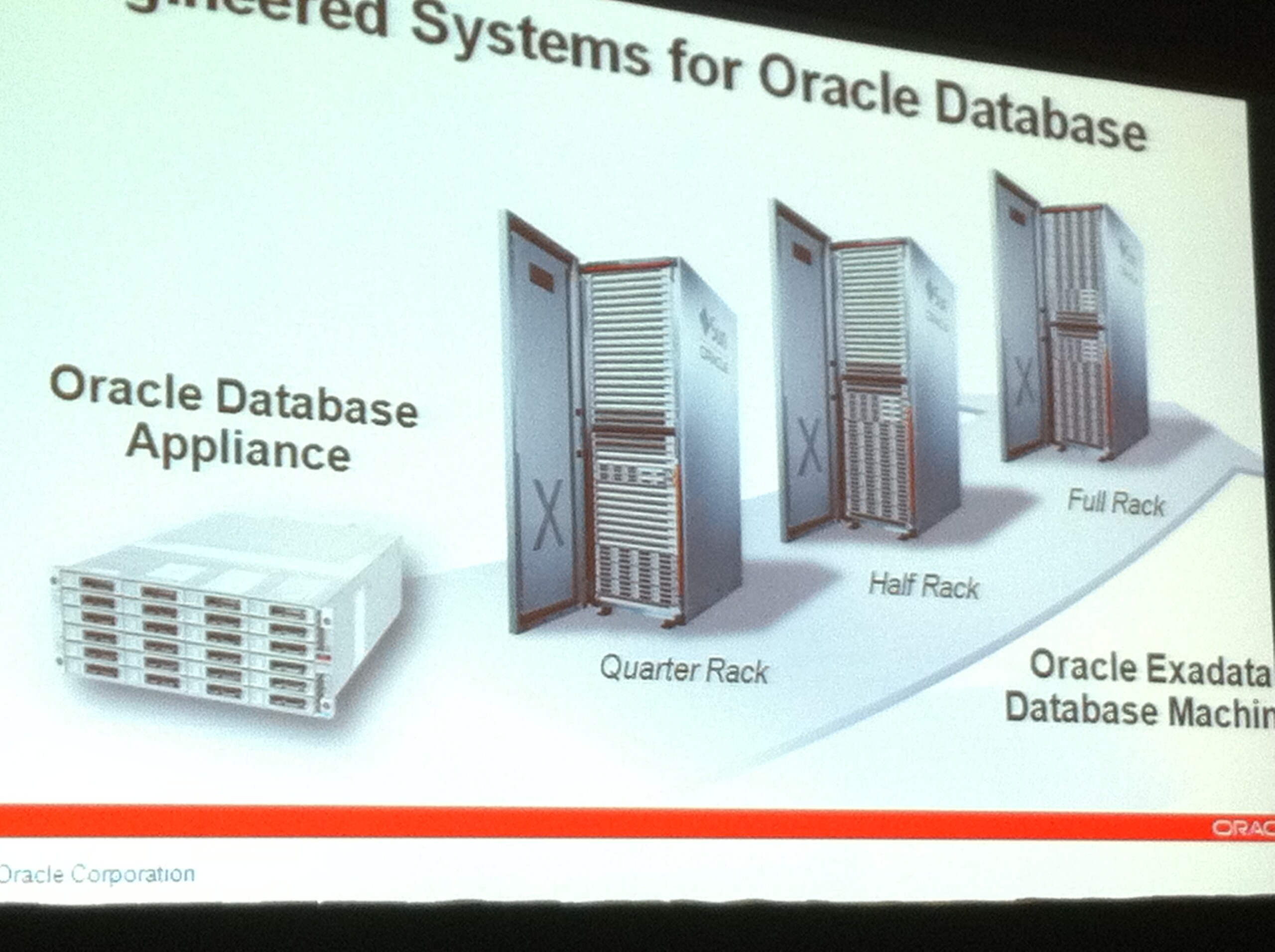 Physically it is based on a fully redundant architecture. This means that the box integrates 2 (almost) independent servers/nodes. Each can be booted separately and may be used for different purposes if necessary. The box also has redundant power supply and – interesting thing – a remote management interface like iLO for the HP servers. Storage redundancy is guaranteed through ASM failover groups.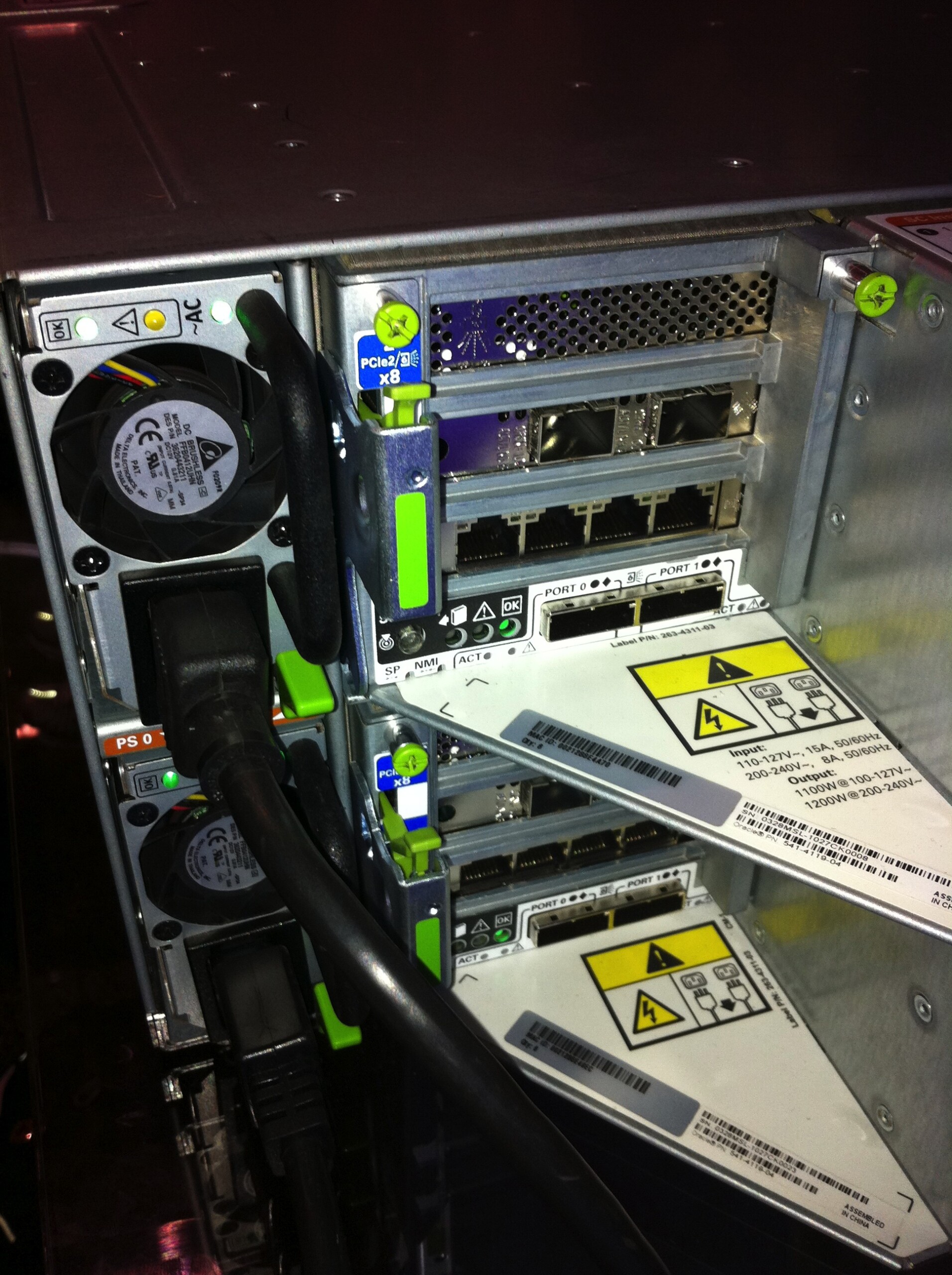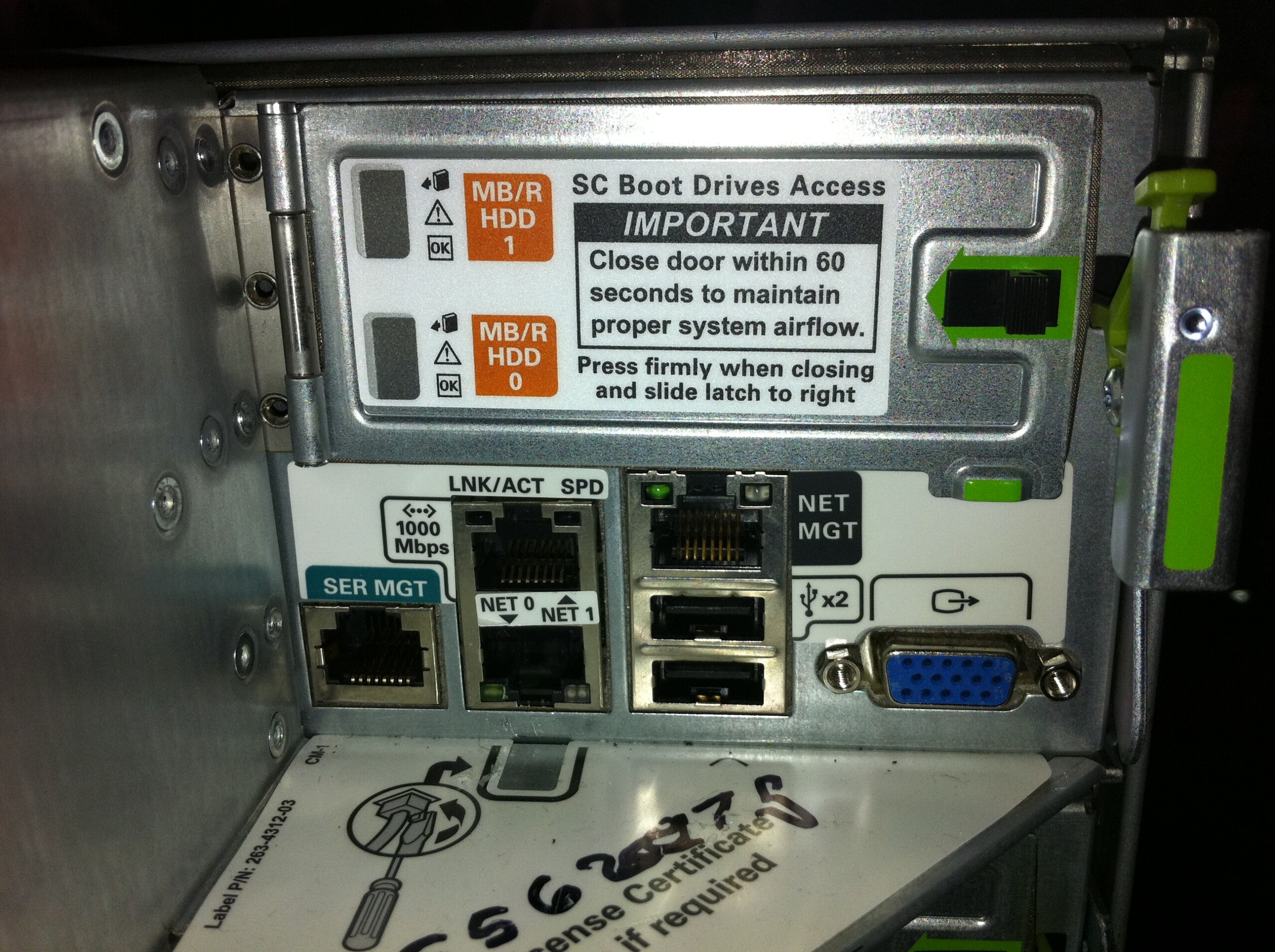 It runs on a Intel Xeon x86 architecture with the following configuration:
24 Intel Xeon X5675 cores (12 per nodes)
192 GB Memory (96 per Node)
12 TB raw disk storage
282 GB SSD storage
Redundant 1 GbE interconnect
On the software side, Database Appliance integrates:
Oracle Enterprise Linux 5.5 with the Unbreakable Kernel (UEK)
ASM
Oracle Clusterware
Oracle Database 11.2.0.2 Enterprise Edition and the PSU3
Oracle RAC and RAC One-Node
Therefore, Database Appliance offers 3 tiers of Availability:
Single instances
Active – Passive
Active – Active
Even if Database Appliance integrates Oracle database enterprise edition, the good thing is that you don't need to license all cores. Oracle has defined a "pay as you grow" licensing model, which starts with only 2 cores and can evolve during time by activating further cores.
Database Appliance is also delivered with an Appliance Management software allowing to configure the box and the databases as well as doing monitoring through diagget tools. The good thing is that in 4 or 5 steps you can get a fully operational RAC cluster. The management software will automatically take care of OS, Network, Database, and Cluster configuration. The side effect here is that Database Appliance is a pretty "closed / locked" platform in the same way than Apple products. You can't for instance customize storage layout.
Finally Database Application integrates a global patching process, which updates OS, Clusterware, ASM and the Database binaries in a row. This process is pretty nice and already CPU / PSU ready. However again there is a drawback as this process is not Zero Downtime enabled even in an Active – Passive configuration. Why? Because it can't update the 2 nodes independently.
So Database Appliance is a really interesting solution, especially on hardware level, proposed as a kind of plug-and-play solution, which on the other side can frustrate DBAs who like to have full control of their environments.
Oracle Enterprise Manager and Cloud Computing
You have probably noticed the change on Oracle Enterprise Manager from g to c in the versioning.  This corresponds to the move from Grid Control to Cloud Control, which has been made in version 12. The new Enterprise Manager aims to become a central platform focusing on 3 levels:
Lifecycle Management
Engineered Sstems Management
Business Driven Applications Management
Looking deeper into the first level, Lifecycle Management, Enterprise Manager has become, in combination with Oracle Virtual Machine 3.0, a solution for SaaS provisioning. This solution covers:
Database as a Service (DBaaS)
Platform as a Service (PaaS)
Infracstructure as a Service (IaaS)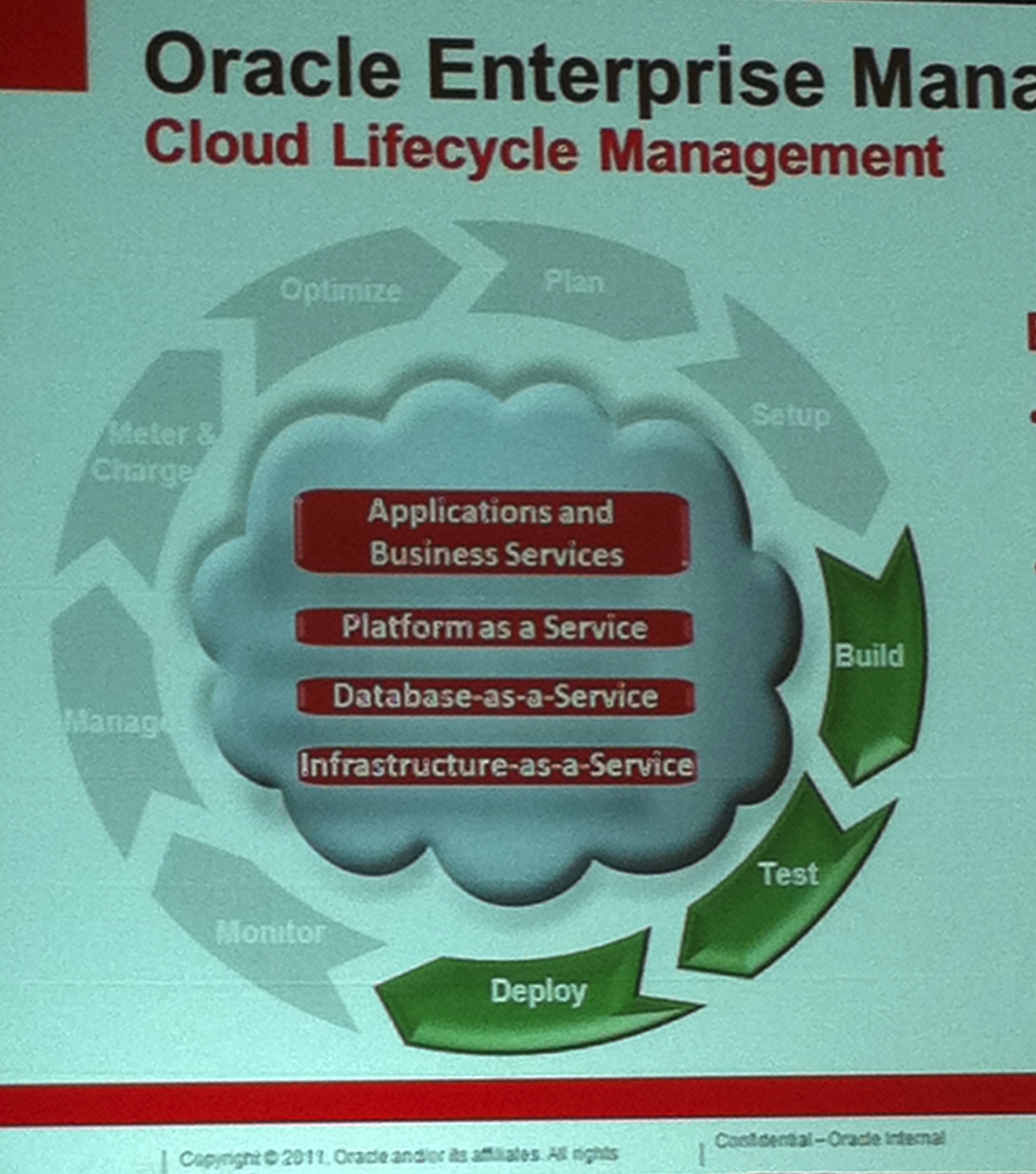 On this topic of private cloud and service delivery, Dell has made a really interesting test case of the Enterprise Manager 12c and Oracle Virtual Machine 3.0 combination. This project has been driven by Kay Yu. I really recommend you to have a look on Kai's blog for this topic: http://kyuoracleblog.wordpress.com/
The test environment is based on:
3 OVM Servers on DELL PE R710 and R910
1 OVM Manager on DELL PE R710
1 Enterprise Manager 12c on DELL PE R710
DELL Compellent FC Storage
Of course the architecture has been built on a redundant manner using IP bonding and redundant HBA connections.
Once all machines are ready and installed, the Oracle Virtual Manager needs to be registered by Enterprise Manager, in order to get it fully integrated. In the background, Enterprise Manager with still manage the Virtual Servers and machines through Oracle Virtual Manager.
On the configuration level, this solution offers interesting possibilities:
Manage storage (through generic or dedicated integration agents)
Manage VM Servers pool, for VM Servers sharing storage (VM cluster)
Create VM Zones for pool management and classification
Manage Self Services
The Self Services are really interesting for somebody involved in Service Management like me, as it allows creating a real Service Catalog within Oracle Enterprise Manager. Thanks to Self Services, you can now assign resources to roles such as nb of VMs, nb of vCUs, Memory or Storage capacities. In addition, you can defines pricing rules, which then allows users / customers to log in, to request for new resources and directly know the corresponding cost they will be charged for. These requests can then be managed and followed within Enterprise Manager.
This clearly offers interesting perspectives for internal and/or external service delivery.
I hope you were able to find some interesting stuff in this article. See you tomorrow.