Last week, I attended the Microsoft TechDays for the first time. The Swiss 2011 "edition" took place in Bern. For me this is really a new challenge because I have never worked deeply with the Microsoft database platform "SQL Server".
I went to this event with our SQL Server expert Stephane Haby. First of all, I had a nice surprise for my first session: the new high availability functionality from Microsoft SQL Server 2012 "AlwaysOn" was presented by Roger Breu. I was quite impressed.
In addition to Stephane Haby's posting, I decided to compare the Oracle 11g high availability solution "Data Guard" – which I know quite well and deeply – to the new SQL Server 2012 feature "AlwaysOn".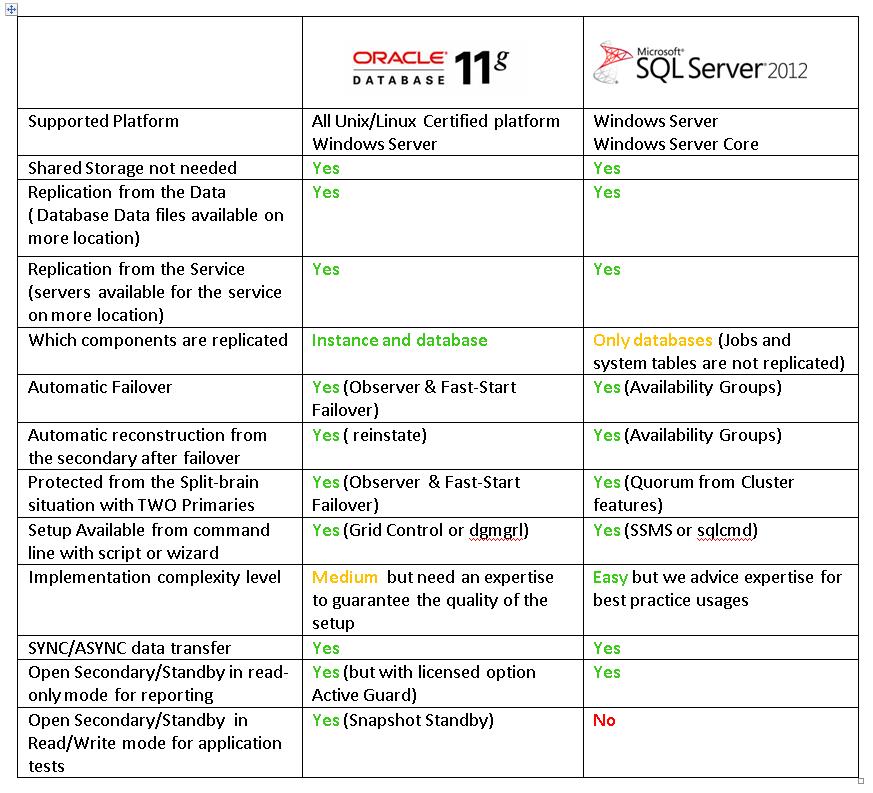 Nowadays, the high availability solutions proposed by Oracle or Microsoft are very close to each other in the database field, as you can see into the table above. However, a high availability solution was introduced in 2005 in the Oracle technology stack (Oracle Data Guard) whereas the Microsoft solution will only be officially made available mid-2012.
Since 2005, the Oracle Data Guard (Fast-Start Failover) technology in the High Availability area has been evolving quite poorly according to me. The basics have been defined/set in 2005 and there have only been add-ons extending the technology in the last years: Open Read-Only from the Standby Database with Apply (Active Guard) and Snapshot Standby Database. Whereas a better availability from the Observer is required.
Finally, during the event, I was surprised by the Microsoft Server Core presentation, which allows to setup a SQL Server with only the needed services (no Internet Explorer, no graphical tools, etc..).  This Microsoft Windows Operation System is a response to Linux. As Linux expert I found my place here 🙂